New Orleans Jazz Orchestra Hits the Heymann October 21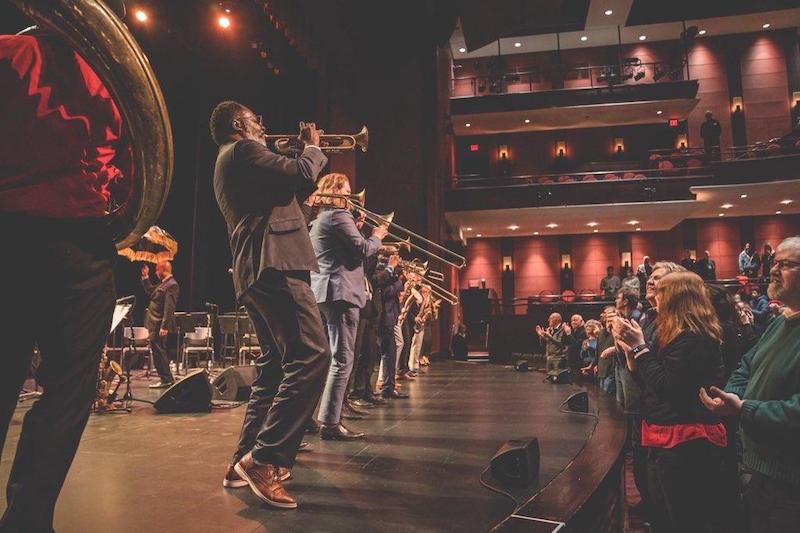 LAFAYETTE, La (press release) – It will be a true southern night when the Grammy Award–winning New Orleans Jazz Orchestra (NOJO) swings on stage at Lafayette's Heymann Performing Arts Center in a night of big band sounds. Artistic director Adonis Rose will lead the mighty band in tunes by Louisiana's acclaimed musical genius, Allen Toussaint. The concert is set for 7:30 p.m. on Oct. 21.
Links to tickets for PASA's presentation of the New Orleans Jazz Orchestra, including the popular four-pack priced at $100, are available at www.pasaonline.org. Tickets are also available at the Heymann Performing Arts Center box office (337) 291-555 and other TicketMaster outlets, as well as by phone at TicketMaster's 24-hour phone line (337) 262-7597.
NOJO has staked its claim in the jazz world, taking the sonic power and stylistic versatility of a big band and adding a New Orleans emphasis on groove. Under Rose's leadership, the band is showcasing more of its range than ever before. A fun, talented band for all types of listeners, the NOJO is an especially great entry-point for new fans of jazz.
"Having NOJO as our opening show at the Heymann Center is exciting," says Jackie Lyle, PASA's executive director.  "We're also anticipating several other activities with NOJO. In the coming weeks, a quartet of NOJO musicians will return and work with UL students, with area high school jazz musicians and will also perform two pop-up concerts on PASA's mobile stage."
The NOJO project is supported by IBERIABANK|First Horizon and the Louisiana Lottery. This project is funded, in part, by a grant from South Arts in partnership with the National Endowment for the Arts and the Louisiana Division of the Arts, as well as a grant from Lafayette Travel.
Toussaint's songbook, which includes the 60's hit Mother-In-Law; tunes recorded by Herb Alpert and the Tijuana Brass, I Like It Like That and Southern Nights–made most popular by Glen Campbell–will make this night a true celebration of Louisiana talent.
Over his twenty-five year career, Adonis Rose has performed at every major jazz festival, performing arts center, and jazz club in the world including Carnegie Hall, Olympia in Paris, North Sea Jazz Festival, Umbria, Birdland, Apollo Theater, Newport Jazz Festival, Jazz at Lincoln Center, and hundreds of others.
Rose has performed and recorded with the biggest names in jazz for over two decades, including Terence Blanchard, Betty Carter, Dianne Reeves, Marcus Roberts, the Jazz at Lincoln Center Orchestra, Harry Connick, Jr, Wynton Marsalis, and on six recordings with longtime friend Nicholas Payton.
Allen Toussaint cut a vast swath across the music landscape as an arranger, record producer, composer and performer. From his Saint Street Studio, which was lost in the aftermath of Hurricane Katrina, he produced some of the most popular music of the twentieth century. Many musicians recorded Toussaint's hit-making compositions, including "Whipped Cream", "Java", "Mother-in-Law", "I Like It Like That", "Fortune Teller", "Ride Your Pony", "Get Out of My Life, Woman", "Working in the Coal Mine", and "Southern Nights". He was a producer for hundreds of recordings, among the best known of which are "Right Place, Wrong Time", by his longtime friend Dr. John, and "Lady Marmalade" by Patti Labelle.
He was inducted into the Rock and Roll Hall of Fame, the Songwriter's Hall of Fame and the Blues Hall of Fame. In 2013, he was awarded the National Medal of Arts by President Barack Obama.
PASA's lineup continues with Scott Bradlee's Postmodern Jukebox (PMJ), the time-twisting musical collective known for putting "pop music in a time machine," on December 1. The vibrantly energetic and emotionally captivating drama Black Angels Over Tuskegee arrives in Lafayette for one performance on January 20, 2022.
For more information about the New Orleans Jazz Orchestra's October 21 performance or other activities, call PASA at (337) 781-1273 or email jackie@pasaonline.org.