No Holding Back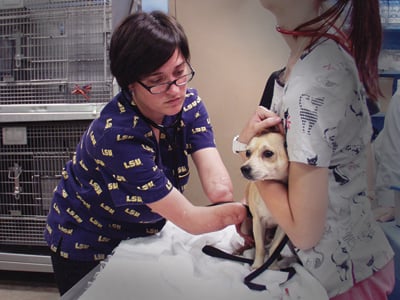 The young veterinary medicine student reaches for a test strip to slide beneath the lens of a microscope. He's performing under the watchful gaze of his mentor, Dr. Brandy Duhon, so, understandably his fingers tremble. He drops the difficult-to-handle, paper-thin strip then finally picks it up on the third try.
A few minutes later, the 32-year-old Duhon performs the same feat and gets it right the first time.
Sure, she's done this thousands of times.
But consider this: Just as she does with every other procedure in her veterinary practice, including surgery, she picked up the strip with her elbows.
Duhon, you see, has no hands and no forearms up to about three inches below her elbows.
"When I was 13 I contracted spinal meningitis, and they had to amputate my hands and my forearms," she says in a matter-of-fact tone. "But I consider myself fortunate in that they didn't go past my elbows. I had some relearning to do on living life. They wanted me to use prosthesis and not try to use just my arms, and I understand that. But I just felt I could do a whole lot more without prosthesis."
It is a cool early autumn day when Dr. Brandy Duhon leads her five students into the tiny Ascension Parish animal shelter outpost at Sorrento, on a seemingly otherwise deserted strip of Airline Highway a few miles south of Baton Rouge. As always, she is first to enter the shelter to a cacophony barking and meowing. The Lafayette native bubbles with enthusiasm.
"I love it!" she says. "I look at these animals. They have nobody. They're abandoned, lost, thrown by the side of the road. We don't have a lot of money in (animal) shelter medicine, and I think this is why I love it so much. It's a way of taking care of [them], a way of really giving back to society. Rather than saying, 'I'm sorry, I can't help you if you don't have $3,000,' shelter medicine allows us to go in and get it done. It's practical. I may have a dog who has a yeast problem. Let's see what we can find in the kitchen that may help that dog. How practical is that?"
Nor do Duhon's innovations stop at shelter work.
"In surgery, I use gloves just like everybody else," she says. "I just put the fingers on the inside until they're all tucked in and nothing is left hanging out. Then they pull the [Latex] gloves over my arms to the elbow. I don't use powdered gloves because I don't want the powder on the outside in surgery."
"My mom alters my scrubs to make the arms shorter. I just put them on backwards where the back is to the front, and I'm covered. I use my body a lot in surgery. I'm always leaning in, and I want to stay sterile, so I just gown up for every surgical procedure. I do probably three or four surgeries every other week, and the method I use has really served me and the patients well."
Duhon knows there is an added benefit in the way she carries out her professional duties …to her students.
"I rarely hear, 'I can't…' from my students," she says. "When I come behind them and hit a vein on the first try (on a treatment procedure) it doesn't leave a lot of room for them to feel sorry for themselves. So in a lot of ways my condition is a positive experience for my students whether it's in the classroom, in surgery or like here on one of our shelter rotations. The animals, the students, the sense of fulfillment and satisfaction…I just can't think of doing anything else. How could I?"
The young veterinary student is back for another try at those test strips. This time he picks one up and slides it under the microscope lens on the first try. A look of immense accomplishment crosses his face.
"See what I mean?" Duhon exlaims. "If you really want to do it, nothing can hold you back."