NOMA's "Art in Bloom" blossoms in its 25th year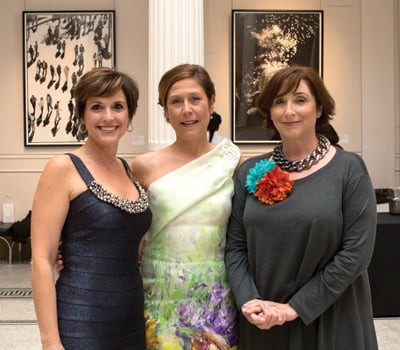 This year's "Art in Bloom" event, "Celebrating Steel Magnolias," kicked off on March 20 with a patron party at the New Orleans Museum of Art. The 25th annual fundraiser acknowledged and showcased the "elegance, grace, beauty and strength" of Southern women.
Joey Brown and Jeanette Slakey chaired the event, the proceeds of which will support the projects of the Garden Study Club of New Orleans, including the New Orleans Botanical Gardens, Beauregard-Keyes House, Lazarus House and Longue Vue Gardens, as well as educational programs and exhibitions at NOMA.
Patrons got a chance to preview the event's exhibits while dining on local delicacies from Galatoire's, Whole Foods, Muriels, Arnaud's, The Pelican Club, Rum House and Catering D'Orleans, among many others. Guests bid on silent auction items including unique works of art by some of the most region's most gifted artists, such as Tim Trapolin's "Hot Ginger and Dynamite," a Steel Magnolia Chandelier by Luis Colmenares and sterling silver pearl-studded stick dangle earrings from Mignon Faget.
Art in Bloom showcased more than 75 exhibitors over five days, among them floral designers, garden clubs and artists. Susan Haltom, author and garden historian, lectured about the historic restoration of a real Steel Magnolia, Eudora Welty's mother's garden. Event planner and author Tara Guérard and NOLA Flora designer Angela Darrah gave a demonstration on floral arrangements for entertaining, and Saks Fifth Avenue hosted a catered lunch and fashion show at the Pavilion of the Two Sisters. Local actors even gave a staged reading of Robert Harling's play Steel Magnolias.
---
Event at a Glance
What: "Art in Bloom Patron Party," benefiting New Orleans Museum of Art and Garden Study Club of New Orleans
When: Wednesday, March 20
Where: New Orleans Museum of Art