NORTH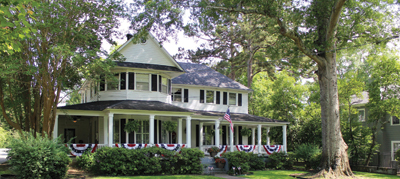 My family always practiced the cherished Southern tradition of long visits with relatives over the summer months when, mercifully, school was done for the year. I remember the hush and peace of their homes, with filtered sunlight glowing softly in the rooms, the rustling of trees, birdsongs, bookcases and the scent of flowers that were as much a part of the summer magic as swimming, baseball games and barbecues.
On a quiet street in the charmingly artisan town of Minden, the Huffman House Bed and Breakfast welcomes its guests like family members. This beautiful old Federal-style home, built in 1918, sits on sprawling grounds where rosebushes flourish and trees provide ample shade. The wide, shaded porches offer swings and chairs filled with plump cherry-red cushions for quiet meditation. Inside, you'll find quiet nooks with sofas; wing chairs; a window seat in a blue guest room; and a 1960s retro-chic guest that doesn't blind you with psychedelic colors.
The history of the inn is not undermined by cutting-edge technology provided. Along with the fresh crisp linens, each room has access to the Internet and HD television. Herbal teas are offered in the evening, or you can request in advance that a bottle of wine with assorted cheese and crackers be sent to your room. You might also want to take a dip in the sparkling cerulean pool, or take a spin through the nearby antique district on one of the bike cruisers provided by the inn.
Huffman House offers exquisite breakfast items: the breakfast beignets are light puffs of fried dough coated in powdered sugar; a single, large vanilla-scented pancake infused with blueberries served with scrambled eggs and breakfast meat, or the bacon and pecan waffle should carry you well past lunch time. Not to be missed is the praline and pecan waffle, where a maple-based praline glaze, infused with pecans, spills over a cinnamon and vanilla-flavored Belgian waffle.
Huffman House Bed & Breakfast
1108 Broadway St., Minden
(318) 639-9141
---
Sarepta
EAGLES IN THE MUD
Over Fourth of July weekend, the tiny town of Sarepta will hold Muddin' for the Military, an event that'll raise money to support Wounded Warriors, a military and veterans charity service organization that empowers injured veterans and their families. Sarepta lies close to the Louisiana-Arkansas border, not far from Shreveport. Back in the late 1860s, the unincorporated area was the site of a newly built church where people met for Sunday worship. The church remained unnamed until Mrs. Sarepta Carter donated a Bible and was thus it was christened, "Sarepta" in her honor. It is also the birthplace of country music superstar, Trace Adkins.
Muddin' for the Military will take place at the Muddy Bottoms ATV Park and assures attendees their days will be filled with mud, music, fun and food. Also present will be 10 wounded soldiers and military personnel who are likewise into mucky ATV jaunts. The public will have the chance to honor and thank these heroes. Fundraising events will include both a silent and live auction; raffles and T-shirts sales. Plenty of concessions will be available at the Eating Pavilion.
Cypress Bottom native, Frank Foster, will perform country music. The event ends the evening of July 4th with a grand finale of fireworks that'll fill the skies over Sarepta.
Proceeds raised over the weekend will go directly to the Wounded Warriors project.
Muddin' for the Military
July 1-4
muddinforthemilitary.com