Northern Louisiana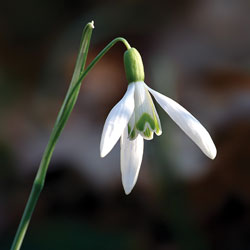 CAUSE TO CELEBRATE
Mighty mites
According to Monica Crowe, a reporter for the Ruston Daily Leader, a group of preschoolers mounted on tricycles recently burned serious rubber in the parking lot of Emmanuel Baptist Church. The Trike-A-Thon, an annual fundraiser wherein the little ones solicit pledges from sponsors ranging from one dime to a dollar per tricycle lap, raises money to benefit St. Jude Children's Research Hospital. The parking lot is filled with romper-covered legs pumping madly and the gleam of bike helmets streaking past. Emmanuel Preschool Director Kathy Mitchell said that the Trike-a-Thon has been a tradition since 1985; each year the Emmanuel Preschool tots have raised an average amount between $1,500-$2,000.
Participating tykes are first taught the basics of bike safety through the auspices of a St. Jude-sponsored course filled with DVDs, books and coloring sheets presented by teachers at the school. The children continue to solicit donations for an entire week –– even when not mounted on tricycles.
"A lot of times parents don't have the money to even get to St. Jude or pay for procedures because they're very costly," Mitchell said.
Mitchell is glad that her school participates in what she considers a worthy cause. Part of the donations will pay for medical care far too costly for some families to cover.
I remember, as a young girl, being very moved by the story of Danny Thomas and St. Jude Children's Research Hospital in Memphis, as told to me by my mother. Thomas had been a struggling entertainer who couldn't catch a break –– he asked for the intervention of St. Jude, patron saint of hopeless causes. Thomas promised God that if he became successful, he would build a shrine to St. Jude. When widespread fame was his, Thomas fulfilled his promise and built a children's hospital named for the saint who so effectively intervened on his behalf to God.
So it was with a lot of eagerness that, during the October I was 12, I went canvassing from door to door around our new neighborhood on Short Street in New Orleans. With a St. Jude blue collection can in my hand, I walked up the steps of large, lovely homes along Fontainebleau Drive and rang doorbells –– always to be greeted by an irate lady of the house who promptly slammed the door in my face the minute I said "leukemia." I didn't collect a penny until I wandered, without much hope, to a tiny, slightly run-down shotgun double where an elderly lady sat on the porch. This obviously not wealthy lady gave me an entire dollar. She apologized that she couldn't spare more because she was a widow waiting for her husband's pension check; she said if I would come back later, she would once again donate. I never returned, and I've never forgotten her.
For more information, visit stjude.org or call (800) 805-5856.
FORK IN THE ROAD
Going Dutch in D'Arbonne
When I evacuated for Katrina, I regretted not including the Dutch oven that's been in my family forever –– along with my important papers, family pictures and the teddy bear from my first Christmas. I had an aunt who baked the most wonderful cornbread in a Dutch oven using a secret recipe that included bacon fat and buttermilk. She chased me out of the kitchen when I was spying on her to see how she concocted it.
On cold January nights, there's nothing better than coming home to a big pot of something hearty and flavorful that's simmered or baked in the cast-iron confines of a Dutch oven, be it jambalaya, chicken, pork or chili. Just lifting the lid to see the gleaming pot liquor is a joy. Dutch oven dishes cooked on a campfire offer no less happiness.
The Farmerville Gazette recently talked to park ranger Jon Witherington and fellow Dutch oven devotee Janice Bearden, members of the newly formed D'Arbonne Dutch Oven Society. The society meets every third Saturday of the month to cook meals in Dutch ovens and then share all the food. The heavy cast-iron pots, which can be tripodal in some instances, always have tight lids perfect for holding in the juices. The mainstay of serious campers, these ebony pots also have been known to simmer atop kitchen stoves in addition to over campfires beneath starry skies.
"They're perfect for camping because you get just the right amount of coals you need for the temperature you want and then stand the Dutch oven right on the coals," Witherington said. "They come in all different sizes, so you can actually stack them on top of each other. You can have a 10-inch pot on the bottom with another 8-inch pot stacked on top of it."
Witherington said that many Dutch ovens have flat lids that allow you to put coals on top of them, so if you stack pots on a campfire, the coals atop the bottom oven are actually heating the bottom of the one stacked on top of it. Bearden, a Farmerville native and avid camper, advises Dutch oven users to rely on the diameter of the pot when it comes to determining the right amount of charcoal by adding three to the pot diameter for the number of pieces of charcoal on top and subtracting three for the amount on the bottom. If the diameter of the pot is 12 inches, for example, use 15 pieces of charcoal on top and nine on the bottom.
According to Witherington, "If it can be cooked, you can probably do it in a Dutch oven." Dutch oven enthusiasts have cooked biscuits (use fewer pieces of charcoal to prevent burning the tops); beef; Texas hash, made from rice, ground beef, bell peppers, onions and tomatoes; fish; chicken; jambalaya; gumbo; meatloaf; soups; stews; beans; breads; and even cheesecake! After you've purchased a new Dutch oven, scour it with hot soapy water, and dry it completely. Then coat it with vegetable oil, and place it in a heated oven to season. After using your seasoned cast-iron oven, clean it with hot water and a brush sans soap, dry it thoroughly, and coat it with vegetable oil again.
LOUISIANA-GROWN
Snowdrops
Snowdrops, especially in Great Britain, were long associated with the feast of Candlemas on Feb. 2. This feast was also known as the Purification of Mary because it was when she first presented her son to the temple six weeks after his birth. In Christian tradition, candles were lit en masse on this day to signify Christ as the light of the world. The common thread among snowdrops, presentations to temples and Feb. 2 seems to be pure emergence. On the feast of Candlemas, snowdrops, with the Latin name "galanthus," which means "milk-white flowers," usually pop up from beneath the snow looking like drops of milk nodding on bright-green stems. In the South, however, they have been known to bloom all winter long. Snowdrops naturalize extremely well, with some plantings lasting a lifetime. These tiny blooms are perfect for low borders, rock gardens and shaded pathways or for adding as paler accents among more brightly colored flowers. They're a lovely little sight on cold winter walks before you go home and curl up before the fireplace. Snowdrops are self-seeding and seem to enjoy the colder air of a North Louisiana winter. They should be planted in moist soils rich with humus amid sun-dappled shade.