Northern Louisiana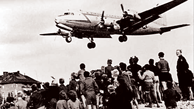 NEWS BRIEF
Back to Berlin
According to John Andrew Prime of the Shreveport Times, a member of the Greatest Generation, Lewis Dale Whipple of Benton, returned to Berlin in May to participate in a celebration that honored the heroic Berlin Airlift. Whipple, who was part of the epic airlift, is the vice president of the international Berlin Airlift Veterans Association. The celebration included meetings with local German schoolchildren, ceremonies at the old Templehof Airport and a symposium composed of three American and three British airlift veterans at the Allied Museum.
In 1948, Harry S. Truman's rating in the presidential polls was low, partly due to his seemingly weak stance against Russia and the threat of communism. The Cold War was, paradoxically, heating up as the unlikely bedfellows of capitalism and communism that joined forces to win World War II were now taking each other's measure. Defeated Germany had been divided under the supervision of the Council of Foreign Ministers that included France, the U.S., Great Britain and the Soviet Union. Russia also occupied Poland, Czechoslovakia, Hungary, Bulgaria and Romania, and they were apparently beginning to lick their chops over Berlin, a city divided into four sections governed individually by the four Allies. In the fall of 1947, America and Great Britain combined their zones into one to stabilize the shaky post-war economy. France soon joined them. Russia, however, wanted to keep the German recession in place and drive out any Western influence from Berlin. They demanded to search any supply trucks coming from the three other Allies who did not bow down to the demands of the Soviets. The Soviets then laid a blockade on Berlin; no trains or trucks with supplies were allowed to enter, and Berlin faced certain starvation. Truman's decision to initiate the airlift received harsh criticism from advisers, but beginning in June of that year, in concert with Great Britain, the United States made more than 200,000 flights that dropped 13,000 tons of food daily into the besieged city. Both defeated and disgraced, the Soviets lifted the blockade on May 12, 1949, and any doubt about America standing up to a communist threat was dispelled.
"This is a very important date for the Berliners," said Whipple to the Shreveport Times.
Also making the trip to Berlin were 35 American airlift veterans with family members, airmen from Ramstein Air Base and British and French veterans.

PROFILE
It's all in the "Zame"
Jamie Callender, a photography student at Bossier Parish Community College, is an original. According to Sonya Denise Reed of nwlanews.com, Callender opened an exhibit of her work by claiming, "Laissez les bon temps roulez!" And apparently, the good times did indeed roll as she introduced photographic images she captured from the viewpoint of her own unique vision. Callender calls these "Zamey" shots. Part of a required special project during the past semester, the exhibit of this New Orleanian's work spilled through the Baptist Collegiate Ministry building at Louisiana State University-Shreveport like a spicy gumbo. Her photographs were mainly of South Louisiana and New Orleans; it was her clear intent to capture the soul of her beloved region for the "Northerners" upstate.
"I had a certain mindset of what I wanted to capture and what I wanted to show," Callender told Reed. "I have a strange eye for angles and different things that others may not observe. They may see it and not ever take a second look, whereas I may see it, and it causes me to do a double take."
This exuberant shutterbug explained that her motivation for shooting a picture of a manhole cover in New Orleans was to show that flavor can be found in anything in South Louisiana, even a manhole cover. Amid her photographs, Callender revealed the work that she considered her finest, Voodoo. This is a dreamlike painting, a rendition of one of her photographs of a street in the French Quarter that slides across the canvas at a delightfully quirky angle, filled with the terra cotta, green and peach colors of the French Quarter.
Darrell Chitty, Callender's photography professor, gets the most credit, in Callender's opinion, for her artistic growth. Calling the special project stressful, she likewise sees its benefits.
"I have grown through this, and it has added so much more to my work that I would not ordinarily have done," Callender said.
After she graduates next year, Callender hopes to work for a magazine or newspaper, but her idea of a dream job is to shoot photographs for National Geographic.

LOUISIANA GROWN
Cashmere bouquet
Perhaps it came from growing up seeing too many television commercials and usually having it in the soap dish at home for me to first think of that wonderful-smelling soap whenever I hear any mention of cashmere bouquet. Cashmere bouquet is a wonderful old-fashioned flower that has spread through gardens for centuries. The round clusters of its pink flowers look like the tops of snowballs poking their heads out of stalks of huge leaves. The flowers are among the most fragrant to be found, leaving little wonder why the Colgate Co. used both its scent and its name when they sold their first milled perfumed soap back in 1872. Whenever I see a cashmere bouquet bush, I think instinctively of picket fences, gingerbread porches, summer lemonade (and Dr. Kildare and Gillespie, the television Baby Boom thing again). Cashmere bouquet is also called rose glory bower, Mexicali rose or Mexican hydrangea and graces summer gardens with its exquisite sweet scent and glossy deep-green leaves. It can form a dense thicket of growth if not properly pruned. Buds that appear in shades of magenta and then fade to pale pink when they open are magnets for butterflies.
A member of the mint family, the roots of cashmere bouquet are in China and India. It has been said that its botanical name comes from "kleros," a Greek word that means "fate." Ancients believed the plant held much power regarding good and bad luck.
Cashmere bouquet spreads by underground runners and can be quite invasive throughout the yard, so it's a good idea to have a 6-inch soil barrier to prevent the plant from popping up in other areas. In addition to butterflies, ants love to scurry around the sweet flowers. If you decide to cut some flowers for indoors, be certain to first spray the blossoms with anything that is ant-repellent. Charming and sweet as the flowers are, the leaves when crushed are downright odoriferous. The flowers are prevalent in the paradise of the West Indies, and the idea of their scent mingling with salty sea air is a heady one. Here in Louisiana, cashmere bouquet tolerates frost like a good soldier, likes full to partial shade, has only an average-sized thirst and is the perfect finishing touch for a cool summertime bower.