Nottingham Meets Spain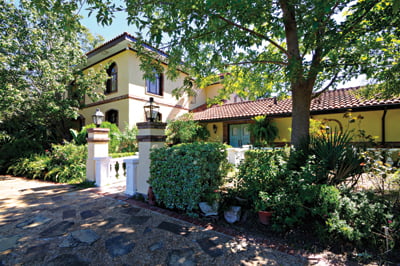 With its 18-acre pastoral setting that includes a view of Sibley Lake in the Oak Grove community of Natchitoches, the home of Edwina and Richard Westrop looks as though it belongs in Richard's hometown, near Nottingham, England.
But upon closer inspection, one will notice the Mediterranean flair to this English country home, inspired by the couple's extensive travels through Spain, France and Italy as well as Edwina's heritage – she is from the Spanish Lake area of Natchitoches Parish, an area that was originally claimed and settled by Spain in the 1700s. She, like many residents of the area, can still trace her lineage back to both Spanish and Adai Native American ancestors.
Being born and raised in rural Spanish Lake instilled in Edwina an appreciation for the land, which is expressed in their home's beautifully landscaped gardens. "The gardens are a never-ending project," she says. "One of my greatest joys since we moved into our home 17 years ago has been developing the gardens and collecting the featured statues."
Inside the home is a feeling of coziness, reminiscent of an English country home. "I like the warmth throughout the house," Richard says. "It captures the homey feeling I remember from my youth in England." He praises architectural designer James Hearron, who accommodated his wishes by adding beams to the ceiling of some of the rooms and English-style windows with small panes.
Hearron explains that one of the unique features of the house is that it has two second-story wings: one for the master suite and another one for the guest bedrooms and bathrooms. "They wanted a lush master suite with French doors opening onto a balcony overlooking the gardens," he says. "The floor plan featuring the guest bedrooms and bathrooms on the opposite side of the house with its own stairway allows the couple complete privacy in their master suite wing."
In addition to their love of travel, they are both avid collectors. "We are both collectors of antiques," Edwina explains, "So our house is chock-a-block with antiques we have collected from throughout the world. We can always find one more spot to add something from our last trip to Italy, Spain, France or England," she says.
"This house fits us perfectly," Richard says. "It's a bit quirky, a bit over-the-top, handsome and pretty enough – and definitely with a playful sense that makes you feel as if Robin Hood may pop in for a visit at any moment. We are always at home here at our country hide-away in our own forest. It isn't Sherwood Forest, but it will do."