Olde Tyme Grocery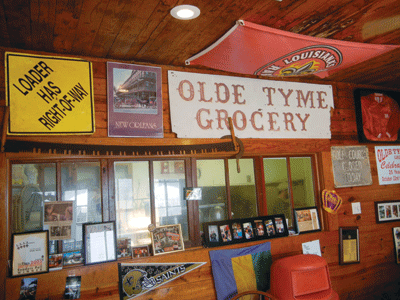 There are very few things that bring people together more than good food and school spirit, and in a region that's known for both, visitors and locals have celebrated Lafayette's Olde Tyme Grocery since it opened in 1982. Glenn Murphree, a native of Chalmette in St. Bernard Parish, purchased the former grocery store and turned it into a bustling sandwich shop.
White with red trim, the building itself is a tribute to the nearby University of Louisiana-Lafayette's Ragin' Cajuns, and many of its patrons are students or alumni.
Despite its Cajun setting, a taste of New Orleans can be found within: The store is best-known for its poor boy sandwiches, although instead of using the crunchy bread that is often associated with the sandwich, Olde Tyme makes its version on softer bread from Lafayette-based Langlinais Baking Co. Ross Murphree, Glenn's son, who has been working there since he was 17, says that "most people like it a lot better."
The numbers don't lie. The family-run eatery sells about 700 to 800 sandwiches a day. "The fried shrimp poor boy is probably 50 percent of our business," says Ross, noting that other popular choices include oyster, catfish, ham and roast beef.
"My dad started off slowly, selling about 15 sandwiches a day." Now, during the Lenten season, the orders increase to 2,000. "It's busy every day, with [people] flying out the door all day on Friday," Ross says. "It's a very chaotic atmosphere; it's kind of what makes us who we are. We have 90-year-old women who come in every Friday. … They can barely walk in the door; they've been coming here for years. We also get a lot of businesspeople and families. It's a wide range of people, and we like it. We serve as much of the public as we can."
With an outdoor patio and a snowball stand in the warmer months, perhaps the truest testament to Olde Tyme's lasting appeal is its dining area, which is filled with photographs of beaming faces. Ross says it is a display of happy customers who've been loyal since the beginning: "We have a lot of character and a lot of nostalgia."