Pelican Briefs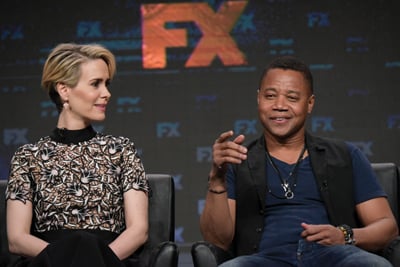 Gains for Gooding
Cuba Gooding Jr., the Oscar-winning "Jerry Maguire" star, just made his directorial debut in Louisiana with the New Orleans-set thriller, "Louisiana Caviar." It finished filming at summer's end. In it, a Russian oligarch is banished from the U.S. and Gooding portrays a boxer. The A-list actor is now setting his sights on another Louisiana-shot production, "Katrina: American Crime Story. "Gooding's dramatic portrayal of O.J. Simpson in the franchise's first season, "The People v O.J. Simpson: American Crime Story," attracted nine Emmys, a Golden Globe and five other coveted awards. FX recently announced that production dates for its third anthology season about Hurricane Katrina's aftermath have been delayed from late 2017 to early 2018. The original, politically-inspired story for the Katrina series is now based on Dr. Sheri Fink's book, "Five Days at Memorial," based on suspected homicides at the hospital during and shortly after the hurricane. Prior to press, producers announced that Sarah Paulson (pictured above), 2017 Golden Globe winner for "American Crime Story," is portraying the controversial Dr. Anna Pou. Casting announcements and changes continue for the blossoming production.
---
Houma
Research Ship Announced
Gulf Island Shipyards in Houma was awarded a contract by Oregon State University to build a $122 million, 193-foot ocean research ship (courtesy of a National Science Foundation grant). The cutting-edge new vessel, expected to support science operations for 40 years or longer, will have advanced sensors that can detect and characterize harmful algae blooms, including those associated with the annual summer Gulf of Mexico dead zones occurring in Louisiana and Texas.
---
FLYING HIGH FOR LESS
Kenner
The Denver-based no-frills discount carrier, Frontier Airlines, begins its new non-stop flights from Louis Armstrong International Airport to Austin-Bergstrom International (Oct. 5), Providence, Rhode Island's T.F. Green Airport (Oct. 5), San Antonio International (Oct. 6) and New York's Long Island MacArthur Airport (Oct. 6). A new $1 billion terminal is scheduled to open in 2019.
---
Disney Bucks are Back
Louisiana was selected as the filming location for Disney's live-action adaptation of the children's book, "Timmy Failure." The feature-length film is in pre-production through September, with 60 days of principal photography to follow. Budgeted at $42 million (with $32 million being spent in-state), the major studio has Tom McCarthy ("Spotlight," winner of two Oscars) as director.
---
Lake Charles
Lunch is On Us
All of the students at Lake Charles College Prep, Lake Charles Charter Academy and Southwest Louisiana Charter Academy can now get free breakfast and lunch daily for the 2017-18 school year. Unlike in past years, parents aren't required to complete any forms for free and reduced-price meals. For more info: 337-475-7910.
---
Baton Rouge and beyond
Funny money
The 20th Judicial DA's office has advised that there has been an increase in counterfeit currency being used in the Baton Rouge area. At first glance, it appears to be authentic, but the bad cash has notices indicating that it's for use in movies and is not legal currency. So, if you come across the funny money, don't try to use it or stash the cash, or you may end up wearing stripes (it' a felony, so call the DA: 225-683-8563).
Lake Charles
State's First Micro-hospital
Louisiana's first micro-hospital opens in mid-October in Lake Charles (3730 Nelson Road). AMD Global LLC officials said the 33,000 square-foot facility, built on seven acres, has a smaller footprint than regular hospitals with enhanced visual aesthetics and more individualized patient care, as well as 24-hour ER. Plans to build similar hospitals around the state are underway.
---
HALLOWEEN HAUNTINGS
Baton Rouge, Jefferson, St. Francisville, Hammond, New Orleans, Leesville
Are you looking for spooky spots to wear those new fangs for Halloween? The 13th Gate Haunted House in Baton Rouge has live snakes, a crematory oven and about 100 scary actors; Necropolis 13 is like walking through an old cemetery with its 400 zombie infested crypts in a 40,000 square-foot haunted space (across the street from 13th Gate). The House of Shock in Jefferson hosts a full Halloween Festival with pyrotechnics, a bar, music and food. The Myrtles in St. Francisville, known as the most haunted house in America, has creepy tours each weekend in October (stay overnight if you dare). Rise Haunted House in Hammond has a hidden lab that simulates experiments to create the walking dead, plus the Dark Souls Haunted House, and Operation Deadly Assault Zombie Paintball featuring a paintball hayride as you hunt the undead. The Mortuary's City of the Dead in New Orleans is the epitome of haunted houses. The Tree Farm Massacre in Leesville is a 45-minte walk-through horror trail with a zombie hunt for added gore.