Pelican Briefs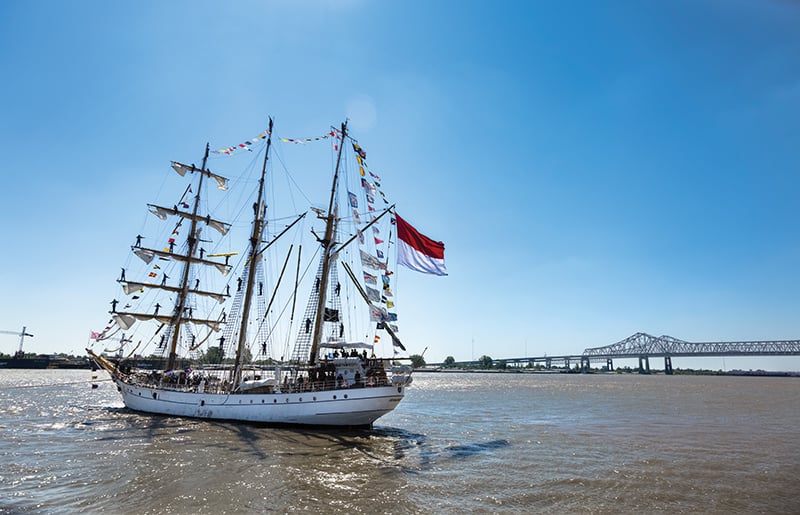 New Orleans
Sail Away
If you've ever dreamed of sailing aboard a 19th-century pirate ship, here's your chance. Historic ships are docking in New Orleans April 19-22, including five tall ships at Woldenberg Park on the Mississippi River and a few smaller sailing ships (check out the Jolly Rover of Key West) at Lake Pontchartrain, where they'll be open for public sailings on the lake. Tall Ships New Orleans (tallshipsNOLA2018.com) is timed for the Tricentennial, and coincides with NOLA Navy Week 2018. New Orleans is among several stops along the Tall Ships Challenge annual race series of historic ships, which is being held in the Gulf of Mexico for the first time.
New Iberia
Everywhere in the Open Air
Thirty-five artists selected from 15 states are gathering in New Iberia March 10-16 for the fourth annual Shadows-on-the-Teche Plein Air Painting Competition. Visitors are invited to watch the artists painting in the open air at various locations around town, culminating with winners exhibiting their works (available for purchase) at the Shadows Visitor Center March 16. Bring your paint brushes March 14 for Paint Out, a public plain air competition followed by prizes and an exhibit (shadowsontheteche.org). Meet celebrity authors April 6 to 8 on Main St. at Books Along the Teche Literary Festival and enjoy cooking demos, a party barge, film screenings, a Cajun fais-do-do, literary workshops and an Acadiana Symphony Orchestra concert (booksalongthetecheliteraryfestival.com).
Women on the Rise
Emerge Louisiana has announced its Inaugural Class for 2018, which includes a group of 25 women who are future political leaders from across Louisiana, hailing from diverse backgrounds, races, religions, socioeconomic levels and professions. The state's premier organization for recruiting and training Democratic women to run for political office, Emerge Louisiana launched as the 19th affiliate in the Emerge America network last year. For the complete class list and upcoming events, visit facebook.com/EmergeLouisiana.
---
It's a Bet
For the first time in 20 years,
Louisiana lawmakers will be asked to rewrite the riverboat casino laws. Proposals are being sponsored in the regular legislative session commencing in March. A legislative task force is recommending changes to move casinos to land while redefining the limits on reconfiguring the size of gaming floors where gambling takes place. In other gaming news, Louisiana is among 18 states that are likely to introduce bills in 2018 that would regulate sports betting. A U.S. Supreme Court ruling in June will decide a case brought by New Jersey that seeks to overturn a ban on sports betting in all but four states. Some analysts feel that such a ruling legalizing sports betting nationwide could result in a rapid expansion of internet betting.
---
Natchitoches
Jazzing it Up
After a one-year hiatus, the Natchitoches Jazz/R&B Festival will be held on the renovated downtown riverbank with the strongest lineup in the festival's history. Two multi-platinum groups, Starship featuring Mickey Thomas and the Ohio Players, join the jazz, rock, soul and country lineup April 13-14. Reserved seating is available for the first time (natchjazzfest.com).
Breaux Bridge
The Seafood Queen Cometh
A new seafood and steakhouse, Café Sydnie Mae, is opening in the building that housed the iconic Café Des Amis, famed for its zydeco brunch for 25 years in downtown Breaux Bridge. Chef Bonnie Breaux, who was crowned Queen of Louisiana Seafood at the 10th annual Louisiana Cook-off in June 2017, is the executive chef (her winning dish was cracklin'-crusted black drum with fennel marmalade). She was formerly chef at The St. John Restaurant in St. Martinville (Sydnie Mae's sister restaurant) and also presided over Clementine's in New Iberia.
---
James Beard Star Status
New Orleans
Dong Phuong Bakery (dpbakeshop.com) in New Orleans East was recently named as one of the five recipients of the James Beard Foundation's 2018 America's Classics award, presented by TABASCO® Sauce (now celebrating its 150th anniversary). Famed for its creative banh mi sandwiches since opening in 1982, it was one of the area's first Vietnamese bakeries. The Tran family supplies numerous establishments with their signature light and airy, crackling-crust French bread that is ideally suited for po-boys. Created in 1929 to feed drivers during a streetcar strike, the po-boys reinterpreted at Dong Phuong Bakery are as diverse and dynamic as the city they symbolize.