Pet Friendly Staycations
Fun Louisiana locales where Fur family is welcome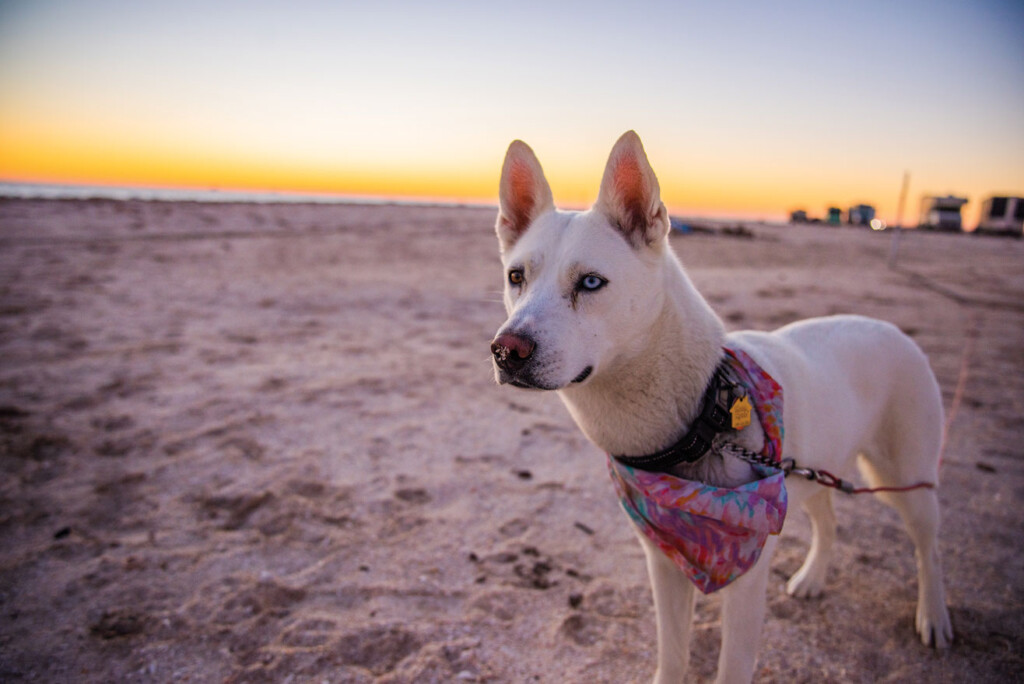 We love our furry friends, so why not take them on the road when we travel? Recent polls show that pet owners want to bring their dogs and cats with them when they travel, which is why many accommodations, attractions and eateries now welcome pets. In fact, around 75 percent of luxury, midscale and economy hotels allow pets, according to a 2016 survey by the American Hotel & Lodging Association.
We've compiled a few pet-friendly spots throughout Louisiana where Roux and Minou will feel right at home.
Lodging
Most Louisiana cities offer national hotel chains such as La Quinta, Hampton Inn and Holiday Inn that welcome pets and that's just pawsome. Check the different hotel chain websites for more information and additional fees involved.
In New Orleans, several boutique hotels and bed and breakfasts allow for pets. Canopy, for instance, welcomes pets up to 75 pounds with beds, toys and other amenities for a nonrefundable fee. Pets visiting the Hotel Monteleone receive "Monte's Pet Package" with a fee and per night charge. Ace Hotel greets pets under 25 pounds (and not just dogs) as their guest with a per night charge and the furry members of the family are allowed at the pool lounge.
Baton Rouge's Hotel Indigo has a 75-pound pet limit and in Central Louisiana, Cheneyville's historic Loyd Hall Plantation allows pets in their cottages behind the main house. Dogs and cats are welcome at The Remington Suite Hotel & Spa in Shreveport with a fee per pet, per night.
Food
Enjoy one of the 50 beers on tap or indulge in pub fare at the appropriately named The Bulldog Uptown in New Orleans. The Magazine Street patio is the perfect place to relax with your dog and they even have Yappy Hours to raise money for animal charities.
A round of a-paws for downtown Lafayette restaurants that say oui to pets on their outdoor patios. Spoonbill Watering Hole & Restaurant used to be a gas station and tables are scattered out front along historic Jefferson Street. The Wurst Biergarten is dog friendly as well, so pull up a seat in the outdoor space and enjoy food and a cold brew. Closer to the University of Louisiana at Lafayette is the long-standing Olde Tyme Grocery and its patio is a favorite with the dog crowd — that and the trademark po' boys.
Bring a water bowl when you visit Luna Bar & Grill in downtown Lake Charles, which allows dogs on the patio. Over in Baton Rouge, the dog-friendly outdoor patio is the perfect pooch setting at Mid City Beer Garden.
If browsing with the pets is more your style, the Bossier City Farmers Market that's held from 9 a.m. to 1 p.m. Saturdays at the Pierre Bossier Mall April through November, allows pets on leashes.
Microbreweries
With a name like Le Chien Brewing Company (translating from the French to mean "the dog"), you'd expect to see dogs lying about while their owners enjoy a local brew. Ditto for the newly opened Adopted Dog Brewing in Lafayette, which offers a selection of craft beer, food, arcade games and a dog-friendly patio.
Say hello to Tom Petty, the orange and white cat who loves to visit with guests at Crying Eagle Brewing Company in Lake Charles. And hang out with your pet on the courtyard at the brewery's summer concert series happening through September.
Everyone's welcome, furry friends included, for beer and pizza at the Cajun Saucer at Bayou Teche Brewing in Arnaudville. But when the weather's nice, visitors may prefer the outdoor seating.
Flying Heart in West Monroe, Bossier City and Natchitoches love guest pets, although the four-legged visitors may prefer a bowl of water to Flying Heart's lineup of craft beers. "In Bossier city and West Monroe, we have a dog-friendly beer garden and of course service animals are allowed inside (we had a kangaroo in the other day in Bossier)," said Jeffrey R. Judge, pizzaiolo and director of franchise operations. "In Natchitoches, we currently do not have much available outside space (so very weather dependent) and service animals always allowed. We have a dog meal on the menu at all three locations and we do fundraisers with local rescue groups to raise awareness as well."
That's just a sampling of the many microbreweries in Louisiana that honor pets.
Get Them Outdoors
It's a given that no matter where you take your dog, they will need to get outside and play. The good news is that Louisiana offers dog parks in nearly every major city.
NOLA City Bark — no, that's not a misspelling — will delight four-legged friends with its 4.6-acre stretch of fenced lawn with water fountains, shade pavilions, doggie pools and on-site restrooms. Dogs must have a permit showing they are properly vaccinated and spayed or neutered.
There are several dogs parks in Lafayette, including Brown Memorial near Interstate 10 and Girard Park bordering the University of Louisiana at Lafayette. Moncus Park offers both off-leash and on-lease areas, including its newest section, the Giles Automotive Family Small Dog Park. Acadiana Park Nature Station and Trails on the east side of Lafayette features more than six miles of mostly wooded hiking trails, so dogs may enjoy exercise without overheating.
Dogs run free at New Iberia's Raising Cane's Dog Park and at Kiroli Park in West Monroe. Pooches are separated by size so no bullying is allowed at Alexandria's Hynson Dog Park. Open daily in Shreveport is another fenced segregated dog park located on the riverfront two miles south of downtown and Baton Rouge offers several off-leash dog parks through their BREC recreation department, open from dawn until dusk.
In Lake Charles, the Lakefront Promenade is a great place to walk dogs on leashes, said Shalisa Roland, director of public relations for Lake Charles tourism. Further south of the city, visitors and dogs may wish for a run near the water. "The Gulf beaches along the Creole Nature Trail are perfect for a doggie daytrip," said Roland, recommending Holly and Rutherford beaches. "Just bring food, water and poop bags," she added.
Attractions
Houmas House owner Kevin Kelly owns a beautiful Labrador named Maggie. She's one of several dogs that have called Houmas House and Gardens home. Dogs must be on a leash while touring the grounds and if they're well-behaved may enter the historic home. They're allowed in the cottage accommodations but only in the outside seating of restaurants.
Jungle Gardens on Avery Island near New Iberia are open to leashed dogs, just keep a tight rein since the island's home to lots of gators. The American Rose Center in Shreveport is known for its 20,000 rose bushes since it's the national headquarters of the American Rose Society. But be sure to "paws" for a picnic with your leashed and properly vaccinated pet while roses bloom from now through mid-October.
Louisiana State Parks
New Orleans native Kathleen Walls traveled with her dog Romeo in her RV, and sometimes with her cats, when she owned a motorhome.
"He loved it," Walls said of Romeo. "Especially if I was in a state park and could take him hiking into the woods."
All Louisiana State Parks welcome leashed pets into their outdoor facilities, and several parks allow for dogs in cabins for overnight stays. The Park with Pets policy charges $40 per dog with a maximum of two dogs per cabin.
Parks with pets policies for overnight stays include: Bayou Segnette State Park, Bogue Chitto State Park, Chemin-A-Haut State Park, Chicot State Park, Cypremort Point State Park, Fontainebleau State Park (currently closed due to hurricane damage), Jimmie Davis State Park, Lake Bistineau, Lake Claiborne State Park, Lake D'Arbonne State Park, Lake Fausse Pointe State Park, North Toledo Bend State Park, Palmetto Island State Park, Poverty Point Reservoir State Park, Sam Houston Jones State Park, South Toledo Bend State Park and Tickfaw State Park.
For more information about Louisiana State Parks, visit LaStateParks.com.
Events
It's Louisiana so you know there will be dog-friendly events to celebrate. The annual Bark in the Park, for instance, is held in November in Girard Park of Lafayette and benefits Acadiana Animal Aid. And, of course, there's Carnival with its pawsome pet parades. The canine-focused Mystic Krewe of Barkus rolls through a 15-block French Quarter route with a canine royal court, as well as the Krewe des Chiens through downtown Lafayette. Other Carnival pet parades include Baton Rouge's Mystic Krewe of Mutts, Covington's Mardi Paws Parade, Lake Charles' Krewe of Barkus, Monroe's Krewe of Paws and Shreveport's Krewe of Barkus and Meoux.
Safety Tips for Traveling with Pets
When traveling by car, it's imperative to keep dogs anchored using a seat belt or other means, according to the Humane Society. These safety harnesses keep your dog from jumping in your lap or distracting you while driving but they also protect dogs in the event of a crash. Cats should be kept in carriers while in the car and any kind of pet should remain in the back seat. Never drive with your pet in the back of a pickup truck and don't leave a pet alone in a car.
Traveling by airplane with a pet may be harmful to the animal, especially if they are flying within the cargo hold, so the Humane Society suggests alternatives, such as traveling by car or leaving them behind in a kennel. If you must bring pets by air, choose having them in the cabin with you, if possible. Always call the airlines before leaving to research their policies.
Service animals are allowed on Amtrak and many European trains allow pets. Cruise ships rarely allow pets, but they do allow service animals; contact the cruise line to discover their pet policies.
One thing to consider when traveling with a cat is that many hotel rooms will have spaces beneath beds. Cats may use these spaces to hide. Ask hotels beforehand and if there are spaces, use pillows and other items to block off access, unless you want to spend an hour digging your feline free.
Finally, always bring water and food for your pet when traveling, preferably one that's easily transportable for use in restaurants and parks. For cats, a kitty litter box is required.