Plantation Country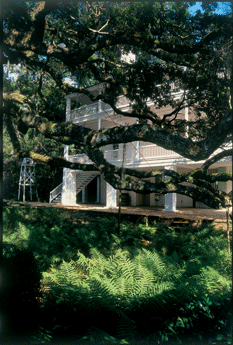 Plantation Country is a true melting pot of the South. The mighty Mississippi flows through the middle of Plantation Country, dividing the culture through the centuries. The romance of the area is evident in the harmony between past and present. In the 1700s and early 1800s, the Great River Road delivered French Creoles from New Orleans, hardworking German settlers and planters from England trying to make their fortunes. These settlers brought with them their customs and styles that make Louisiana the diverse area that it is today. The east side of the Mississippi is as different as the west side. The Felicianas are full of charming antebellum homes, bed-and-breakfasts and Civil War re-enactments.
Follow the Mississippi as it flows down through the heart of Plantation Country. Avenues of ancient oak trees grace the lawns of stately mansions that whisper of days gone by. Take a quiet walk in St. Francisville at Rosedown Plantation, where the gardens were uncovered and restored, providing a haven of solitude among the many roses.
The genteel manners and hospitality of Plantation Country are known the world over. Long ago, should you visit friends on a plantation and overstay your welcome, a pineapple was placed on your bed as a gentle reminder that it was time to leave. Unmarried male visitors were housed away from the main house (and unmarried ladies) in a garçonnière, a small building on the plantation grounds. Many stories were also passed down through the generations, such as at Laura Plantation, where the story of Br'er Rabbit, originally known as Compair Lapin, was born.
Plantation Country is full of larger-than-life legends and ghost stories that have been passed down through the centuries. The Creole Indies-style homes and English antebellum homes all have colorful stories of the families that once inhabited them. Old Man River is still important to trade, just as it was many years ago. The capital city of Baton Rouge is experiencing a rebirth of its own, from a downtown renaissance to its new role as the movie capital of the South.
Baton Rouge is full of the hustle and bustle that all cities offer. But Old Man River reminds us to re-evaluate our lives and slow down the pace. The Mississippi is the life of Plantation Country, offering a history that has told many stories through the centuries.
Baton Rouge means "red stick" and was once marked by American Indians with –– you guessed it –– a red stick. In later years, Baton Rouge became a hub of business for cotton growers and sugar cane farmers. The mighty Mississippi provided a convenient means to transport cargo to New Orleans. As time passed, plantation homes dotted the riverbanks and mansions were built and rebuilt as a testament to the wealthy landowners and the hard work of slaves and other plantation workers.
Plantation Country has long been a provider of necessary goods needed all over the world. What began as a red stick has grown into cities and communities all over the state. Yesterday's crops of sugar cane and cotton have grown into oil refineries and other trades.
Today, visitors can stand on the levee in Baton Rouge and listen to the calliope play "The Entertainer" or close their eyes and inhale the scents and sounds that transport them back to the days of long ago. If the city is too busy, they can venture out and explore other areas of Plantation Country, where life is still slow and steady like the flow of the Mississippi.
North of Baton Rouge is a tale of two cities divided by a river: one French and one very much English. A 15-minute ferry ride across the river gives a better perspective of its greatness. On one side is St. Francisville, with its tall white columns and English gardens. A ferry ride away is New Roads, a distinctly French-influenced area with Creole-style plantations. Not even a half-mile divides these two towns, yet the difference is even evident in the residents' accents.
The southern end of Plantation Country is the gateway to the New Orleans area. West Baton Rouge is connected to Plantation Country by two bridges in Baton Rouge. To the east is Livingston Parish, a place that locals call God's Country due to all of the open farmland and rural housing. This is an area of pine tree plantations and hunting grounds. Hunting is a popular sport in Louisiana.
Plantation Country is also a fisherman's haven, with the camps of Old River, Bayou Gauche and False River. Golf-lovers can hop onto the Audubon Golf Trail or make a visit to Zachary, home of Copper Mill Golf Course, one of Golf Digest's Top New Courses in 2005. Race fans can stop by Baton Rouge Raceway on a Friday night, where the roar of engines can be heard miles away.
Families can enjoy the culture and entertainment offered around the area. Alligator Bayou takes you into the swamp where alligators and other creatures abound. The Baton Rouge Zoo is an inexpensive way to spend an afternoon. Nearby Blue Bayou Water Park and Dixie Landin' Amusement Park offer rides such as Voodoo, the world's largest dark BehemothBowl water slide, and the Ragin Cajun, a 14-foot steel roller coaster.
History comes to life at different times through the year. Port Hudson National Historic Site holds an annual re-enactment of The Battle of Port Hudson. In nearby Jackson, visitors can ride an old rail train, observe the Battle of Jackson Crossroads or stop in at Centenary Commemorative Area.
Livingston Parish and the surrounding area celebrate their German and Hungarian ties with Oktoberfest and Ponchatoula's Strawberry Festival, which boasts award-winning strawberry wine. Point Coupee Parish's "cut off point" is the oldest settlement in Plantation Country.
December is a magical time of the year in Plantation Country. During the first weekend of December, St. Francisville entertains visitors and residents with "Christmas in the Country," where you can step back in time and walk through a lighted historic district complete with carolers. On Christmas Eve, Lutcher's Festival of the Bonfires on the Mississippi River lights the way for Papa Noel.
The music of Plantation Country is as diverse as its people. Teddy's Juke Joint in Zachary serves up blues as well as soul food in an unassuming haunt of locals and blues-lovers. The Baton Rouge blues scene is still alive today, thanks to the efforts of Tabby Thomas, the late Johnny Adams and many others.
Zydeco and swamp pop can be heard at many gatherings and festivals throughout Plantation Country. The French, German, Hungarian and English influences are evident in the styles of a swamp waltz or a zydeco two-step.
John James Audubon created many of his wildlife sketches while he was a tutor at St. Francisville's Oakley Plantation. These sketches brought nature to the lives of many around the world, and his name is synonymous today with nature and conservation. The Tunica Trace, in the same area, offers hiking and nature-watching.
Audubon also left his mark on the golf scene, where the Audubon Golf Trail includes 12 courses that are dedicated to protecting the environment and preserving the natural heritage of the game of golf. The Bluffs, an Arnold Palmer course developed before the Audubon Trail came along, is nestled into the lush landscape of Plantation Country. The park-style course blooms with azaleas on land that Audubon himself may have walked.
If you are looking to get a glimpse of the wildlife that lives in the waters of Plantation Country, check out Alligator Bayou in Ascension Parish and take a guided cruise of the wild beauty of the Spanish Lake Basin. If you would rather forgo a boat ride in favor of walking through the swamps, Bluebonnet Swamp and Nature Center offers an affordable way for the entire family to experience the ecology of South Louisiana.
Visitors and residents can bring the land into their homes with Henry Neubig's Louisiana Mud Painting Gallery. He brings to life the scenery of the real Louisiana.
Football season brings contemporary music as live bands play around campus during tailgating parties at Louisiana State University and Southern University. Legend has it that an earthquake occurred at Death Valley, the LSU stadium, when the exuberant cheering of Tiger fans registered a 3.1 on the Richter scale.
Livingston Parish is home to fabulous antiques shops. The downtown antique district of Denham Springs has gained a reputation as a hot area for antique-buyers, with nearly 30 antiques shops. A short drive down Interstate 12 brings antique-lovers to Tangipahoa Parish and the city of Ponchatoula. Shops and cafés line the downtown historic district where treasures are waiting to be found.
Nestled on the banks of False River, New Roads Main Street offers a low-key afternoon of window-shopping at the many boutiques and antique stores. Sit a spell at a coffee café, and listen to the lap of the water against the piers.
Plantation Country offers little scientists a chance to get hands-on experience. The Louisiana Arts and Science Center with the Irene Pennington Planetarium is downtown Baton Rouge's main attraction for families. Livingston Parish is one of the sites for the National Science Foundation's Laser Interferometer Gravitational Wave Observatory, or LIGO. This prestigious research station, in collaboration with California Institute of Technology, Massachusetts Institute of Technology and LSU, is at the cutting edge of gravitational physics research and laser technology. LIGO is dedicated to the detection of cosmic gravitational waves and the harnessing of these waves for scientific research.
The Louisiana State Penitentiary is located in Angola, north of St. Francisville. It is where "the world's most dangerous rodeo" is held each Sunday in October. Visitors from all over the world flock to see the daring tricks and rough riders who entertain and wow the crowds. Prisoners not participating in the rodeo itself can be found selling their wares, from fine artwork to hand-carved wooden collectibles. The money made from the arts and crafts fair goes to inmates' families or to a local charity.
Plantation Country has much to offer in the way of day trips. Pack a lunch for a romantic stop, or experience one of the country-style restaurants that can be found along the various scenic byways. Roll down the windows, and feel the breeze of Plantation Country pass you by.
Scenic Byways

River Road Scenic Byway
Part of the Great River Road, Highway 65 follows the Mississippi River through countryside that offers sights typical of Louisiana's Delta region –– from past to present. The route starts in an area highly developed by the petroleum and chemical industries that play such a large role in modern Louisiana's economy. As the road follows the Mississippi River downstream, you will encounter examples of river commerce, such as shipyards and the lock at Plaquemine. You may view them from the lock house museum and observation tower.
The road passes through a few small towns, remnants of a once-thriving area along the Mississippi River. Except for the river levees, the sparsely wooded terrain is flat. Visitors can also appreciate the historic quality of Louisiana's rural communities and the hustle and bustle of cities such as New Orleans.
Tunica Trace Scenic Byway
This charming winding road passes through the Tunica Hills and ends at Louisiana's famous state penitentiary at Angola. The name of the byway honors the aboriginal trail later used by Tunica Indians in this historic region.
Lodging

High-End
The Cook Conference Center and Hotel is located on LSU's campus on North Lakeshore Drive. This hotel is the ultimate Tiger fan's place to stay. The tasteful muted tones of purple and gold grace this entire complex. A full Southern breakfast is complimentary, and there is also free Wi-Fi.
The Hilton Baton Rouge Capitol Center is located in the historic Heidelberg Hotel. This site was used as the State Capitol during the times of Gov. Huey Long. A secret tunnel was uncovered that leads to a building across the street and also to the Capitol Building. A private dining room is available that offers diners at The Kingfish a view of the tunnel entrance (which is now sealed off). The small size of the hotel rooms is offset by the charm of staying in this landmark.
Sheraton Baton Rouge Convention Center is conveniently located in downtown Baton Rouge with close proximity to the Mississippi River.
Bed-and-Breakfast
Baton Rouge's The Stockade Bed and Breakfast surrounds visitors with elegant décor and comfortable amenities. It is located on historic Highland Road, close to the LSU campus, and offers six private rooms with baths.
Bittersweet Plantation Bed and Breakfast features two intimate suites, Bitter Suite and Suite Olive. It is located in Donaldsonville on Claiborne Avenue and is a restored 19th-century home decorated with period furniture and modern conveniences.
Jackson is home to Milbank Historic House. This 1836 Greek Revival inn once served as the banking house for the Clinton-Port Hudson Railroad.
St. Francisville is home to a number of bed-and-breakfasts. The Shadetree is a contemporary yet rustic cluster of intimate cabins that provide a setting for romance.
The nearby Myrtles Plantation offers overnight stays in one of America's most haunted houses. Butler Greenwood Plantation has private cottages with historic charm on oak-shaded grounds.
Vacherie's Oak Alley Plantation is a welcome respite for weary travelers. Stay overnight in 19th-century plantation cottages that are located near the antebellum mansion.
Nottoway Plantation in White Castle is a place to experience luxury and Southern charm at one of America's 25 Top Inns
Dining
In Louisiana, we don't eat to live; we live to eat. Nothing is truer in Plantation Country. A touch of old Acadia can be found in a backcountry snack of cracklins or a hot link of boudin. The Gonzales Jambalaya Festival will give you the best of the best of this traditional Louisiana dish. There is also a wide array of fine dining for those elegant evenings or special celebrations.
Ritzy
Latil's Landing at Houmas House serves nouvelle Creole cuisine prepared by chef Jeremy Langlois and served on fine Limoges china. Reservations are strongly recommended for this intimate dining experience in the French house, built in 1770, which is now the rear wing of the mansion. The fine art is not just hanging on the walls but served on a plate, as well.
Varnedoe's at The Carriage House is one of St. Francisville's premier choices for fine dining. Located at The Myrtles Plantation, this upscale down-South style of dining pairs Southern home-style fare and opulent cuisine in each dish.
A Taste of Bavaria near Ponchatoula is a welcome respite from afternoon antique shopping. Step into this establishment, and you will feel as if you have stepped into Old Bavaria. Dress is casual, but the food is authentically German. The on-site bakery offers an array of German pastries each day, but they go fast.
Nottoway Plantation Restaurant offers elegant dining on the site of a plantation so big that it inspired the name White Castle for its hometown.
Satterfield's in New Roads has a lakefront setting at False River. This restaurant accepts casual attire and serves steaks as well as seafood.
Tsunami, a local favorite for sushi, offers the best view of the Mississippi River. This restaurant sits on the top floor of the LSU Museum of Art in downtown Baton Rouge.
Down-Home
Don't judge a book by its cover. Fleur de Lis Pizza in Baton Rouge has been a popular meeting spot for generations. Residents claim that the rectangular-shaped pizza is the best around. The Round the World Pizza is a popular choice at this restaurant that doubles as a cocktail spot. Don't bring a credit card, as they only accept cash.
Boutin's on Bluebonnet Boulevard is Baton Rouge's authentic Cajun music and dining experience. The appetizer platter is the perfect introduction to casual Cajun cuisine. A bit pricey at $32, it comes with enough grilled alligator, fried crawfish tails, bite-size catfish, boudin, stuffed mushrooms and andouille to feed a small army.
The Cabin Restaurant in Burnside, serving seafood and its world-famous gumbo, is in a 179-year-old building.
Mike Anderson's in Baton Rouge is one of the finest seafood restaurants in the South. The younger family members will enjoy watching the fish swim in the large in-wall tanks located around the restaurant. Those without little ones can enjoy an appetizer of raw oysters and their choice of libations while waiting for a table. The grilled oysters are a must-try. The seafood platter can also be ordered grilled. Reservations are not accepted at this popular eatery.
North Baton Rouge is the site of Tony's Seafood, pioneer of Louisiana Fish Fry products. It is also the largest fish market in the South; visitors can walk in and watch the catfish swimming around. Walk over to the hot deli, and order up a few pieces of that catfish fried to a golden crisp.
Sammy's Grill is a local establishment with two locations, one on Highland Road in Baton Rouge and one in the town of Zachary. The casual atmosphere is popular among the locals and visitors alike. The seafood-stuffed potato is always a favorite, and it offers daily specials.
No matter what brings you to Plantation Country –– business, pleasure or just passing through –– the variety of destinations and attractions will impress you.