Preservation Resource Center celebrates 36 years of "Julia Jump"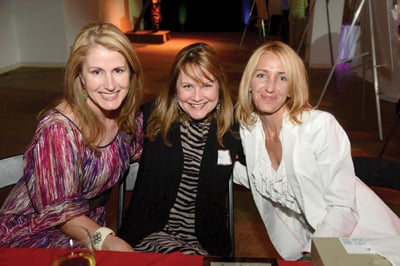 The fabled architecture of New Orleans would be lost to time if not for the efforts of local organizations, including the Preservation Resource Center of New Orleans. Their annual "Julia Jump" is a key player in the fundraising game, helping the PRC restore nearly 1,400 properties citywide since its inception in 1974. The organization also runs outreach and advocacy programs that assist individuals in their own renovation efforts.
Joy Grace and Jill Pipes chaired the 36th anniversary "Julia Jump," which was themed "Revelry on the River," at Mardi Gras World East Bank. Lead sponsors Chevron, Bisso Towboat Co., Inc. and Fidelis Continental LLC/Mr. & Mrs. H. Elder Brown Jr. with help from Dawn Services, Goldring Family Foundation, IBERIABANK, New Orleans Saints and Whitney Bank, made the event possible.
Louisiana Spice set the mood for guests to nosh on delectable treats from 22 local restaurants that served up iconic dishes: crawfish etouffée, shrimp remoulade, chicken and sausage jambalaya, cochon de lait and hand crafted chocolates and pralines. Wellington & Co. donated a stunning diamond pendant, valued at $5,500, for a riveting raffle. The silent auction saw a bevy of items totaling over $100,000 to tickle the fancy of any guest, including a Vespa scooter, Caribbean vacations, Mardi Gras parade rides, more than 40 pieces of art, sports memorabilia, restaurant and cocktail packages and fly fishing packages. The patron party right before the main event featured live music from The Big Easy Brass Band and a sneak preview of the auction.
The PRC is dedicated to the promotion of preservation, restoration and revitalization of New Orleans' historic architecture and neighborhoods.
---
Event at a Glance
What: "Julia Jump," benefiting Preservation Resource Center of New Orleans
When: Friday, March 15
Where: Mardi Gras World East Bank