Pro-Tip: Lip Balm Life is Easier When the Balm is by Your Side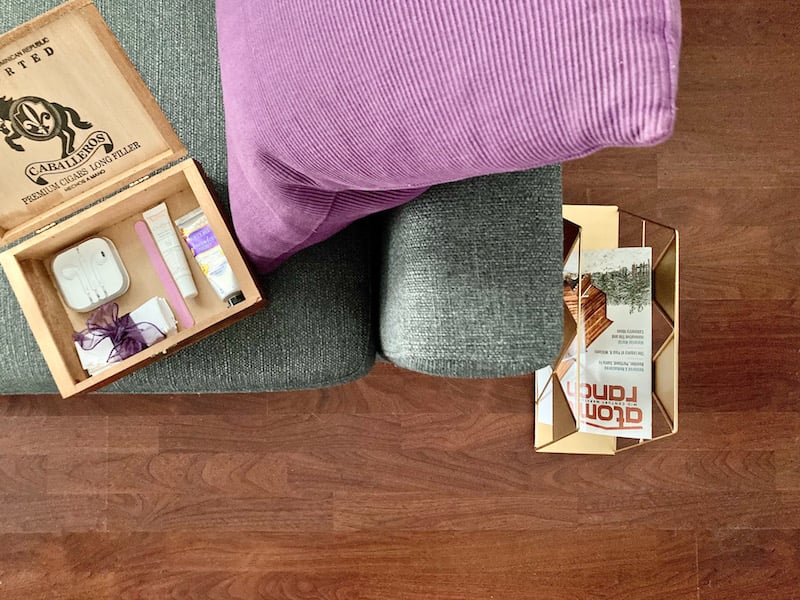 If like me, you aren't fond of constantly getting up to forage around in your bag or medicine cabinet to find lip balm, this pro-tip is for you. Quick and dirty: Put them all over your house. Longer version: Here are a few strategic locations to tuck away a stick, jar or tube of your favorite lip moisturizers, balms and creams.
Sofa Side Secret: My granny gets props for inspiring this tip. She always kept balm, as well as a nail file and hand cream in the drawer of a side table that lived near the couch. Our side table is sans drawer, so I keep those items, earbuds and a little of this or that as needed in a vintage Caballeros cigar box hidden under our couch.
Medicine Cabinet Must: There is always a tube of lip moisturizer in my medicine cabinet. This is non-negotiable. Apply it morning and evening after you wash your face and before you slather on your face creams, serums, lotions and potions. Your lips will thank you.
Bedside Dreams: I've kept a spare balm in or on the bedside table for years, which many of you probably do as well, but if not, I highly recommend getting into the habit. If your bedside table doesn't have a drawer, get a balm that comes in a pretty jar or pot, so it can also serve as decoration. Or find decorative box in which to hide it.
Mindful Moisturizing: Often after sitting down to meditate, I notice my lips are dry. The Chapstick now in the side table by my meditation chair didn't help me achieve instant enlightenment, but it did eliminate at least one distraction from my monkey mind. #NirvanaBound
Don't limit yourself to my suggestions. If you want lip balm in every nook and cranny of your house, go for it. Bonus: This gives you an excuse to try new lip moisturizers with abandon and purchase multiples of the ones you love. It could be one of the least expensive luxuries to indulge in, but seems like something Oprah would do, therefore giving it an air of decadence. When in doubt, always ask yourself: What would Oprah do? You simply can't go wrong, no? You get a lip balm and you get a lip balm!
Do you have a revolutionary location in which to stash lip balm? Is there a design, entertaining, etiquette or other lifestyle topic you'd like Melanie to explore? Pop it in the comments or send an email to melanie@myneworleans.com.
P.S. I was recently a guest on the FUELED Wellness + Nutrition Podcast hosted by Molly Kimball, registered dietitian with Ochsner Eat Fit, nutrition journalist author of "Eat Fit Cookbook" and (fun-fact) talented potter. We chatted about my six-month alcohol-free challenge and delicious zero-proof drinks for a festive holiday season without the hangover. Give it a listen at the above link, or wherever you like to get your podcasts.