Profile: Artist Hank Holland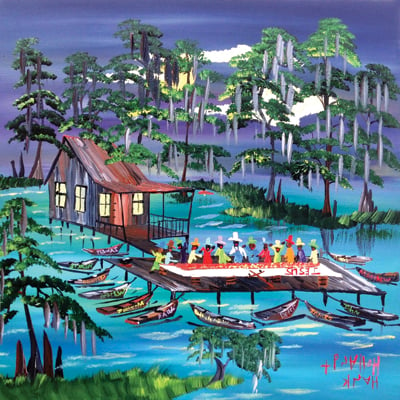 When Hank Holland of Lockport talks about his paintings, he uses words such as "love," "faith," "joy" and "heart" to describe all of the emotions that guide his hand and brushes across canvas. His intensely bright images are imaginary scenes of life along Bayou Lafourche in south Louisiana. But, more importantly, they are also beautiful moments of celebration, rising from childhood adversity and a mother and father's love.
"The bayou is all I know," says Holland, a self-taught painter who has had cerebral palsy since birth. "That's why I paint what I paint. I paint the stories I've heard while growing up on the bayou. I heard how they lived and how people gathered around at juke joints to raise hell and then go to Mass the next morning. I love to paint what our great-grandparents knew about life on the bayou with no cell phones, no computers. It was a simple life. That's what my paintings portray. I like to paint what's in my heart. Painting a picture of a house is not art. Painting how I feel is art." That life on the bayou is the underlying theme in all of his paintings and especially in his two most popular series – "Juke Joints" and "The Circle of Life."
Like most self-taught Southern artists, Holland's paintings are filled with symbols that reflect his own spirituality. "They create from an unbidden inner drive, often with a missionary zeal," wrote New Orleans art scholar Alice Rae Yellen in the 1993 book Passionate Visions of the American South.
Holland, who has spent almost his entire life in Lockport, had no formal art training and very little exposure to art as a child growing up. His mother, Jane, however, loved to paint. "Seeing her paint was the only art I knew," he explains. "She's the reason I started painting. She died in 2007, and I started painting in 2008." He named his studio Baby Jane Studio in her honor. "I don't have my mom anymore, but I feel her with me when I'm painting." A fading photograph of her hangs over his shoulder in his small studio located in the back of his house. A year later, he quit his job as an environmental specialist, which required him to inspect oil field sites and shipyards, to become a full-time painter. The pain in his legs became too great. "It was hard at first," he recalls, "but it has become an obsession. I have to paint on a daily basis. It calms my soul. If I don't paint, I don't eat. This is all I do."
At first, Holland sold his paintings to tourists on Jackson Square in the New Orleans French Quarter, but now – thanks to the Internet – he sells them from his studio in Lockport and to the dozen or so people who show up at his house each week. To date, he says he has completed more than 8,000 paintings, with many of them going across the nation and to various foreign locales, including the Vatican. He gave one of his paintings to a priest from the Vatican who was in New Orleans in October 2011 to attend the funeral of Archbishop Philip Hannan. "The man said he liked my painting but would come back the next day," Holland recalls. "I thought, sure. The next day, I went to Mass at St. Louis Cathedral, and there was this man. He was the priest saying the Mass. I gave it to him, and it's in the Vatican where he lives."
Holland is deeply religious, yet he doesn't mind tackling subjects that might be misunderstood by some people. "I do a lot of controversial stuff, like the 'Cajun Last Supper' paintings," he says. Here, he depicts Jesus and his apostles sitting along a long table, eating crawfish. Each disciple's name is written on a pirogue tied up to the wharf. In a sense, he is localizing Christianity, making it personal. Holland recently began signing his name upside down on the canvas followed by a cross. "I'm the only artist to do that," he says. "I'm a little different, and I want my paintings to be a little different, too. I add the cross to show that God and I painted it. I can't do anything by myself. Everything I do involves him."
Holland and his wife, Maria, are true entrepreneurs. They plan to open a gallery in Lockport, and they also have written a children's book titled Zydeco Krewe, which they will publish through their soon-to-be-formed Holland Publishing. The book will teach children how to deal with disabilities. Maria is writing the text, and Hank is providing the illustrations. They have also produced T-shirts showing his artwork, and the two of them are forming foundations to help disabled children. His Hank Holland Foundation for the Arts will provide scholarships to help disabled high school graduates pursue careers in the visual arts, and her Art A-La-Cart Foundation will be for those interested in the performing arts. (Her passion is acting.) Both hope to have their foundations up by the end of the year.
Holland's life with cerebral palsy has been a lifelong and, at times, a difficult journey for him. But one would never know it when talking to him or seeing his art. "I'm blessed," he says. "A lot of people have hobbies, but they don't get to make a living at it. I have cerebral palsy, which makes it hard enough to paint, but I get to do what I love and make a living at it and support my family. I like to get up in the morning, have coffee with my wife and walk down the hallway to work."
Maria also has cerebral palsy. They met about 10 years ago when Holland was doing volunteer work at the United Cerebral Palsy office in New Orleans. Maria, who has a degree in marketing from Loyola University, was a member of the organization's staff. They married a year later. At first, they were reluctant to have children, fearing they might not be able to take care of a baby. They now have a healthy 8-year-old son, Christian. "She's a great little mommy," he says.
Unfortunately, when they are out in public together they often get stares from unkind or unthinking people. He says they seem to be saying – "Who are you? What are you doing with a child? But we just ignore them."
The stares and unkindness are nothing new to Holland. As a child in school, some of the kids were vicious and constantly teased, bullied and ridiculed him about the way he walked and talked. Those childhood memories are reflected in his Tree House series of paintings that depict a little tree house built high up in the branches. "When I was young and the kids gave me a hard time," he says, glancing over to the other side of his studio where a tree house painting leans against a wall, "my dad built me a tree house. That's where I played with my imaginary friends." He then points to a little outhouse he painted in the tree next to his little refuge. "In that outhouse, I put all my trash and let go of all the teasing and the picking by the other kids. All the bright colors in the painting are the coming of light, peace and happiness into my world." The words "Hope, Love, Faith, Grace" are painted into the trunk of the tree. "You have to have these in your life to be happy."
As to love, each tree house painting is a silent memory of his mother and father. Holland's father died in 2004. "He was a good father," he says. "I wish he could have seen what a good life I've made for myself." At the center of each tree trunk, Holland adds a large heart with the word "Love" painted across it. "When I was 9 or 10 years old," he explains, "the kids were cruel and teased me. My mom use to cut out a big pink heart and write, "Mama Loves You." She tacked the heart to a tree in our yard so that I would see it when I came home from school."
In addition to his Baby Jane Studio in Lockport, Holland is represented in Baton Rouge by Mosaic Garden, 1857 Government St. For additional information about Hank Holland and his work, go to www.hankhollandfolkart.com.