Quick and Easy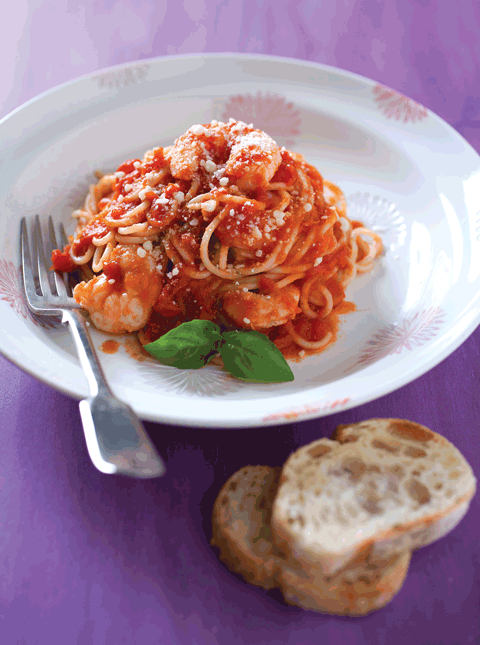 When you're trying to come up with menu items that can be prepared in a hurry, don't forget seafood, which doesn't require long cooking and lends itself to infinite variations. Fresh seafood can be prepared in countless ways with many and varied seasonings, but really all it needs is brief exposure to heat and a squeeze of lemon. With that in mind, it pays to be prudent when adding other ingredients to a seafood dish. Often, simplicity really is the best policy.
---

Shrimp with Onions, Garlic and Bell Peppers



Is there a more delicious combination of ingredients than onions, garlic and bell peppers? If you add shrimp, the answer is yes.
1/4 cup olive oil
2 large onions, chopped
4 cloves garlic, minced
2 large bell peppers, chopped
1/2 cup dry vermouth or white wine
1 pound shrimp, peeled and deveined
Creole seasoning
In a large skillet or wok, heat oil on high heat add onions, garlic and peppers. While stirring frequently cook until vegetables begin to soften, about 3-4 minutes. Add vermouth or white wine and shrimp, and continue cooking, stirring frequently, until shrimp turn pink, about 3-5 minutes, depending on size of shrimp. Season to taste with Creole seasoning. Makes 4 servings.
---

Crab and Avocado Salad


This light and vibrant salad is surprisingly filling. Use mixed baby lettuces or a soft lettuce, such as Bibb.
Lettuce
2 medium avocados
1 pound jumbo lump crabmeat
1/4 cup extra virgin olive oil
4 teaspoons lemon juice
Hot sauce to taste
Coarse salt to taste
4 teaspoons chopped parsley or cilantro
Cover 4 serving plates with lettuce leaves. Cut avocado in half, remove pit, and quarter avocado. Remove skin from each quarter and slice avocado. Divide between 2 plates. Repeat with other avocado. Top each plate with one-fourth of the crabmeat.
Combine olive oil, lemon juice and hot sauce in a bowl and whisk to emulsify. Divide dressing among the four plates, drizzling over the crabmeat. Sprinkle with coarse salt and chopped parsley or cilantro. Makes 4 servings.
---

Artichoke Hearts, Green Peas and Lump Crabmeat


This is good served hot over buttered toast, but it's even better as a cold salad on a bed of lettuce.
1 9-ounce package frozen artichoke hearts
2 tablespoons olive oil
1/4 cup dry vermouth or white wine
1 tablespoon lemon juice
1 cup frozen green peas
1 pound lump crabmeat
Coarse salt
Freshly ground black pepper
Hot sauce
2 tablespoons chopped parsley
Combine artichoke hearts, olive oil, dry vermouth or wine and lemon juice in a large non-reactive skillet. Bring to a boil, cover and cook for 2 minutes. Add green peas, stir, cover and cook until artichoke hearts are tender, about 3 minutes. Add crabmeat and stir gently, being careful not to break up crabmeat. Season to taste with salt, pepper and hot sauce. Cook just until crabmeat is heated through. Sprinkle with chopped parsley. Makes 4 servings.
---

Shrimp Salad


There may be an easier recipe for shrimp salad, but I'm not aware of it. Guests always love this dish, and they're always surprised to learn what the ingredients are. This salad can also be used to stuff avocados or tomatoes. The mayonnaise is key, so use only the best quality. Small shrimp work very well in this recipe.
1/2 cup mayonnaise
2 tablespoons ketchup
1 teaspoon fresh lemon juice
Hot sauce to taste
1 pound cold boiled shrimp, peeled
Coarse salt to taste
Lettuce
1 tablespoon chopped parsley
Combine mayonnaise, ketchup and lemon juice in a bowl. Whisk until well mixed and smooth. Add hot sauce to taste. Add shrimp and toss to combine. Add salt to taste. Place a bed of lettuce on each serving plate, and mound shrimp on top. Sprinkle with chopped parsley. Makes 4 servings.
---

Broiled Fish with Lump Crabmeat


It's difficult to think of a more luxurious or delicious dish than the combination of fresh Gulf fish topped with lump crabmeat. It will set you back a pretty penny in New Orleans restaurants, but you can easily and quickly prepare it at home for a fraction of that, although crabmeat is never cheap.
4 fish fillets, such as speckled trout or drum
1/3 cup melted butter, divided
Creole seasoning to taste
1 pound lump crabmeat
1 tablespoon chopped parsley
4 lemon wedges
Preheat broiler. Place fish fillets on buttered broiling pan. Drizzle with half the melted butter and sprinkle with creole seasoning. Broil until fish flakes easily.
Meanwhile, combine remainder of melted butter and crabmeat in a skillet and cook until crabmeat is just heated through. Place fillets on serving plates, spoon crabmeat over them, and sprinkle with chopped parsley. Serve with lemon wedges. Makes 4 servings.
---

Spaghetti with Shrimp and Tomato Gravy


If you haven't tried any commercial pasta sauces recently, you may be surprised, as I was, at the quality. Some of them are really quite good, and they can be made even better by the addition of an extra ingredient or two, such as wine and fresh herbs. This recipe will be ready in the time it takes the spaghetti to cook. Not all brands of pasta are the same, so it's worth spending a little extra to get a quality product. And, by all means, use Parmigiano-Reggiano, the only true Parmesan. If desired, this shrimp and tomato gravy can be served over rice instead of spaghetti, in which case you might omit the Parmesan.
1 pound spaghetti
1 24-ounce jar spaghetti sauce
1/4 cup dry vermouth or white wine
Hot sauce to taste
1 pound small shrimp, peeled
1/2 cup freshly grated Parmesan
2 tablespoons chopped parsley or basil
Cook spaghetti according to package directions. Meanwhile, combine spaghetti sauce, vermouth or white wine and shrimp in a large pot, and bring to a boil. Reduce heat and simmer until shrimp are done. Season to taste with hot sauce.
Drain cooked spaghetti and add to sauce. Stir to combine and simmer for a minute or two over low heat, while stirring. Turn into serving bowl. Add grated Parmesan and chopped parsley or basil. Toss to combine. Makes about 4 servings.
---
TIPS: With a little forethought, you can keep your pantry and refrigerator stocked with foods that will yield a satisfying meal in a minimum of time. When you cook vegetables, for example, prepare extra and refrigerate the leftovers. Cooked asparagus, broccoli, green peas, green beans and potatoes are excellent to have on hand and can be combined with seafood in various ways, particularly in salads. Likewise, if you have a bowl of hard-boiled eggs in the refrigerator, you'll find uses for them in both cold and hot dishes.
Other ingredients you should have are pots of parsley, shallots, basil, thyme, dill and other herbs, for sure. A bottle of dry vermouth in the fridge, even if you don't drink martinis, will prove its worth in the kitchen. Buy a carton of seafood stock, pour it in an ice cube tray and freeze it. Then store the cubes in a plastic freezer bag and use them to add body and flavor to a dish. Bottled clam juice is another handy item, as is dried shrimp powder, both of which add instant flavor to seafood dishes. Anchovies and capers can be used to enhance many preparations. And please don't get caught without lemons and limes or olive oil and butter.