Quirky Places: White Lake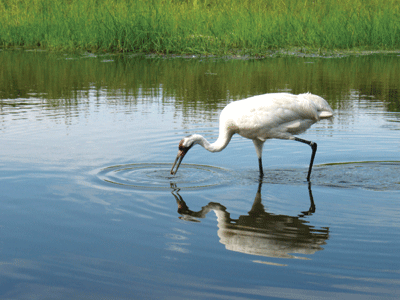 A little-known swath of marsh in Vermilion Parish, visited mostly by fishers and hunters, is now home to a bird that can grow as tall as a small person.
Ten endangered whooping cranes were recently reintroduced in the White Lake Wetlands Conservation Area. The white wading birds, which inhabited the area until 1950, can grow up to 5 feet tall.
White Lake's status as a conservation area is a relatively recent development. The nearly 71,000 acres of freshwater marsh in western Vermilion Parish, near the Gulf of Mexico, once belonged to British oil company BP. In 2002, BP donated the property to the state of Louisiana. Three years later a new conservation area was born.
Much of White Lake is marsh – some 52,000 acres. And it's filled with wildlife, making it attractive to hunters and fishers. The area contains one of the highest concentrations of mallards in the state, and the fishing's not bad here, either.
But taking advantage of White Lake takes some planning. It's mainly intended as a conservation area, so Louisiana's Department of Wildlife and Fisheries allows hunting and fishing and other so-called "consumptive activities" only 38 days of the year.
White Lake is an important refuge for birds: It's the first stopping point for millions of migrating songbirds on their way from Central and South America in the spring. Come winter, around 500,000 migratory birds call the area home. It's important for scores of other birds, too.
"The long-term management of a large stable fresh marsh and adjacent agricultural land make the WLWCA one of the most important waterfowl wintering areas in coastal Louisiana," says Carrie Salyers, biologist supervisor for White Lake. "In addition to waterfowl, White Lake provides abundant habitat for a variety of avian species including migrant passerine birds, shorebirds and wading birds. Additionally, several large breeding rookeries occur on the property."
The most notable residents of White Lake are the 10 whooping cranes introduced in March, and more cranes will be added each year. These birds are considered the most endangered of all of the world's crane species.
Whooping cranes inhabited Louisiana's wetlands and prairies until 1950, when the last crane was relocated to Aransas National Wildlife Refuge in Texas, where a population of cranes existed. But whooping cranes appeared in large numbers in these habitats in the 1890s, before people began encroaching on their habitat and turning the land into farms. Hunting also played a role in their decline.
Three previous efforts to reintroduce whooping cranes in the U.S. have failed or faltered. Experts at the Louisiana Department of Wildlife and Fisheries are upbeat about the efforts at White Lake and have learned from past failures.
The reintroduction has a long way to go before it's considered successful, though.
"Reintroduction will be considered a success when we reach that 125 to 130 population with 25 to 30 breeding pairs, but pairs must be producing offspring that live to fledgling," Salyers says. "This is likely at least 10-plus years down the road." And given that White Lake is popular with hunters, Salyers acknowledges the need to educate those who use the area.
"We have created whooping crane identification sheets that we are able to distribute to the public, as well as general information regarding the reintroduction," she says.
Visitors to White Lake can view the whooping cranes and other birds on a newly created birding trail. The trail, which is still in the planning stages, will be self-guided, and White Lake staff is designing a map to aid birding enthusiasts who come to the area.
More information on White Lake and the whooping cranes is available at www.wlf.louisiana.gov.