Raising Cane
A Lakeland sugarcane plantation and mill is steeped in family tradition and both sweet and harrowing history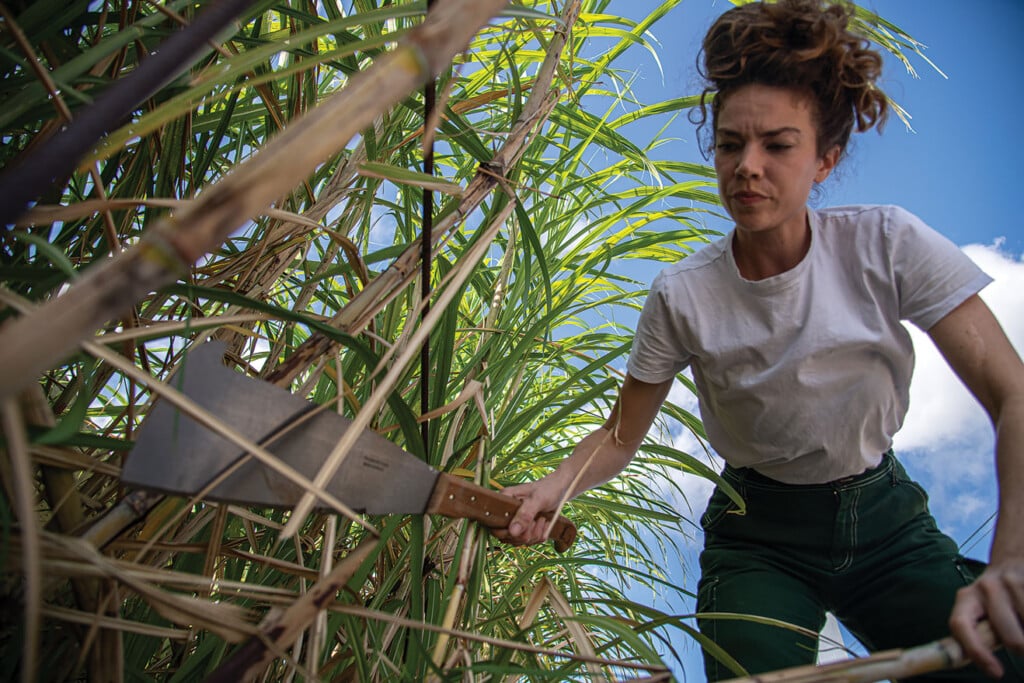 Location
Pointe Coupée Parish
Parish seat
New Roads
From Easter until sugarcane harvest, the 19th-century bell in front of the Alma General Store in Lakeland rings twice each day. The first bell, at 7 a.m., signals the start of the day for the 400 men and women who work at Alma Plantation during sugarcane grinding, an annual season that begins in mid-September and lasts, on average, 100 days. The second bell, at 12:30 p.m., rings to signal the end of lunch. During harvest, an old Mississippi River steamboat whistle blows at morning, noon, and night. All of this happens simply for the sake of tradition.
The past permeates the present at Alma, one of eleven sugar mills in Louisiana and the only remaining mill that cultivates its own cane fields. It's also the only working plantation in Louisiana that maintains its original layout, which includes 3,000 total acres, 2,500 of which produce sugarcane. Roughly 60,000 acres of cane harvested from Louisiana farms pass through Alma's mill each season, meaning that Alma produces, annually, an average of 500 million pounds of sugar.
Out of the General Store — an amalgamation of restaurant, sundry, and museum — step two Central American workers. Olvia Stewart calls out to them in Spanish, a brief exchange that leaves all three laughing. Some of the migratory workers here live in cottages built in the 1920s and 1930s on the site of cabins where enslaved people once lived.
"Neither sugar nor rum would exist without slavery," Stewart says. Through Alma's fields, cane knife in hand, she relays Alma's history, particularly its connection to the slave trade in the West Indies. Rather than shield the past from those who visit the plantation on tours, Stewart focuses on this painful history to acknowledge those who worked and lived here against their will. She pauses before the plantation's cemetery, still used by two local African American congregations. "I want to make sure that those buried here and all their ancestors are honored for the role they played in making Alma what it is today."
Alma and what it has become — namely, Louisiana's top sugar producer — is inseparable from Stewart's own story. First mapped in the 1790s, this land in Pointe Coupée that thrives in the alluvial crescent between the Mississippi and Atchafalaya rivers has been in her family since 1859. Stewart grew up near the workers cottages and left in 2006 to study, ultimately earning a master's degree in art business from Sotheby's Institute of Art in London. Later, she moved to Manhattan and maintained a career in the art world. At the start of the global pandemic, she and Revel Griffith, now her husband, returned to Alma and started working in the distillery — originally Cane Land, later Three Roll Estate and newly renamed Oxbow Rum Distillery in Baton Rouge. They didn't know where it would lead them, but both were eager to learn the inner workings of rum making. Then came Hurricane Ida in 2021.
"That was a pivotal moment," Stewart says. "Ida got me to see that the land in Louisiana is what we thrive off. And the land is disappearing."
She set new goals. "The vision is to be the most authentic and highest quality craft rum brand in the country," she says. Proximity between Alma Plantation and Oxbow Rum Distillery are key to this. "A lot of sugar production is a race against time," Stewart says, noting that microbial activity causes cane juice to change as soon as it is pressed. The longer the distance between mill and distillery means that more changes occur, thereby decreasing the quality of juice. Six hours after pressing, she notes, sucrose molecules break down and the juice spoils. Shipping between Alma and Oxbow Rum Distillery only takes 20 minutes and ensures that the distillery meets its slogan, "Cane to Glass."
In 1990, when Stewart was growing up at Alma, there were 18 sugar mills in Louisiana. With that number nearly cut in half, and with storms always at the back of her mind, Stewart works with new urgency. She does so, she says, for her family and for the legacy of Alma. Her return has also given her a deeper understanding of Louisiana and its potentials. She says, "We want to put Louisiana on the rum map and do for this state what bourbon has done for Kentucky."
Did you know?
The sugar industry in Louisiana began in 1751, when Jesuit priests first successfully cultivated sugarcane in New Orleans, according to the LSU AgCenter. An LSU Libraries exhibition about the history of sugarcane production in Louisiana curated by Christina Riquelmy and Debra Currie notes that by 1795, the Étienne de Boré Plantation, now Audubon Park in New Orleans, produced about 100,000 pounds of sugar. Other Louisiana planters soon began to cultivate sugarcane, and within several years, the New Orleans sugarcane industry shipped more than 550,000 pounds of sugar. By 1801, Louisiana was home to 75 sugar mills.
Sugarcane remains big business. In 2021, Jim Simon of the American Sugarcane League wrote, "Every load of cane that rumbled down Highway 90, 308, 70, 182 or 31 was carrying $4,000 of economic impact for our community."
Oxbow Rum Distillery is the first in Louisiana to make agricole-style rhum made popular in Martinique. "I'd love for other producers to also call it Rhum Louisiane so that we can all work on a designation together," she says. "But whatever the name is for all of us, I want to start something specific to Louisiana and put it on the map as far as the rum industry goes."