Raising the Bar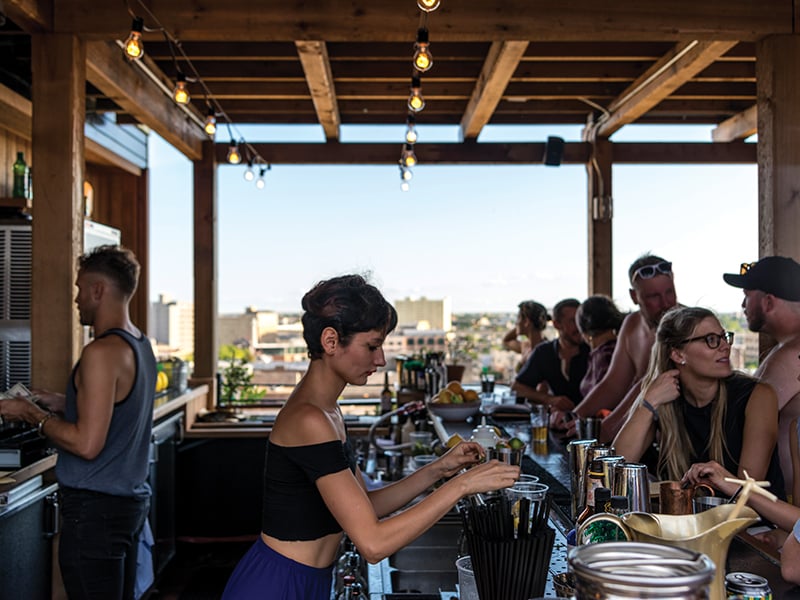 When I was a child growing up in New Orleans my parents included me on an outing where they entertained an out-of-state client at the "Top of the Mart," a rotating bar at the pinnacle of the World Trade Mart. As we sipped cocktails — mine, of course, was a Shirley Temple — the bar's circular motion alternated scenes of the Mississippi River, the Warehouse District and the Vieux Carré.
Although the Top of the Mart wasn't open to the elements, it was the city's highest chance to imbibe with a view. For the most part, perhaps because of our weather, rooftop bars weren't in vogue in the New Orleans of my youth. Or throughout Louisiana, for that matter. But what a thrill it was to absorb the city skyline from above.
Skip ahead to today and you'll find plenty of rooftop action and chances to look down on the Crescent City. While New Orleans has seen an explosion of new venues high above sea level, there are also a few rooftop tippling spots to be found in other parts of Louisiana.
And so, the tradition continues. When my son hit 21, I bought him his first martini and we watched the downtown Shreveport street action from the balcony of Abby Singer's Bistro at the Robinson Film Center, the city's most famous rooftop venue. There's nothing like a drink with a view.
Here are a few to discover.
---
Hot Tin | Pontchartrain Hotel
This historic beauty has seen its share of celebrities over the years, including playwright Tennessee Williams, who was known to have written his famous play, "A Streetcar Named Desire," at the St. Charles Avenue hotel. Today, the Pontchartrain is famous among residents who adore the exquisite 270-degree view from its Hot Tin rooftop bar. Cocktails are unique as well, including the aptly named, "A Spritzer Named Desire," combining pamplemousse, Genepy des Alpes, lime, sparkling water and bitters. The hotel harkens back to 1927, but the bar's decor celebrates a time closer to Williams's residency in New Orleans. Hot Tin is open to the public 4 p.m. to midnight Monday through Thursday, 2 p.m. to 2 a.m. Friday and Saturday and 2 p.m. to midnight on Sundays. hottinbar.com
Hot Tin photos by Christian Horan and Randy Schmidt
The Pontchartrain's Hot Tin offers a 270-degree view of New Orleans and serves up unique cocktails like The Skyline made with Cathead Honeysuckle Vodka, grapefruit, lime, Campari and habañero bitters.
---
Catahoula Rooftop Bar | Catahoula Boutique Hotel
The Catahoula may be a small boutique hotel with a rooftop bar of limited space, but the cozy ambiance and south-of-the-border menu make it unique for the city's Central Business District. The hotel contains only three stories so the Catahoula Rooftop Bar doesn't offer the dramatic views of other rooftop lounges but there's plenty of comfortable seating beneath wooden canopies and umbrellas, plus warm string lighting and touches of succulents. The bar offers South American and Spanish wines and a curated mezcal and tequila selection, plus craft beers and specialty cocktails. We sampled the Reverend Lovejoy, a mix of rum, agricole, lime, mango and cinnamon. The bar's up for special events as well. We visited the night of that late musician Prince's birthday and a party complete with drink specials in his honor — purple, of course — and a planned movie screening. catahoulahotel.com/rooftop-bar
Photos courtesy Catahoula Rooftop Bar
Equally attractive for happy hour or late-night fun is the Catahoula Rooftop Bar with its South-of-the-Border menu, cocktails and specialty wines.
---
Alto ACE | Hotel
This rooftop escape on one of the city's most hip hotels welcomes hotel guests. However, non-guests require a $20 pool access fee during peak hours Friday through Sunday. Happily, the bar's happy house includes mostly non-peak days — 3 p.m. to 7 p.m. Monday through Friday — so non-guests and guests alike may enjoy the poolside seasonal cocktails, frozen drinks, craft beer and wines as well as small plates and pizzas from Alto's new pizza oven. The view takes in much of downtown with Lafayette Square as the epicenter. For those who work in the industry, their happy hour is all day Monday. acehotel.com/neworleans/alto
Alto photos by Fran Parente
Small plates, pizzas and seasonal cocktails are all the rage at The Alto Bar at the Ace Hotel.
---
Monkey Board | Troubadour hotel
This rooftop bar stretches around the hotel in three directions, offering views of the BioDistrict, the French Quarter and the Warehouse District. On a clear day, visitors can spot the lakefront, Mississippi River bridges and Jefferson Parish while imbibing cocktails and small dishes. Seating ranges from wooden picnic tables and bar stools to covered, cushioned alcoves, all popular with the after-work crowds. The afternoon sun at happy hour (4 p.m. to 6 p.m. Monday-Thursday) beats heavy so it's best to choose either side of the main bar, where shade exists. Monkey Board offers three specialty cocktails and food options. monkeyboardnola.com
Photos courtesy Monkey Board
Cushioned, covered alcoves make after work imbibing special at the Troubadour's Monkey Board, with views stretching as far as Jefferson Parish and Lake Pontchartrain.
---
Above the Grid | NOPSI
Everything at the former New Orleans Public Service's building contains utility names and the hotel's rooftop bar sizzles with energy once the sun goes down. Above the Grid doubles as a pool space, although the small natatorium is more for lounging than laps and pool hours conclude at 8 p.m. Above the Grid also features relaxing cabanas, drinks and a limited menu, plus an astonishing view of the city, including a close-up of the Hibernia Tower. Above the Grid is open to the public from 4 p.m.to 11 p.m. Sunday through Thursday and 4 p.m. to 1 a.m. Friday and Saturday. nopsihotel.com/dine/above-the-grid
Photo courtesy Nopsi
NOPSI's Above the Grid rooftop bar features a cool pool but most people come for the drinks, small plates and the gorgeous view.
---
Baton Rouge
Tsunami
We take the mighty Mississippi for granted, Louisiana's massive beating heart that flows through our state. But visitors from all over the world routinely stop and admire the world's third largest river when visiting downtown Baton Rouge and the ideal spot to take in the view is Tsunami's terrace atop the Shaw Center for the Arts, a contemporary visual and performing arts facility. Tsunami, with three locations in Louisiana, serves up sushi rolls, nigiri and sashimi as well as cocktails, beer and wine, but the Baton Rouge restaurant features astonishing views of the river, especially at sunset. There's drink and sushi specials weeknights, which is also the best time to avoid crowds. servingsushi.com
Photos courtesy Tsunami
Very few places can boast of drinks overlooking one of the world's largest rivers but Tsunami can and its Baton Rouge rooftop space is ideal for watching sunsets.
---
Bossier City
Busted Coconut | Margaritaville Resort Casino
There's a four-person minimum to imbibe the Nut Buster at the Busted Coconut at the Margaritaville Resort Casino in Bossier City. At $125 you might want to bring a group or you'll be wasting away. The massive concoction includes vodka, rum, Malibu, melon, Blue Curacao, sweet and sour, orange juice, cranberry and pineapple juice. Mammoth-sized drinks aren't the only things on the menu at this second-floor pool deck bar with a great view of the Shreveport skyline. Since it's a resort linked to musician Jimmy Buffett, you'll find a tropical ambiance and drinks with fun names, such as the S.W.M.L. (Should've Warned my Liver). You can also order your cheeseburger in paradise, of course. margaritavillebossiercity.com/dine/the-busted-coconut
Photos courtesy Busted Coconut
Cheeseburgers in paradise doesn't have to mean the Caribbean. The Busted Coconut at Shreveport's Margaritaville Resort Casino serves them up along with fun cocktails.
---
Shreveport
Abby Singer's Bistro | Robinson Film Center
When the Robinson Film Center took over an old retail building in the heart of downtown Shreveport, organizers wanted to include a bistro on the second floor. They chose the name Abby Singer for an assistant film director who became famous for saying, "We'll do this and one more" when asked about wrapping up production. "Abby Singer" became the name for describing the second-to-last shot of the day. Visitors to the Robinson restaurant and bar may enjoy cocktails and bistro-style dishes inside the bistro or on the balcony with its view of downtown — and even bring their purchases inside the theaters! Happy Hour is 4 p.m. to 6:30 p.m. Tuesday through Friday. robinsonfilmcenter.org/abby-singers-bistro
---
Haunted Bars
Lafitte's Blacksmith Shop Bar
New Orleans
Arguably the oldest structure used as a bar in the United States, Lafitte's naturally owns lots of history, many of which involves the Lafitte Brothers, Jean and Pierre, who smuggled goods into New Orleans. Does pirate Jean Lafitte haunt the bar? Is it he or another pirate grabbing your drink? Or is it one of the many French Quarter residents who refuse to leave?
Houmas House Plantation and Gardens
Darrow
I enjoyed a delicious mint julep in the Turtle Bar at Houmas House while a staff member told me a tale to curl the toes. She had spent the night at the plantation, only to awaken and find a woman in bed next to her. And this lady of the night wasn't alive. The bar — a former garconniere — may not be haunted but we suggest you grab a spirit before enjoying a haunted tour of the plantation, offered every October.
Finnegan's Wake
Alexandria
You might chalk up seeing spirits to the aftermath of drinking spirits but the paranormal activity at Finnegan's Wake was so notorious it attracted the TV show "Ghost Hunters." Story has it that weird noises, footsteps and breaking glass are the result of items brought in from a former brothel. "Ghost Hunters" captured the sounds of singing and a woman's voice.
Dat Dog
Lafayette
When the New Orleans's famous hot dog restaurant opened a location in Lafayette, they found that the historic building in the heart of downtown was once a mortuary! Employees hear strange noises coming from an area just off the second-floor bar and many believe it's a man lurking in one of the old photographs lining the walls.
Monteleone Carousel Bar
New Orleans
Many ghosts haunt the Monteleone Hotel in the French Quarter, from little children running the halls to Room 1467 which is said to house five spirits. Visiting psychics have felt energy lingering in the restaurant adjacent to the Carousel Bar, including "Red," an engineer who once worked in the boiler room one floor below.
---
The Best Happy Hours in the State
Blue Dog
Lake Charles and Lafayette
Blue Dog honors former Louisiana artist George Rodrigue and serves seasonal craft cocktails such as the gin-inspired Loup Garou and the Blue Dog Margarita beneath many of his famous paintings. For well drinks, beer and wine, there's a happy hour from 2 p.m. to 6 p.m. weekdays in Lafayette and Monday through Friday afternoons in Lake Charles.
Social SouthernTable & Bar
Lafayette
Visit Social Southern for the $5 Buffalo Trace Old Fashioneds all day on Wednesdays, or the "Social Hour" from 3 p.m. to 6 p.m. Tuesday through Friday and the Saturdays Suds beer specials from 11 a.m. to 6 p.m. Saturdays. But what makes Social Southern the place to enjoy "spiritual guidance" is the comfortable surroundings, uniquely designed for socializing and enjoying good company. The food's not bad either.
The Mirror Room at The Bentley
Alexandria
The historic Bentley Hotel rises above the Alexandria skyline, but good things are going on below street level at The Mirror Room Lounge. You'll want to sample their delicious cocktails, especially at happy hour from 4 p.m. to 6 p.m. weekdays. Patrons order a drink and receive a token for the second, but here's the great part — you can use the tokens at a later date. Don't miss the appetizers that include boudin balls with remoulade sauce and brisket sliders.
Meril and Delmonico
New Orleans
Emeril's Delmonico serves up Creole dishes in a historic establishment on St. Charles Avenue but here's another reason to visit. happy hour is 5 p.m. to 7 p.m. daily with half-priced drinks — including classic and original cocktails like the Sazerac and Moscow Mule — and small plates. Lagasse's Warehouse District restaurant, Meril, also offers a daily happy hour from 4 p.m. to 6 p.m. at the large horseshoe bar with specials on drinks and Chef Will Avelar's flatbreads.
Brass Monkey Pub & Patio
Monroe
You will find special every day at the Brass Monkey in downtown Monroe, a fun pub that offers sports viewing, trivia games and an outdoor patio. happy hour is 4 p.m. to 7 p.m. daily (all day on Thursdays) with $2 off all drinks, $1 off beer and $2 off food items.
Ember Grille & Wine Bar, L'auberge Casino Resort
Lake Charles
Sip original cocktails and other libations while enjoying live music at Ember's happy hour from 5 p.m. to 7 p.m. daily. "We actually call ours a social hour," said mixologist Kelly Bistok. Specials include certain wines, a weekly signature cocktail and bar menu items for $7, plus discounted well spirits and beer.
---
Beer Patios
Tin Roof Brewing Co.
Baton Rouge
Tin Roof likely owns the largest outdoor space among Louisiana breweries, with a large patio filled with bar, picnic tables and perimeter benches plus the "yard" with 10-12 more tables, a permanently parked taco food truck and a space for live music. And there's plenty room for more, said Jacob Talley, general manager. "We've had 700 people there are one time," he said.
Crying Eagle Brewery
Lake Charles
When Crying Eagle opened in July 2016, owners built for expansion. The brewery on the outskirts of Lake Charles included a 10,000-square-foot brewing facility, a large indoor taproom with bar and an outdoor space for lawn games, seating and concerts. This year, Crying Eagle unveiled its Bistro, serving up wood-fired pizzas and other dishes. Special events include food trucks, music and Bottoms Up Yoga.
Rikenjaks Brewing Company
Lake Charles
Visitors can sit and sip their craft beers and cocktails at Rikenjaks's large outdoor patio while enjoying south Louisiana dishes, listening to live music or playing games such as Giant Jenga and Cornhole. The bar's located outside so that's more incentive to enjoy fresh air when temps drop at night.
Flying Heart Brewing
Bossier City
Flying Heart doubles as a restaurant serving up wood-fired pizzas and a brewery pouring craft brews. It's located inside a former firehouse and they open the doors when the weather's nice, plus there's a beer garden-style patio out back that's dog friendly and perfect for live music performances. Flying Heart uses seasonal fruits in their beers and we've heard the fall apple pie is delicious.
Bayou Teche Brewing
Arnaudville
It's all about live music, jam sessions, Cajun food and craft beer on weekends at Bayou Teche Brewing's taproom, beer garden and covered patio. Occasionally, there's a game of bourré conducted in French, song trivia games or smoked country barbecue. The taproom is family and pet friendly so bring the crowd.
Wurst Biergarten
Lafayette
German beers and pub food are available, but it's the large patio, space for arts vendors and outdoor stage that make the Wurst Biergarten in downtown Lafayette so attractive. It's dog friendly, offers a wide selection of craft beers and has become a regular stop for Word Crawl, a spoken word fundraiser (think pub crawl with poets) for the Festival of Words that happens every September.
---