Ranch Redux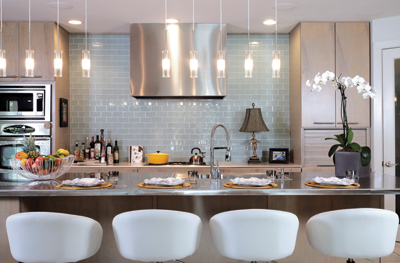 In 2007, Aron Coates was living in an eclectic 1920s cottage, but longing for a midcentury modern home. When a realtor friend called with a late 1950s, early 1960s ranch house, Coates jumped at the chance to make it her own.
"I had researched and read about midcentury modern homes," says Coates, a Monroe native whose great, great, great-grandfather, Joseph Biedenharn, was the first person to bottle Coca Cola in 1894 (in 1925, the Biedenharn family also provided the seed money for Delta Airlines, then a crop dusting business, to become a passenger airline). "When I saw this house, I was ready to roll."
With three young children to raise, she converted the carport into an office space and a playroom for the kids. She also turned to design consultant Katherine Starr for decorating help. In addition to being longtime friends of Coates's family, Starr and her husband live in a classic midcentury modern house in Metairie. Coates was confident that she and Starr would be simpatico collaborators. "I knew I didn't have to communicate what I wanted," says Coates. "I knew whatever [Katherine] liked, I'd like."
As the trickle-down cousins of midcentury modern homes, ranch houses often have the clean, low-slung lines that fans of modernism like, but lack some of the stronger details associated with modernist design. Coates and Starr worked on tweaking the house so that the background elements were in sync with the aesthetics of the era. Since bringing the outdoors in was an important part of midcentury modern architecture, for instance, they added lighting around the pool to make it visible from inside the house at night. They also added midcentury style sconces to both interior and exterior of the house. "Lighting really makes or breaks the vibe of a period house," says Starr.
With retro movies, photos and books for inspiration, the two brought in a mix of atomic age furnishings with space-age lines, cheeky Austin Powers-like pieces from the late '60s and early '70s, and high-end contemporary European pieces from the likes of B&B Italia and Phiippe Starck. A vintage lamp with an amber-colored base set the direction for the color palette, which includes warm golden tones and rich chocolate brown. Cooler tones of aqua were drawn from the backsplash in the kitchen, which had already been renovated by previous owners.
Coates and Starr found most of the décor during shopping trips to Houston, New Orleans and Baton Rouge as well as online.
"Vintage resale shops were a big inspiration," says Starr. "We wanted all the midcentury modern pieces we could find."
Coates, who spent time in Southern California and acted in movies, commercials and theater before becoming a registered nurse, also found inspiration in the iconic modernist homes of the Hollywood Hills. More recently, a connection to the local film industry even led her to open her home to industry insiders and actors, who have responded to its Hollywood Rat Pack-era look. Several A-list celebrities have rented the home while filming in the area.
Standout items in the home include a vintage white piano from a Baptist Church, a pair of vintage Barcelona chairs with worn leather, a new fire orb that calls to mind the Jetsons, ball and chain curtains and a bubble chair that hangs from the ceiling. Pieces that had become lackluster with age, including a midcentury bar and stools on the patio, were repurposed with high gloss car enamel or white chalk paint.
Coates and Starr also worked to make the house a comfortable, family friendly place where the children, ages 13, 15 and 17, enjoy congregating with their friends. Last spring, they refurbished the yard with new and vintage furnishings and a Palm Springs-style succulent garden.
"The area around the pool was so visible from the inside that we needed to continue that flow of living spaces and vignettes," says Starr. "It's great. I can be cooking in the kitchen and look straight out the door to the pool and keep an eye on everyone. We love it."

(First) A vintage amber lamp set the direction for the colors in the dining room. Table by Capellini, white leather chairs by DWR, amber colored chairs from Ligne Roset. (Second) Coates renewed a vintage tufted leather bar and stools with chalk paint. (Third) Aron Coates, wearing a vintage dress from her late grandmother. (Forth) The living room is furnished with contemporary and vintage. Chocolate brown sofa by B&B Italia, Jonathan Adler screen, vintage Barcelona chairs from Renaissance Interiors in Metairie, cowhide rug from 2Modern, sculpture by Allen Wynn purchased at d.o.c.s., floor lamp from DWR. The piano from a Baptist Church, was purchased at an LSU piano sale.