Recipe from Jeremy Langlois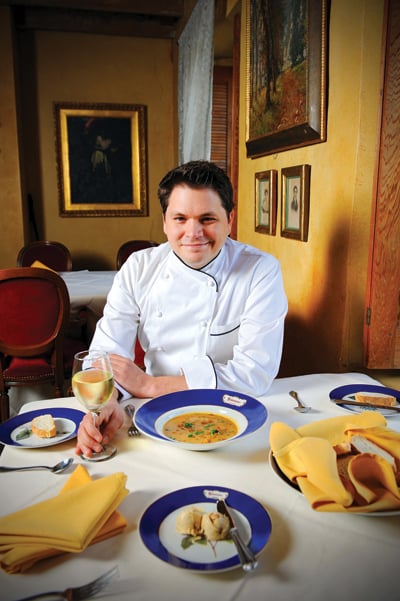 Chef Jeremy Langlois is a rising star, and the rising has just begun. As is true with so many chefs, he began his career working with a master. Langlois started early, the day after his 16th birthday in May 1995, when he joined chef John Folse's White Oak Plantation Team. Within seven months, he was promoted to prep cook. Langlois' mentor, Folse, saw the enthusiasm and the potential in the young protégé and gave him a full scholarship to the Chef John Folse Culinary Institute at Nicholls State University.
Moving to Lafitte's Landing Restaurant at Viala Plantation in January 1998, chef Langlois learned a la carte preparation and experienced the intensity of a kitchen. In 2001 Langlois was promoted to executive chef at Lafitte's Landing Restaurant at Bittersweet Plantation (where the restaurant moved after a fire destroyed Viala Plantation) at the young age
of 22. He was the youngest executive
chef of any restaurant in DiRONA, which stands for Distinguished, Restaurants of North America, an
organization of 750 premier restaurants in three countries.
Langlois now leads the culinary team at the Houmas House Plantation as executive chef at Latil's Landing Restaurant, named by Esquire magazine as one of the Top 20 Best New Restaurants in America. There he creates dishes in a style that he calls "nouvelle Louisiane." His Bisque of Curried Pumpkin, Crawfish and Corn (recipe above) is one of his signature dishes. We suspect there will be many more in the future.

---
Bisque of Curried Pumpkin, Crawfish and Corn
1 cup olive oil
2 cups chopped onions
1 cup chopped bell pepper
1 cup chopped celery
1/2 cup chopped garlic
1 cup flour
1 cup Steen's cane syrup
1/4 cup curry powder
2 quarts crawfish stock
2 cups fresh corn kernels
1 pound peeled Louisiana crawfish tails
1 14-ounce can of unsweetened pumpkin
1 cup heavy whipping cream
Salt and pepper to taste
In a large pot, heat olive oil over medium-high heat, and add the onions, bell pepper, celery and garlic. Cook until translucent, about 10 minutes. Stir in the flour, and cook for 2 minutes. Then stir in the cane syrup, curry powder, crawfish stock, corn kernels and Louisiana crawfish tails. Whisk in the can of pumpkin, bring to a boil, and simmer for 30 minutes. Add the heavy whipping cream, and season with salt and pepper to taste. Serves 12.