Rediscovering the Gulf Coast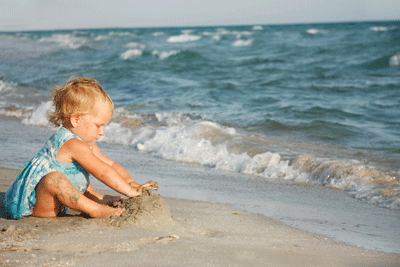 After a devastating year caused by the oil disaster, tourist hot spots along the Gulf Coast want folks to know that they're back. (In fact they never left; the perception scared people away,
never the reality.)
GULFPORT, MISS.
If you want to go to the beach without making a long drive, Gulfport is nearby – with plenty of things to do. Island View Casino Resort (for more information, call (877) 774-8439 or go to islandviewcasino.com) is a good place to stay in Gulfport: Gamblers can head to the slots or tables, and golfers can enjoy a game on Island View's Windance Country Club, named one of America's best golf courses by Golfweek.
Fans of all music genres will love Gulfport Music Festival, featuring artists Montgomery Gentry, Train, Flo Rida, Neon Trees and more. The festival takes place May 13 and 14, just a few miles away from the beach. For more information, call (228) 388-2001 or visit gulfportmusicfestival.com.
Taste the freshest local seafood and prime beef at Vrazels (call (228) 863-2229, or go to vrazels.com), a fine-dining restaurant with French, Italian and Cajun influences.Take a relaxing ferry ride from Gulfport to Ship Island (keep your eyes peeled for dolphins!), where the beautiful, clean beaches are great for swimming and shelling. If you're a history buff, Fort Massachusetts is a great place to visit on the island.
GULF SHORES, ALA.
Known for its white sandy beaches and glistening emerald waters, Gulf Shores is a major destination for family vacations – and also, this summer, for music-lovers. The Gulf State Park is a less-crowded beach perfect for families who like to swim, water-ski or boat. Gulf Shores Public Beach is more crowded, but it's the place to go for beach volleyball and beach bars.
After drying off from the beach, walk just a few blocks to the Alabama Gulf Coast Zoo, which houses more than 290 animals, including lions, tigers, bears, monkeys and more. The Alabama Gulf Coast Zoo is open daily from 9 a.m. until 4 p.m. For more information, call (251) 968-5732 or visit alabamagulfcoastzoo.com.
Festival-goers will flock as the music scene comes to Gulf Shores for the three-day Hangout Beach, Music and Arts Festival. Paul Simon, The Black Keys, The Flaming Lips, Cee-Lo Green and more will come together to perform on the beaches of Gulf Shores from May 20 to May 22. For tickets, call (888) 512-SHOW or go to hangoutmusicfest.com.
SEASIDE, FLA.
Seaside, a small town on the Florida panhandle, rests on immaculate beach sands adorned with colorful cottages.
Robert Davis planned the community to be a modern Victorian town, and what a gorgeous one it turned out to be – The Truman Show's idealistic community was actually filmed there.
Seaside has a lot to offer, with a charming hub of restaurants, art galleries and clothing stores. Restaurants highlight fresh seafood dishes: Visit Bud & Alley's for dinner, or go there for drinks while you watch the sun set (call (850) 231-5900, or go to budandalleys.com).
Every month Seaside hosts its First Friday ArtWalk, which features live music, works of art and art shows. On Saturdays you can stop by the Seaside Farmers Market to see cooking demonstrations and support local growers.
Bring the kids for free sand-sculpting lessons from sand expert Mark Flynn of Sand Odyssey on Thursday afternoons. Kids will also love the Seaside Repertory Theatre's Stories by the Sea, where interactive new stories are offered for children of all ages on weekdays in June.
If you visit Seaside, renting one of the lovely cottages is a must; for more information, call (866) 966-2565 or visit cottagerentalagency.com.
PENSACOLA BEACH, FLA.
Pristine white sandy beaches are Pensacola Beach's claim to fame. The beach is a paradise for swimmers and shopaholics alike, with many shops and boutiques on the boardwalk. Several restaurants rest on the beach, making a great setting for a romantic dinner with a view. After dinner, the night comes alive with live music at local bars and often on the beach.
Regional artists will perform for the outdoor concert series Bands on the Beach every Tuesday starting in May and running through September. From June until September, the Sounds of Summer free concert series will come to the Quietwater Shell on the Boardwalk overlooking the Santa Rosa Sound. Pensacola Beach hosts free stargazing events (for dates, check visitpensacolabeach.com/what/stargazing.php), where 20 telescopes will be set up on the beach for astronomy fans to take a peek.
Across Pensacola Bay is the must-see Pensacola Lighthouse and Museum. The more-than-150-year-old historical landmark offers climbing tours, history exhibits, Light of the Moon tours, ghost hunts and special events. Whether you're looking for a paranormal experience or just a panoramic view, you shouldn't miss the lighthouse. To learn more, call (850) 393-1561 or go to pensacolalighthouse.org.
Nearby is Big Lagoon State Park for nature-lovers, where you can canoe, fish, swim or camp out. You can also rent bikes – which seat up to eight people – and pedal along the bike path on Gulf Islands National Seashore.
A memorable family vacation or a romantic couples getaway is never far from reach in Louisiana, so get out and enjoy the summer!