Regional Reports from across Louisiana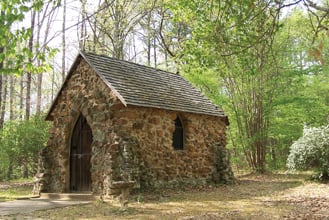 NORTHERN
WORTH WATCHING
ROCK OF AGES IN CARMEL
Looking like a miniature Gothic cathedral atop a wooded hill, the tiny and beautiful Rock Chapel graces DeSoto Parish in a town once called Bayou Pierre. The town was re-christened Carmel (garden of God) by a Carmelite priest; Pere Pierre (Father Anastasius Peter), a native of Austria-Hungary who came to Louisiana from Texas in 1886 to establish a monastery in what was still pretty untamed land in northern Louisiana. In the heavily wooded area, over the course of the next 10 years, the padre not only established a monastery, but also a convent and a boys' school, and he and his holy men also built the Rock Chapel in 1891.
The monastery itself was built of rocks, mud and logs; an old slave-constructed home called the Dick Cole House became the convent. According to the story, "The Garden of God" by Liz Chrysler, the large, dark brown rocks tinged with vermilion used to construct the chapel were carried by hand by the monks themselves to the hill; it was a labor of love to build a quiet spot set apart for meditation and reflections with their God.
Filled with beautiful hand-painted tapestries of celestial blue created by Fathers Angelus Ohlenforst and Marian Nyssen on the ceiling and walls, it rose on a hill filled with hardwood trees, perched over ancient Bayou Loup (Wolf) that had to be crossed by stepping stones placed in the water to reach the chapel.
Life was not easy for these men in the Louisiana frontier. Many were afflicted with starvation, epidemics and early deaths.
Most of them were German and are buried near their Rock Chapel. In 1896, Father Peter was recalled to Europe, and eventually both the convent and monastery closed. In 1904, a garbage fire developed unexpectedly into a roaring conflagration that engulfed the deserted monastery and convent buildings. But the little Rock Chapel, protected by the Bayou Loup, survived.
Eventually, the abandoned chapel was overtaken by brambles and disrepair and remained forgotten until 56 years later when Father William Kwaaitall, a Mansfield-based pastor, began renovation of the chapel. Local artist Eugenia Manning recreated the original tapestry patterns of Fathers Nyssen and Ohlenforst. The stepping stones in Bayou Loup were replaced by a wooden bridge. An emblem rose over the front door with the words, "Zelo Zelatus Sum Pro Domino Deo Exercituum," meaning "With zeal have I been zealous for the Lord God of hosts."
---
CENTRAL
FORK IN THE ROAD
YOU SAY BISTRO, I SAY BISTREAUX
Whenever I remember many childhood (and adulthood) visits to relatives in Central Louisiana, I can't recall ever eating a bad meal, whether it was backbone stew; the incomparable homemade sausage; wild duck simmered in onion over rice; or the powdered sugar-dusted, pan-fried, made-from-scratch bread dough that reminded me of beignets at home in New Orleans.
Coffee here was pretty spectacular as well; in the days before acid rain, my aunt dripped it with rainwater from a cistern, and the delicious cup of Community she always poured for me had a tiny green ceramic frog sitting at the bottom; I loved the sight of him when my cup was drained.
It was an area that had few fine restaurants. In recent years, however, Central Louisiana can boast some really fine eateries. Lying approximately 30 miles away from each other, two divergent, but delicious dining experiences await you in the area:
FRESH CATCH BISTREAUX IN MARKSVILLE
This laid-back eatery on Tunica Highway has a cozy bar with a fine reputation and a good selection of wines. Keeping in tandem with the culinary spirit of Avoyelles, the food is prepared with the freshest ingredients daily.
For appetizers, it's hard to beat the delicious pecan-crusted fried crab cakes lying in a pool of creamy blackened crawfish sauce. The Bistreaux Bisque is a multi-layered bowl filled with a delectable combination of lump crabmeat and corn. For entrees on the lighter side, sesame ginger tuna steak is a delicious fish dish that's first marinated in a sesame ginger, grilled and topped with a wonderful peanut sauce.
Fried eggplant medallions comprise eggplant Napoleon. The crisp fried eggplant is topped with the combined divine flavors of jumbo lump crabmeat in their signature blackened crawfish sauce. Rich to the point of naughtiness, the Sir Steak-a-Lot sandwich is a wonder; imagine a six-ounce sirloin steak grilled to your specifications lying on a sourdough bun, then layered with caramelized onions and pepper jack cheese.
Fresh Catch Bistreaux, 109 Tunica Drive East, Marksville, 71351, (318) 253-6543.
BISTRO ON THE BAYOU IN ALEXANDRIA
More formal than the Marksville restaurant, yet managing to retain an atmosphere that's warmly elegant and very Louisiana, Bistro on the Bayou has received accolades from the likes of the New Orleans Times-Picayune newspaper, Southern Living magazine and Chef John Folse.
Called one of the finest dining places in Louisiana, its innovative appetizer menu offers tempura-fried green beans with chipotle laced sour cream and a Japanese-Louisiana blend of flavors in the dipping sauce; the scrumptious, fresh Louisiana crabmeat enchilada with a spicy sauce and sweet corn salsa, both homemade, are also served with the chipotle sour cream; for simple down-home comfort food pleasure, they also offer, as a stroke of genius, chicken and dumplings as a meal starter. The side orders could almost double as entrees.
Crawfish Avoyelles is a mélange of baked mudbug tails, mushrooms, sweet corn and spicy Cajun rice topped with a melted cheese blend, all flowing together in a river of flavors that enhance one another. For entrees, you can have your fresh fish of the day, or a catfish fillet, either pan-sautéed with butter pecan sauce, charbroiled and served with a lemony butter sauce or blackened with the innovative pesto beurre blanc.
You can take these dishes a step further by choosing either "Add Bayou Style" (a fried Louisiana soft-shell crab in lemon butter sauce and pecans baked in honey tops the fish of your choice) or "Add England Style" (topped with fresh Louisiana crabmeat soaking up the tangy pesto beurre blanc). Pull out all the stops by ordering the Maine lobster over macaroni and cheese. Sweet lobster claw and knuckle are laid across the macaroni that's made with fresh-grated cheeses to which has been given a spicy Louisiana kick of flavor that enervates the velvety, creamy texture and complements the lobster.
Bistro on the Bayou, 1321 Chappie James Avenue, Alexandria, (318) 445-7574.
---

CAJUN
PROFILE – DUCKS IN A ROW IN ERATH
Erath can now boast it has a world champion as one of its denizens. Grant LeBlanc, at age 70, competed in the prestigious 43rd annual Ward World Championship Wildfowl Carving Competition for the first time in his life. According to Avoyelles Today, he not only competed, but also took first place in two different divisions, thus elevating him to the status of World Champion.
For nearly four decades, the Ward World Championship has drawn more than a thousand wildfowl artists from an international array of locales such as China, Japan, the United Kingdom, Canada and Russia to its competition in Ocean City, Md.
The organization also boasts the largest collection of both decorative and antique decoys in the Ward Museum, considered one of the treasures of Maryland's Eastern Shore. It fosters regional art, community activities and an educational conference that enhances the artist's acumen for carving. There in what is known as the Atlantic Flyway, the resident from the Mississippi Flyway had his day in the sun.
"I was happy to win," said LeBlanc, who had the unique experience of having his own ducks compete against each other in the same category, i.e., puddle ducks. After taking first place in their own species groups (wood ducks and pintails), then both advancing to puddle ducks, LeBlanc's wood duck took first place while the pintail was eliminated for failure to float properly. His wood duck then advanced to the Division Level competition against other intermediates. The second-place showing propelled it then to Best in Show, which pitted LeBlanc's wood duck against all levels.
LeBlanc, a member of a local wood carvers group known as the Acadia Wood Carvers Guild, is based in a shop in front of Abbeville resident Jeffrey Meaux, where the gentlemen of the group congregate to engage in the contemplative art of carving. According to LeBlanc, he has no plans to leave the group that has taught him so much.
Meanwhile, back at the Best in Show Competition, LeBlanc's duck soared to no further heights. The Best in Show judges explained that his duck did not place because there was not enough white paint on a feather, and a wing was a quarter-inch shy of being the exact length it should have been.
LeBlanc stated that he had gleaned a lot of invaluable knowledge from participating in the competition and from witnessing other artists carve their own works.

LOUISIANA GROWN DUCK MAGNETISM
Ducks love Louisiana. And to experience a flock of countless migrating ducks flying over you in season, filling the air with the distant sound of honks, is to know that for the moment you have been richly blessed. They paddle in our marshes, take up residence in our rice fields and waddle in a kind of house frau way that's endearing. One wouldn't think of them as waterfowl geniuses, but science is showing us that these little duckies have a phenomenal gift.
While migrating, ducks and geese travel pathways flown by their ancestors since ancient times. Leaving their breeding grounds to find wintering shelter in warm Southern regions like Louisiana, they use a navigation system that is only now just beginning to be understood. Using the positions of the sun, moon, stars, mountains and other geographical landmarks to navigate, these birds are able see the magnetic fields of earth to assist their migration, studies show.
The ducks perceive the magnetic field or its direction as either a light or dark spot on its own field of vision that changes with each head motion.
Scientists have suspected for some time that the eyes of migratory birds hold molecules that sense the earth's magnetic fields, while German researchers have established these same molecules are linked to an area of the fowl's brain that processes visual information. Taken together, it has the same effect as a compass.
---
BATON ROUGE / PLANTATION COUNTRY
CAUSE TO CELEBRATE
FROM POUND TO PORCH IN ST. FRANCISVILLE
Anne Butler wrote that "every Southern porch needs a dog." According to Butler, on www.stfrancisvillefestivals.com, pound life for stray cats and pooches in West Feliciana was "ruff" indeed prior to 2012 – the poor furry vagabonds were kept in pens attached to the local hoosegow.
There was a small percentage rate of adoption, had it not been for the late James L. "Bo" Bryant, who became a deputy sheriff after retiring from the state troopers. Bryant routinely picked up strays he found at various spots around West Feliciana Parish and brought them to his makeshift pound there at the jail, doing his best to find good homes for the four-legged orphans. Described as the "roughest and toughest there was," by Sheriff Austin Daniels, Bryant's heart was as big as his body when it came to caring for animals.
The community joined together in generous support and enthusiasm to ease the plight of the homeless animals. The Austin Bridge Company donated the office building that now houses the James L. "Bo" Bryant Animal Shelter in St. Francisville.
Louisiana State Penitentiary inmates built the kennels, complete with holding corrals and pens. The pound, a joint effort between the Sheriff's Office and the parish police jury, was officially dedicated and will celebrate its first birthday this August. Miraculous reunions between pets and their two-footed brethren have occurred since.
Particularly moving is the story of a chocolate Labrador named Hershey who was found in terrible shape, suffering from heartworms, malnutrition and an old gunshot wound. Through the kindness of Dr. Glenn Dupree, a local veterinarian, who donated a microchip scanner to the pound, Hershey's owners were located. These residents of Baker, who had lost Hershey three years ago, returned immediately from a vacation in Oklahoma to find Hershey just as ecstatic as they were to be reunited. There wasn't a dry eye at the pound that day.
A Husky was running wild around the streets of St. Francisville, causing mayhem for a film crew making a movie. He was taken to the shelter, and the microchip helped identify his family who lived in Waveland, Miss.; another joyous reunion occurred after several months of separation.
Since last August, the shelter has seen a marked escalation in the number of adoptions throughout the community. At least 90 percent of the animals brought to the pound find porches of their own. More volunteers are needed to assist with various duties that also include counseling would-be parents.
The shelter also offers a foster program on a volunteer basis – foster parents are needed for the infant needs of kittens and puppies too young to stay at a pound, animals who have either health or behavior issues or when the pound simply just gets overcrowded. Adoption opportunities are conducted each Tuesday, Thursday and Saturday from 9 a.m. until 2 p.m. The volunteers also dress the potential adoptees in brightly colored vests that say, "Adopt Me," and take them to public gatherings, rodeos and markets on special days.
In less than a year, nearly 150 adoptions have taken place, one of which was a horse.
Before the pets are adopted they are first checked by the vet, spayed or neutered and vaccinated. The shelter's website has a photo gallery of what it calls their "current residents" that you can visit if your pet goes missing. The shelter also tries to place pets that have been rejected by either the death of owners or relocation. You can also report animal abuse by visiting their website.
The James L. "Bo" Bryant Shelter, 9946 West Feliciana Pkwy., St. Francisville, (225) 784-3109, or visit wfahs.thebonnieblue.net
GREATER NEW ORLEANS
LOUISIANA GROWN
OTTER ALTERNATIVES IN BOHEMIA PASS
Sometimes when I am busy with home projects and a movie is playing on the television, it has the power to make me stop everything I'm doing and sit down to watch it to the end.
One of these films is Ring of Bright Water, the story of a Londoner who adopts an otter named Mitch and moves to a dilapidated cottage on a remote Scottish coast just so Mitch can be in an environment where he can flourish and enjoy life. The town's doctor is a lady whom the hero first sees as she's wading into a pond, dressed in her good clothes and shoes, to untangle a duck caught in wiring. I've given up speculating why I so relate to people such as these; I only know the painstaking care these people took in the loving service of beasties and nature should be universal.
Louisiana is not without its own brand of otter. The term "river otter" gives a Mark Twain flavor to the sleek, whimsical swimmer that looks like an aquatic teddy bear. They are a threatened species in America; in some states they are a protected species. Not long ago, the Mississippi River gave the little critters a bit of a break.
On Mardi Gras Day of 2012, Mother Nature performed her divine voodoo on them when she created a natural diversionary channel that breached completely into the Mississippi in the Bohemia Spillway in Plaquemines Parish. The high water of 2011 caused the formation of the channel; by July of that year it breached a nearby roadway and just kept traveling. Members of the Lake Pontchartrain Basin Foundation (LPBF) called the process, "the result of natural river forces seeking a shorter outlet to the sea." Dubbed Mardi Gras Pass, the channel, or distributary, is more than 40 feet wide and is expected to expand.
This deltaic process has not been observed in modern times and offers a vista of opportunities for scientific study. Likewise, although it is only a little over a year old, it has already created a new Eden of riverine ecology – schools of pogy fish have migrated upriver against the current to reside there; the fish then drew the river otters who flop on the banks well-fed and happy, enjoying the shade. It is wondrous ecological event, now navigable by boats as a shortcut to the Mississippi from the marsh. Shoals filled with vegetation have formed due to the sediment carried through the Pass.
According to the Lake Pontchartrain Foundation, Mardi Gras Pass in the Bohemia Spillway has the likely potential to transform into a managed diversion that would save countless dollars and become a strong coastal restorative component to fight the disappearing wetlands. The state is planning a man-made restoration project in the Lower Breton Diversion at a cost of $220,000,000; if Mardi Gras Pass was allowed to continue to expand, the Lower Breton Diversion would not be necessary.
It seems that whenever there is the creation of a Garden of Eden, a shadow has to fall on it – and in this case, ironically, it is the Sunland/Eland Potash Oil facility that is near the breach and the Army Corps of Engineers who want to proceed with road repair and the state-sponsored Lower Breton Diversion respectively. The LPBF and other groups are urging both Sunland and the Army Corps to allow the natural expansion of Mardi Gras Pass to have full sway; otherwise placement of proposed culverts would bring an end to this ecological wonder, evicting the recreational fisherman, river otters, fish, beavers, herons and other wildlife who are dwelling near their own ring of bright water, not to mention the loss of scientific data that could prove invaluable for the preservation of the coast.
Both salt water and fresh water fish have been found there, an indication that it has become an important migratory path from the Mississippi to the Gulf of Mexico. Whether or not Sunland and the Army Corps of Engineers are going to wise up and defer to the better choice remains in the balance.
To speak up for the river otters, contact blog.nwf.org/2013/01/speak-up-for-river-otters-in-louisianas-mardi-gras-pass or visit www.saveourlake.org