Regional Travel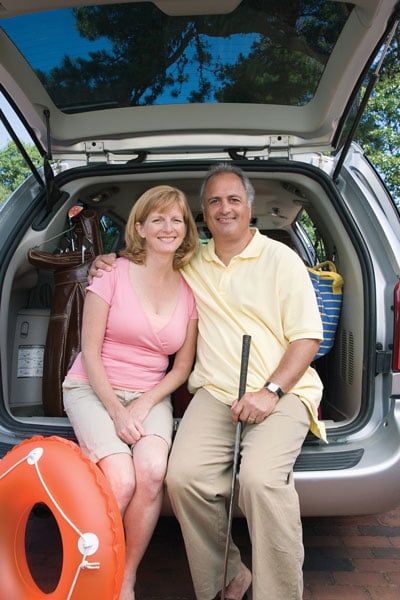 Winter in the South can be a wonderful season to travel. The weather is mild. Crowds and prices are often at a minimum. Winter travelers can take advantage of some great opportunities to explore across state lines and discover some of the natural and cultural treasures that lie in abundance all through the region. Outdoors enthusiasts will relish the seasonal fishing, hunting, hiking and bird watching. Arts enthusiasts will love the travelling and permanent exhibitions. The natural splendor, the annual festivals, the small town charms, and the big city shopping and nightlife all combine to deliver a great season of exploration. So whether taking the family on a weekend adventure or looking for a more luxurious retreat from the winter doldrums, take a look at some of these winter getaway destinations.

Just across the state line, winter travelers can explore the rich diversity of Mississippi, "Birthplace of America's Music." From blues legends Robert Johnson, Muddy Waters and B.B. King to the king of rock 'n roll, Elvis Presley, to the father of country music, Jimmie Rodgers—the only place you'll find the history, heritage, legends and folklore that surround the sounds of America's music is Mississippi. Plus, you'll find intriguing history everywhere you turn. From antebellum homes and Civil War sites in Corinth, Columbus, Vicksburg and Port Gibson to the Center for the Study of Southern Culture at the University of Mississippi in Oxford, you'll find history beautifully preserved throughout the entire state. Take the Mississippi Queen down our mighty river as you pass antebellum homes set in small town gems like Natchez. Curl up with a novel of one of our own writers that tells Mississippi's story—William Faulkner, Eudora Welty, Willie Morris and Tennessee Williams. African-American heritage is showcased at festivals, museums and attractions across Mississippi including the home of Civil Rights leader Medgar Evers in Jackson. The history of the Choctaw Indians in Mississippi dates back to the early 1500s. Today, the Choctaw Indian Reservation covers 35,000 acres of tribal lands in ten Mississippi counties. For more modern diversions, Mississippi offers world-class casinos that provide endless entertainment, luxury spa facilities, and shopping. And with award-winning golf courses you will have plenty of opportunities to practice your swing. For more information on the area's destinations and their many holiday and winter events, visit visitmississippi.org.

If you're traveling in or near Jackson, Miss., be sure to make a special visit to the Mississippi Museum of Art in its beautiful new downtown facility. The largest art museum in the state, the MMA offers a remarkable permanent collection as well as world-renowned and inspiring travelling exhibits. Take advantage of children's programs or adult enrichment seminars and social activities which run year round. "The Mississippi Story" is a permanent exhibition which showcases the best of Mississippi artists, and the Museum partners with organizations such as Mississippi Public Broadcasting to promote working artists and to provide access to art, information and archives for teachers and students throughout the region. Beginning in February, the Museum is especially proud to host the travelling exhibition "Raoul Dufy: A Celebration of Beauty." Taking advantage of their new space and conceptual design, the Museum will offer more than 100 paintings, watercolors, drawings and woodcuts from European private collections that communicate Dufy's joie de vivre. More than 75 original fabric projects from the archives of leading French silk manufacturer Bianchini-Ferier will be displayed, highlighting the artist's Art Deco fabric design work. Original gowns using Dufy fabrics and designed by early 20th century French couturiers such as Mongi Guibane and Christian LaCroix will be featured, as will recreations of some of the most celebrated garments. As Mississippi Museum of Art Director Betsy Bradley says, "Raoul Dufy: A Celebration of Beauty gives us an opportunity to enjoy the full capabilities of the new Mississippi Museum of Art, share our state's famous Southern hospitality, and applaud one of modern history's most accomplished and enjoyable artists." For more information and a full calendar of events visit msmuseumart.org.

Looking to take the family on the road for a quick and fun winter break? Head to Ridgeland, Miss., the place "where water meets wonderful." Sitting on the banks of the Ross Barnett Reservoir and at the foot of the beautiful Natchez Trace Parkway, Ridgeland offers visitors stunning scenery, limitless outdoor adventure, and all the convenience, service and hospitality of a thriving modern community. Nightlife, shopping, dining, family recreation, annual festivals, such as the town's signature event KidFest! – there's a reason Money Magazine named Ridgeland one of the 100 Best Places to Live in 2007. With more than 145 restaurants, you can find anything from catfish to caviar, sandwiches to seafood and fajitas to filet mignon. Twelve outstanding hotels offer guests a variety of styles, amenities and price ranges. The Mississippi Crafts Center showcases the work of over 150 local artisans, and provides year round events and programs for adults and children. Ridgeland's Northpark Mall, with more than 130 department stores and specialty shops, is the center of a bustling shopping district, which includes a bounty of specialty shopping malls, boutiques, galleries and antique stores, all within minutes of one another. And the newest addition to Ridgeland's many diversions is the new Renaissance at Colony Park which is an outdoor lifestyle center featuring shopping, dining, hotel lodging and entertainment. In addition to the many attractions of Ridgeland, visitors also enjoy access to Mississippi's vibrant capital city that is right across the street. Jackson offers an abundance of cultural, historical and entertainment options for the whole family. For more information visit visitridgeland.org.

For senior travelers who may be looking for a beautiful destination to land in more permanently, the Natchez Retiree Partnership offers convenience, support and opportunity in the beautiful historic city of Natchez, Miss. A low cost of living combined with the lifestyle, history and culture of the oldest settlement on the lower Mississippi River provides an appealing draw. A non-typical retirement community, Natchez offers great hunting, as well as year-round fishing, walking, golf and other sports for physically active retirees. Many activities and programs are geared toward entertainment and civic engagement. Gardens are resplendent with gardenias, palms, azaleas and crape myrtle. Historic homes and neighborhoods provide retirees thriving antiques businesses and forums. A computer club keeps community members up to date with new technologies and services, with partners from the local colleges to assist and answer questions. Quality healthcare is available. The Antebellum and Victorian homes attract tourists to Natchez, which in turn has resulted in numerous festivals, events, and local venues which offer part time employment to community members. Additionally, the community is just far enough from the Gulf of Mexico to ensure that hurricanes are rarely a threat. For more information, visit natchezretirement.net.