Regional Travel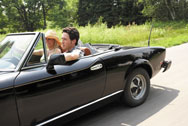 You work hard all week, even all year. Why not recharge your batteries with a long weekend in beautiful Florida, Alabama, Texas or Mississippi this season? Each of these destinations offers top-quality accommodations, attractions, dining, shopping and much more. From dude ranches to nature hikes, unmistakable barbecued delicacies to state-of-the-art nightclubs (not to mention beautiful beaches and big, blue skies), you'll find just what the doctor ordered for the best R&R in the region. Return to Louisiana rejuvenated, with memories to last a lifetime. Whether it's a couple's getaway, honeymoon or family excursion, give yourself the gift of new horizons.
Hattiesburg, Mississippi
Blending historic Southern charm with modern-day creature comforts sets Hattiesburg, Miss., apart. Hattiesburg is a perfect place for a romantic getaway complete with outstanding golf courses. Feel like communing with nature to relax? The Paul B. Johnson State Park features a well-stocked 600-acre lake, scenic campsites, cabins, bungalows, RV sites a convenience store and picnic areas for your cook-out. Speaking of RVs, The Shady Cove RV Park on Highway 49 offers big, shady 30- and 50-amp pull-through sites with tile showers, modem and propane hook-ups, plus laundry, phone and fax services. Back in Hattiesburg's Historic District, be sure to sit and sip at Walnut Square Pharmacy & Ice Cream Parlor on Walnut Street, which preserves an historic ice-cream and soda fountain. Indulge yourself at one-of-a-kind shops then enjoy a sumptuous dinner before catching a live show at the Historic Saenger Theatre. Of course, Hattiesburg's authentic Mississippi barbecue will keep you returning season after season. Be sure to check out the Mississippi Armed Forces Museum, located in Building 850, Camp Shelby Training Site, 12 miles south of Hattiesburg. It offers a look at Mississippi military life since the War of 1812. For more information, contact VisitHattiesburg, Five Convention Center Plaza,Hattiesburg, MS 39401, call (800) 638-6877,or visit www.visithattie.com.

ODESSA, TEXAS
Located midway between Dallas and El Paso, Odessa offers breathtaking skies, wide open spaces and real West Texas hospitality. Visit the Presidential Museum, which is dedicated to the Office of the President, and see the historic home of former Presidents George H. W. and President George W. Bush. View the second-largest meteor crater in the U.S., or for a bit of Elizabethan England, see The Globe of the Great Southwest, modeled after Shakespeare's original Globe Theatre. Take a tour at the Ellen Noël Art Institute, White-Pool House Museum or Parker Ranch House Museum. Enjoy the exhilarating, fast-paced action of the Odessa Jackalopes or the rugged, hard-hitting National Indoor Football League's Odessa Roughnecks. Dine at Dos Amigos, a legendary restaurant featuring concerts and bull-riding. Dance the night away at Graham Central Station, a huge state-of-the-art nightclub. You'll also find first-class accommodations at Odessa's hotels and motels while enjoying smorgasbord of shopping experiences. Any visitor will find a truly friendly spirit and will want to experience our unique West Texas hospitality. Odessa is the gateway to Big Bend and a central hub in West Texas. For more information, contact Odessa Convention & Visitors Bureau, 700 N. Grant, Suite 200, Odessa, TX 79761, call (432) 333-7871, or visit www.odessacvb.com.
BANDERA, TEXAS
If you secretly long for spurs and an ten-gallon hat, visit Bandera, Texas, "the Cowboy Capital of the World," with more than 15 dude ranches in the gorgeous Texas hill country. Spend a cozy weekend in a secluded cabin with a wood-burning fireplace. Dip in the hot tub or pool. Play horse shoes. Cast your rod into the cypress-shaded Medina River and chew on a piece of hay. Breathe the clean air on a nature trail hike. Feast on a cowboy breakfast. Share stories around a bonfire. Many lodges also cater to company retreats and family reunions. "There's something for everyone," says Patricia Moore, director of the Bandera County Convention and Visitors' Bureau. "We offer authentic ranch experiences with hayrides, Western entertainment and trail rides, too." You'll also find an interesting mix of Native American, Mexican, Polish and Western cultures. Thanks to sixteen Polish families settled there in 1855 and the second-oldest Polish Catholic church in the U.S., St. Stanislaus Polish Catholic Church, is a fine example of Eastern European architecture and provides a unique international flavor to this storybook Texan town. For more information, contact Bandera County Convention and Visitors' Bureau, P.O. Box 171, Bandera, TX 78003, call (800) 364.3833, or visit www.banderacowboycapital.com.
HENDERSON PARK INN ANS B&B
DESTIN, FLORIDA
Need the need for privacy? Treat your relationship to a romantic getaway at this luxurious New England-style bed and breakfast in Destin, Fla. Protected by a mile of private shoreline on the Emerald Coast, enjoy elegant rooms with plush bedding and a very special bottle of complimentary wine and fruit to celebrate your getaway. Forget your worries as you listen to the peaceful waves of the emerald green waters from your private terrace overlooking the Gulf of Mexico. Secluded at the eastern edge of Henderson State Park, the inn offers your choice of seclusion tailored for the perfect experience. Some rooms come equipped with whirlpool and fireplace, while all include beach service and towels, a flat-screen TV, private baths (some with a stand-up shower), a DVD player with your choice of entertainment, full breakfast each morning, high-speed Internet, and even bicycles waiting outside. Suites are also available. Relax on the veranda after a nature walk or bike ride in the gorgeous adjacent state park. The community refrigerator is fully stocked with cold drinks and chocolate; take as much as you want. Convenient on-site check-in is available 24/7. Adults only. For reservations, contact Henderson Park Inn, 2700 Scenic Highway 98 East, Destin, FL 32541, toll-free 1-(866) 398-4432.
BRENHAM, TEXAS
WASHINGTON COUNTY
A lovely town in Washington County, Brenham, Texas, is about 80 miles northwest of Houston on Highway 290. Washington County is perhaps best known as the birthplace of the Republic of Texas, where the Declaration for the Republic of Texas was signed when it seceded from Mexico. The original Baylor University was also first founded here, near the town of Independence. Blue Bell Ice Cream was also born in this county, which offers a multitude of historic attractions. These include Washington-on-the-Brazos State Historic Site, a 293-acre park featuring interactive exhibits, hiking trails, picnic areas and guided tours. Downtown Brenham's Main Street District reflects the town's early charm and features more than 40 shops and restaurants. The Antique Rose Emporium, an eight-acre retail garden featuring gorgeous roses in multiple theme gardens. Love aromatherapy? You'll love Chappell Hill Lavender Farm, a lush attraction offering handmade lavender products. Maintain your healthy eating habits at the Brenham Farmers Market each Saturday from March through December. Laugh away your stress at Horseshoe Junction Family Fun Park, with mini golf, bumper boats, go-carts and laser tag. For more information, contact Washington County Chamber of Commerce and Convention & Visitors' Bureau, 314 South Austin Street, Brenham, TX 77833, (979) 836-3695, or visit www.brenhamtexas.com.
FREDERICKSBURG, TEXAS
CRAWFISH FESTIVAL, MAY 23-24, 2008
While Fredericksburg, Texas, is a German community, it sure knows how to "laissez les bon temps roulet" like its neighbors next door in Louisiana. Spend Friday and Saturday, May 23 and 24 in Fredericksburg and you'll find not only mounds and mounds of crawfish, but also its first Gumbo Cook-Off on Saturday, May 24. Don't forget gumbo; it's served each day, along with red beans and rice, shrimp, boudin, hamburgers, corn dogs and the regionally acclaimed German sausage. As a family-friendly event, the Kids Area lets kids climb, jump and slide to their hearts' contents. You'll spontaneously two-step with T-Broussard & the Zydeco Steppers and the Zydeco Angels featuring Lafayette, Louisiana's own Jean-Pierre Blanchard. The fest also features Grammy-winning singer/songwriter Rick Travino, a honky-tonk blues sensation who also covers old-school country ballads. The Fredericksburg Crawfish Festival, a benefit to help local charities, will take place on Marktplatz, the public square downtown, on Friday, May 23, from 6 p.m. to midnight, and Saturday, May 24, from 11 a.m. to midnight. Parking is free. Be sure to check out the nearby shops, entertainment, attractions and restaurants. For more information on the event, go to www.Tex-Fest.com or call local 830-997-8515 or toll free 1 (866) TEX-FEST (839-3378).
VICKSBURG, MISSISSIPPI
From the earliest settlers in the Vicksburg area through the present day, African-Americans have significantly contributed to the city's infrastructure, neighborhoods, schools, churches, governmental facilities and social organizations. But the African-American contribution here is not limited to memoirs or museums. It's a living, breathing story still told today, a vibrant force in Vicksburg. Today's Vicksburg appreciates African-Americans' ancestors' sacrifices; it is sincere about preserving their legacy for future generations. The Jacqueline House African-American Museum is Vicksburg's only museum for the exclusive study of this heritage in the local area. It displays for understanding more than 20,000 items and materials in all formats that date back to the slave period. Be sure to see Beulah Cemetery, Vicksburg's only African-American cemetery, established around 1884, with more than 5,500 graves, which date through the 1940s. Bethel African Methodist Episcopal Church was the first of its kind in 1885, and also the first Masonic Lodge in the state. Other attractions include the Duff Green Mansion, the Old Court House Museum, Vicksburg Battlefield Museum and the Vicksburg National Military Park. You'll also enjoy fabulous dining and shopping in historic downtown Vicksburg or Vicksburg Factory Outlets. For more information, contact Vicksburg Convention & Visitors' Bureau, 3300 Clay Street, Vicksburg, MS 39181, (800) 221-3536, or visit www.visitvicksburg.com.


MARTINIQUE ON THE GULF
GULF SHORES, ALABAMA
Built by Aronov Realty in a spectacularly beautiful location adjacent to the 4,200-acre Bon Secour National Wildlife Refuge, Martinique on the Gulf is a classic beachside community offering a combination of ocean, nature, recreation and beautiful homes unparalleled in the Gulf Coast. A variety of homes for both sale and rent are available, including beachside condominiums and villas, each presenting a unique environment to enjoy a leisurely pace not far from the exciting attractions of Gulf Shores. You'll find nature trails, historic museums, sunset cruises, historic Ft. Morgan, the Mobile Bay Ferry, Bellingrath Gardens and more. Getting to Martinique is easy. Interstate 65 and Interstate 10 provide easy access to the Gulf Shores/Orange Beach area. Martinique's architectural style refers to the French Colonial period in the Caribbean islands. Ike's Beach Service offers beach and baby equipment rental and delivery to the Alabama Gulf Coast for your vacation rental needs. Amenities include two pools, beachfront access, nature trails at the Bon Secour Wildlife Refuge, two clubhouses, a fitness center, a professional tennis court and more. You'll also be delighted to interact with our professional management staff. For more information, Contact Martinique on the Gulf, 987 Boulevard Martinique, Gulf Shores, AL 36542, sales: (800) 239-9448; rentals:(800) 627-4381, or visit www.martinique-gulf.com.
SEACHASE RESORT & CONDOMINIUMS
ORANGE BEACH, ALABAMA
Need a little vacation and beauty every single day? SeaChase Resort, developed by Aronov Realty, offers three beautiful towers on the Gulf of Mexico with two- and three-bedroom condominiums with panoramic views of the Gulf, plus luxury amenities. These include 16 championship golf courses; fast-dry, lighted tennis court; spacious fitness center with a Gulf view and state-of-the-art cardiovascular equipment and weight-training; saunas; a whirlpool and the sugar-white sand that so beautifully hallmarks the Gulf Coast. Sports enthusiasts will love deep-sea fishing with the whole family. SeaChase also is close to nature trails, historic museums, sunset cruises, great antique stores, 120 outlet stores (one of the largest of its kind in the south), fine and casual dining and more. The whole family will also enjoy excursions with mini golf, bumper boats, sky coasters, go-carts and parasailing. Best of all, you'll enjoy interacting with management. For more information, contact SeaChase: The Great Beachside Resort, 25240 Perdido Beach Boulevard, Orange Beach, AL 36561, or call toll-free (800) 523-2409, or visit www.seachase.com.