Requiem for Slim Harpo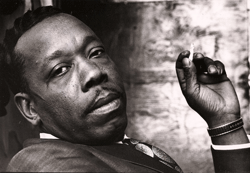 When Kenny Neal was growing up in Baton Rouge in the 1960s and '70s, he became keenly aware that his hometown was musically unique.
As the son of legendary Louisiana bluesman Raful Neal, Kenny's childhood was steeped in the sounds of a city anchored by oil refineries and surrounded by rice fields, a city whose culture and economy produced a type of music that became instantly identifiable as swamp blues. Springing from a geographic region best known for Cajun and zydeco, swamp blues carved a unique identity into the musical landscape.
"Baton Rouge's swamp blues fuses all things Louisiana: piano, a rural underpinning most obvious in vocal inflections and percussion, twangy and exuberant electric guitar … and a spiritual evocation of bayou proper," wrote author Rick Koster in Louisiana Music, a survey of the state's aural heritage.
Swamp blues is what Kenny Neal was raised in, and as a youngster, he realized early on that one musician, perhaps more than anyone else, came to personify the spirit of the music and the city that produced it: Slim Harpo.
As a contemporary and close friend of Raful Neal, Harpo — an easygoing, affable man whose music took on the personality of its maker — was always around the Neal household, and young Kenny came to associate his city's underappreciated blues heritage with Harpo. For Kenny, it was a matter of pride.
"Coming from the little town of Baton Rouge, I saw that he really made a big name for himself," Neal says. "He made his mark coming from the deep South and swamp blues. He put a style out there that gave us all an identity."
Kenny Neal is only one of dozens, if not hundreds, of modern blues stylists who have been directly influenced and inspired by Slim Harpo — and who keep alive the distinctive musical tradition Harpo helped develop and eventually embodied.
"He was the leader of the swamp blues movement," says researcher and author John Broven. "All of those artists have followed in his slipstream."
And, by scoring such crossover hits on the pop charts as "Rainin' in My Heart" and "Baby Scratch My Back," Harpo — who died 40 years ago this month (Jan. 30, 1970) at the age of 46 — became one of the most commercially successfully blues artists of his day, a fact borne out by the number of white blues and rock 'n' roll bands who absorbed his music. None other than the Rolling Stones covered Harpo's "I'm a King Bee" on their debut album, leading Stones frontman Mick Jagger to famously say, "What's the point in listening to us do 'I'm a King Bee' when you can hear Slim Harpo do it?"
Born James Moore in 1924 in Lobdell, West Baton Rouge Parish, Harpo, an orphan, spent his early years as a physical laborer in Baton Rouge. A musical late bloomer influenced by blues harmonica legends such as Little Walter, Harpo began moonlighting as Harmonica Slim in the mid-1950s, gigging with singer-guitarist Otis Hicks, aka Lightnin' Slim, who was the region's most established bluesman.
At the time, Lightnin' was recording with producer J. D. "Jay" Miller, who had an agreement with Excello Records, under which Miller sent the blues and R & B cuts he produced in his studio in Crowley to the Nashville, Tenn.,-based label, which distributed the records nationally.
Lightnin' introduced Moore to Miller, who eventually agreed to record Moore, who rechristened himself Slim Harpo ("harp" being slang for blues harmonica) before waxing his first single, "I'm a King Bee," in 1957.
"King Bee" took off, launching a recording and touring career that lasted more than a dozen years. Although their relationship was at times contentious, Harpo and Miller created a distinctive, easily recognizable sound. Harpo's vocals were deliberate and steady, sometimes even slowing down to a spoken drawl. By draping a handkerchief over his harmonica, Harpo coaxed the instrument to produce a muddy but rich sound that complemented Miller's creative use of reverberation and other studio magic.
The result was something altogether matchless. Says Baton Rouge Blues Foundation Director Johnny Palazzotto, "When you hear a Slim Harpo song, you know it's Slim Harpo."
Harpo co-wrote many of his records with his wife, Lovelle Casey (though Miller, in a managerial trick common in the 1950s and '60s, frequently added his name to the writing credits). Numerous sidemen backed Harpo in the studio and on tour during his career, but his favorite lineups featured guitarist Rudy Richard, bassist James Johnson and drummer Jesse Kinchen.
Harpo's bandmates remember the bluesman as an easygoing, relaxed man. But when it came to music, they say, a very exacting Harpo was all business.
"You had to do what Slim say," Johnson says with a reflective laugh. "He wasn't a real hard guy to get along with, but he had his ways."
Adds Richard: "He was a nice, nice guy, but he really meant business. He wanted everybody trying to do it right."
The group worked the regional club and juke-joint scene constantly, but occasionally they would venture to metropolises such as New York and Los Angeles to play at the Apollo Theater and the Whiskey A-Go-Go.
Harpo and his band needed to tour constantly and play as much as possible; times were frequently lean financially, and the men had to scrape up whatever they could get. It didn't help that Harpo was frequently shortchanged by Miller over song royalties and other financial matters, a large reason the musician and the producer often had trouble getting along.
"Miller knew how to run a business," says Harpo's stepson, William Gambler. "My father just wanted to record. But Miller really wasn't doing anything other [executives] weren't doing."
On top of being a musician and business owner, Harpo strived to be a good father and family man, even through the lean times. Often, Harpo was forced to work straight jobs, including operating a trucking business.
"He worked hard," says Gambler. "He was always looking for a way to make things better for us."
Still, despite the financial hardships, day jobs and grueling gig schedule, Harpo loved what he did — playing the swamp blues and representing his hometown — and that enthusiasm rubbed off on those around him.
"If you're into the blues like Slim, it's going to be all right," says Kinchen. "Anytime we do it, if we do it with Slim, it's gonna be all right. Slim always had a good feeling."
Adds Johnson: "He wasn't making money then. We just wanted to play, so we fell right in with Slim. He was all about the music."
Unfortunately, Harpo never really broke through to the blues big time. Despite producing three pop hits, he never reached the heights of popularity that such blues luminaries as B.B. King, Jimmy Reed or Muddy Waters attained.
In a Nov. 29, 1968, review, New York Times writer Mike Jahn outlined his explanations for Harpo's muted popularity. Jahn asserted that Harpo was less theatrical than his more popular contemporaries, saying Harpo "is not a showman like B.B. King, and he is nowhere near as flashy as Albert King."
Jahn argued that Harpo and his band "perform with consummate cool, quiet dignity and at a relatively low volume" and that the group "deals in authenticity, not fireworks."
However, Jahn added, that might be a good thing: "All [Harpo] does is play the blues — authentic, country blues — and invite people to come and hear it if they want to." Concludes Jahn: "The blues is all around. Slim Harpo has just gone deeper into it than most people."
Also contributing significantly to Harpo's lack of exposure was his sudden, early death from a heart attack in 1970 at the age of 46. Aside from a standard obituary, the Baton Rouge Morning Advocate did nothing to acknowledge his passing, and it took nearly two months for the news of his death to reach the pages of Rolling Stone, which published a lengthy and well-researched obituary in its March 19, 1970, edition.
Perhaps the most tragic aspect of Harpo's untimely passing was that he was poised to possibly and at long last reach the upper echelons of blues stardom. He was about to record a new album and embark on a massive tour in Europe that would have exposed thousands of potential new fans to his music.
"If Slim had lived long enough," says Chris Thomas King, another contemporary blues artist with roots in Baton Rouge, "those fans who were new to the blues would have discovered him. He's just one of those guys who died too soon, before his impact could be truly felt."
However, over the intervening four decades, Harpo's legacy and impact has blossomed, thanks partially to the legions of Louisiana-rooted blues artists who infuse their own music with shades of Harpo's blues and openly espouse Harpo's influence on their careers.
Contemporary musicians such as Kenny Neal, Chris Thomas King and Tab Benoit continue to carry the swamp blues banner originally planted by Harpo. Benoit notes that practically any blues or rock band rooted in the Baton Rouge area features a Harpo song in its repertoire.
In addition, the blues community has embraced Harpo and his work, especially in his old stomping grounds in Baton Rouge. Harpo and his music are virtually the bedrock on which the Baton Rouge Blues Foundation has been built; the organization's annual regional blues honors are called the Slim Harpo awards. For many years now, Palazzotto — who's also filming a documentary about the bluesman — has gone into area schools to teach new generations about music and the blues, and he does it with Harpo in mind.
At its foundation, Harpo's ever-burgeoning popularity continues to stem from his ability to perfectly capture the essence of both the swamp blues and the culture that created it.
His music is country but accessible, distinctive yet universal.
"It's not like Chicago blues or Texas blues," Benoit says. "It's a very laid-back, bayou style of playing, like someone's just playing on his porch on the bayou."