Retirement in Louisiana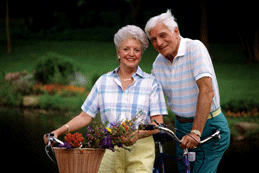 Louisiana is more than just a great place to visit –– it's also a great place to retire. With its rich history and culture, charming small towns, thriving cities, moderate climate and varied topography, Louisiana can meet the needs of just about every person older than 50.
To assist those interested in settling in Louisiana, the state created the Louisiana Retirement Development Commission, which operates under the auspices of Lt. Gov. Mitch Landrieu. The state has also designated 11 areas as certified retirement communities. These locales are noted for the amenities they offer, including great boating, hunting and fishing spots; four-year colleges; excellent medical facilities; volunteer and employment opportunities; and, best of all, plenty of friendly people ready to welcome you.
Here's a glance at our 11 certified retirement communities. Learn more at www.retirelouisiana.org. Redefine life. Retire in Louisiana.

Bossier City – Home to Barksdale Air Force Base and more than 13,000 military retirees, Bossier City is just a short drive from Olde Oaks Golf Course, one of the courses on the state's noted Audubon Golf Trail.
Covington – Situated on the north shore of Lake Pontchartrain, close to the many attractions of New Orleans, Covington is noted for its thriving arts community and its 31-mile "rails to trails" conversion that accommodates bicyclists, walkers and joggers.
Crowley – In the heart of Cajun Country, Crowley boasts a large inventory of Victorian homes, many graced by majestic oak trees. The town has been designated as a National Main Street Community and has an ample supply of affordable housing.
Lake Charles – Located along the Gulf Coast, midway between Baton Rouge and Houston, Lake Charles combines the restaurants and cultural amenities (symphony orchestra, dance companies and more) of a big city with the peaceful 180-mile Creole Nature Trail.
New Iberia – Visitors from all over come to see New Iberia's beautiful Main Street and shop in its charming stores. The town is also close to Lake Fausse Pointe State Park.
Thibodaux – This Cajun Country gem lies along Bayou Lafourche and is home to the annual Jubilee Arts Festival and Nicholls State University, which includes the John Folse Culinary Institute. The town has a historic district and is rich in culture and hospitality.
Natchitoches Parish – Known as the oldest settlement in the Louisiana Purchase, the communities in Natchitoches Parish have been nationally recognized for their historic and cultural significance. It is also home to Northwestern State University.
St. Landry Parish – Centrally located, this parish is ideal for those who like to hunt and fish. It contains three wildlife management areas and communities steeped in history.
Union Parish – The parish's many rivers, forests, creeks and swamps make it a haven for those who like the outdoors. Lake D'Arbonne State Park is located in this parish.
Vernon Parish – This parish has a national forest –– Kisatchie National Forest –– along with South Toledo Bend State Park. It also boasts the second-largest employer in the state: Fort Polk and its Joint Readiness Training Center.
Louisiana I-12 Retirement District – Composed of St. Tammany, St. Helena, Tangipahoa and Washington parishes, this district offers communities of all sizes, both rural and city. It's also home to Southeastern Louisiana University.