RETIREMENT?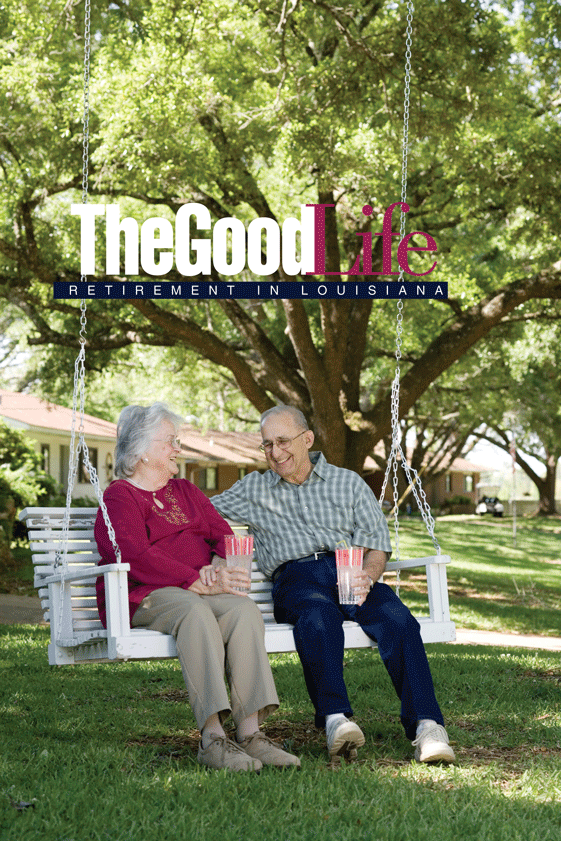 Louisiana is blessed with a multitude of lifestyle choices. From its piney north woods to its lush Southern bayous, from its friendly small towns to its world-class cities, the state's diversity means there is something for just about everybody to enjoy. If your idea of retirement is relaxing with a fishing pole along a lazy river, we've got it. If you anticipate going back to school to learn a new profession, we can make that come true, too. And our low cost of living and generous tax exemptions make retirement easier on the pocketbook.
In this issue of The Good Life, we turn the spotlight on each of Louisiana's regions: Sportsman's Paradise in the north; Crossroads, the central part of the state; Plantation Country, filled with history; Cajun Country, famous for its spicy food and music; and Greater New Orleans, where you can find big-city amenities second to none. We also give you our Top 10 Reasons to Retire in Louisiana.
But the best way to see what Louisiana has to offer is to come visit. At www.LouisianaTravel.com, you'll find sample itineraries, suggested stops and lots of information about our great state. And at www.EncoreLouisiana.com, the state's retirement commission discusses all that we offer for the 50-plus community. Once you see Louisiana for yourself, meet our hospitable people and sample some of our delicious cuisine, we think you'll join us in saying our state truly offers the good life to prospective retirees.
New commissioner excited about Encore
Anita Tillman's job is rolling out the welcome mat for thousands of people approaching retirement. Tillman is the new commissioner of Encore Louisiana, the state's program geared at encouraging those 50 and older to consider the many advantages of Louisiana as they weigh where to spend their retirement years.
"Louisiana has so much to offer," Tillman says. The state's rich culture, cuisine and history are world-famous, but there are a lot of hidden gems she hopes to highlight, including our low cost of living, generous homestead exemptions and friendly tax structure.
For those seeking a second career or who are just eager to take some courses for fun, Tillman recommends Louisiana's many colleges and universities. She speaks from experience: Her mother, while raising a family, returned to school at 45 and is now enjoying a career as a head nurse. Many retirees are looking forward to an "encore career," where they can pursue a passion they weren't able to follow in their earlier jobs.
And with Louisiana's generally mild climate, retirees can get outdoors almost 12 months of the year, a plus for those who have spent years restricted by bitter winter weather. "You're not housebound at all," Tillman says. Whether they love to swing a golf club, drop a fishing line or bicycle for miles, retirees will find a place in the Bayou State to have fun.
Should the need arise, Louisiana can provide the best of medical care at hospitals and clinics around the state, Tillman says.
Stressing livability
Part of Tillman's plan to attract future retirees is partnering with groups such as the AARP to push for the development of "livable communities" across the state. People of all ages thrive in communities that are pedestrian-friendly, with a variety of housing options and lots of easily accessible retail outlets. These types of communities fight isolation and loneliness and encourage people to get involved and meet their neighbors
through volunteering and other activities.
Her office is also giving out grants to groups with projects focused on improving the lives of people in the 50-plus age group.
You can learn more about what Louisiana has to offer at the commission's Web site, www.EncoreLouisiana.com. The Web site features the "Top 50 for 50+," a list of top attractions, events and more in the state as chosen by people 50 and older. The commission also publishes a magazine, Encore Louisiana, The Official Guide to Louisiana Living for Boomers and Beyond. The free publication is loaded with information for those interested in learning about retiring in Louisiana. Free subscriptions are available at Encore's Web site.
Tillman, 36, joined Encore Louisiana this spring and is eager to meet and learn from people in the 50-plus age group. "This is a fun group," she says, and she wants to make sure they know Louisiana is the place to enjoy themselves as they transition into an active retirement.