Return to Spring Creek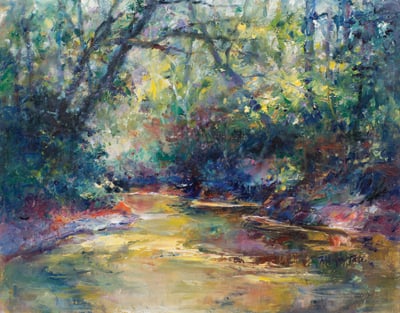 Like so many artists who have looked to Louisiana's natural landscape, Margie Tate finds her expression not in the coastal marshes or swamps but in the forests, glades and along the creeks that cut through the countryside of Central Louisiana. There, she lives and paints on a secluded hill surrounded by pines, live oaks, large azaleas and memories. Her paintings are not grand sweeps of the landscape but more intimate and contemplative settings enveloped by warm light and the forest.
Tate's ethereal landscapes evoke a sense of peace and beauty, and the artist's lifelong connection to a place. The place is the small community of McNary, located in Rapides Parish southwest of Alexandria along Highway 165 between Glenmora and Forest Hill. In 1998, Tate and her family returned to McNary after living away for almost 30 years.
They bought a house and land close to her childhood home. "Most of my landscapes are of rural Central Louisiana where I grew up," says Tate, who was born in nearby Lecompte. "Coming back to live here revives childhood memories. This is home. I remember walks through the piney woods, the rolling hills and the icy cold water of Spring Creek, where we would shiver and our lips would turn blue, but we didn't want to leave the swimming hole. When I come upon the creek now with light shimmering through the trees, it still inspires me to capture its essence."
As evident in paintings such as Creek Bank Symphony, Spring Creek Memories and Bridge Over Creek, the narrow, meandering Spring Creek has had special meaning to her. "Over many years I have painted the creek, which is walking distance from where we live now," she says. "Creeks are one of my favorite things to paint, not rivers. I like the closed intimate landscape and the lushness of our summer greens and abundance of pines and hardwoods. I also am drawn to azaleas and dogwood in the spring, fall colors, piney woods, trails through the woods, dappled light, old buildings, rolling hills and cloud formations and shadow patterns – ordinary subjects which I hope to allow to transcend into art."
Tate describes herself as a continuous student of art and painting. She received a bachelor of fine arts degree with a concentration in painting from the University of Louisiana at Monroe, during which time she also took private lessons with Monroe artist Don Cincone. Over the years Tate also attended painting workshops given by nationally acclaimed artists including pastel painting with Alan Flattmann, oil portraiture with Daniel Greene and William Kalwick, watercolor with Lian Zhen, and plein air landscape painting with Morgan Samuel Price and Stapleton Kearns. She also admires the work of John Singer Sargent, Vermeer and other artists whose books and published works have influenced her through "osmosis."
portrait photo by Margie Tate
All of these influences, including her mother's creativity and her father's love of learning, have left their mark on her paintings. "Although I have studied under many artists, the style of my work is a composite of all my influences and painting experience," she explains. "Learning to paint is a cumulative experience. I have been a student of art for more than 35 years. I feel that the best way to study painting is to paint. I found out early that you never quit learning to paint; just trying another media can keep you humble.
Painting is one of the few things you can get better at as you get older. I have experimented extensively with and explored the unique qualities of each of the different media: oil, watercolor, acrylic and pastel. My favorite medium is oil paint. I love its richness, permanence, flexibility and ease of framing. Every medium that I have tried has taught me something that helps me enrich my oil paintings."
Like many artists, Tate enjoys working en plein air, or on location, and in the studio. "Even though I can easily compose from a reference photograph and don't have to contend with changes of light and weather conditions in the studio, I prefer to paint from life, whether landscape, still life or portraits," she explains. "Plein air painting is fresh, exciting, sometimes frustrating but fulfilling. It makes you see better and compose and paint faster to capture the subject before the light changes. In the studio later, I can manipulate color and value and add detail."
Tate approaches her paintings with a light touch that creates mood and depth much like the light, airy images created in the late 19th century by the French Impressionists.
Like memories, her scenes seem to be more about light and shadows and how they play upon the landscape. Her paintings call to mind what Claude Monet once said about his own work: "My only desire is an intimate fusion with nature." Tate reveals similar thoughts about what she paints and what she hopes to express in her compositions. "What I try to capture is light," she explains. "Light is what draws me to a subject, whether grand or ordinary. It may be reflections and shadows on water, dappled light filtering through the trees or a strong light showing form. I try to capture the beauty that light reveals. I don't try to say anything in particular. Hopefully, the piece itself will speak to the viewer. I try to reveal the beauty in ordinary places and hopefully the viewer will have a emotional response. I call it 'color poetry.' "
Through light and composition, Tate continues, "I make a concentrated effort to transcend the ordinary in everyday life and find beauty, poetry and an emotional response. My paintings show my love of color, nature and light. My observation and kinship with nature has inspired most of my artwork, but I am also inspired by my observation and kinship with actual paint during the process. I love the endless possibilities of paint."
For More Information
To see additional paintings by Tate, visit the Natchitoches Art Guild Gallery in Natchitoches, and, in Alexandria, the Gallery House, River Oaks Square Arts Center and the Alexandria Museum of Art.