Revel in the Good Ole Days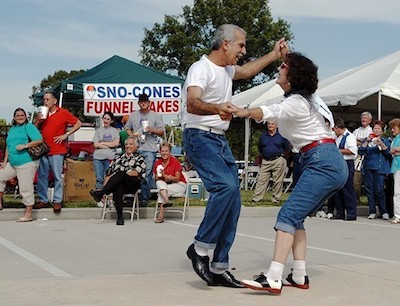 If you want to travel down memory lane, head to West Baton Rouge for an annual festival to experience a bit of the 'good old days.'
The two-day 12th annual Oldies But Goodies Fest and Smokin' Oldies Cook-off kicks off Saturday Sept. 9 on the grounds of the West Baton Rouge Tourist Information and Conference Center (10-plus acres). This free community event attracts visitors from all over the state and the world who want to enjoy a bit of nostalgia. "The people of West Baton Rouge are friendly and welcoming, and they work hard and play hard, and I think that that plays a part to this festival's success," says Sharon Moran, the executive director of the West Baton Rouge Convention and Visitors Bureau.
There's old-style dance competitions, a sanctioned state BBQ championship (that attracts cooks from several southern states), and a thrilling antique car show. "It has grown every year; we started with 50 cars, and last year we had 140 cars out here," said Moran. BBQ competitors will be cooking some of the best BBQ chicken, brisket, pulled pork, and ribs in the world, and, at the same time, will fiercely compete for nearly $5,000. (Tip: If you want to pick up some of the best BBQ tips, make sure you watch the cookers create their BBQ magic on the sea of smoking pits beginning at 11:00 a.m. on Saturday, Sept. 9.)
If you need more reasons to join the fun, there are craft vendors from all around the state; a poker run; a hula hoop contest; and delicious Louisiana cuisine. "We've got seafood, jambalaya, Cajun and Creole dishes, as well as down home cookin', hamburgers and hot dogs," adds Moran. There's also a beer booth for those who want to wet their whistle.
Bring your dancing shoes because the floor will be hopping – don't worry, to keep dancers cool organizers are placing mister fans at every corner. "We've expanded the music genre from the 50s and even into the 80s to represent more eras," says Moran. "While it's more of an adult event, we do have kids who come out here, and it's really neat to see parents teaching the kids how to do old-fashioned dancing."
Proceeds from the festival are donated to Blue Star Moms who help support and ship goods to American soldiers overseas. (Tip: Be sure to visit "Moby," a 750-pound alligator in the lobby of the visitor center next to the festival.)
Festival hours are 11 a.m. to 5:30 p.m. on Sept. 9 and Sept. 10. While there, be sure to visit the West Baton Rouge Museum, which is only a mile and a half away in downtown Port Allen. This museum is one of just a few accredited museums in the country, and exemplifies the historic life on the Mississippi River.
If you're looking for lodging accommodations, you can literally take a paved sidewalk from the festival to the Comfort Inn and Suites, Hampton Inn and Suites, and Holiday Inn Express and Suites.
With food, fun and a little nostalgia, what more could you need?
Click here for more information.