Ribbon Cutting to Reopen Cabins at Jimmie Davis State Park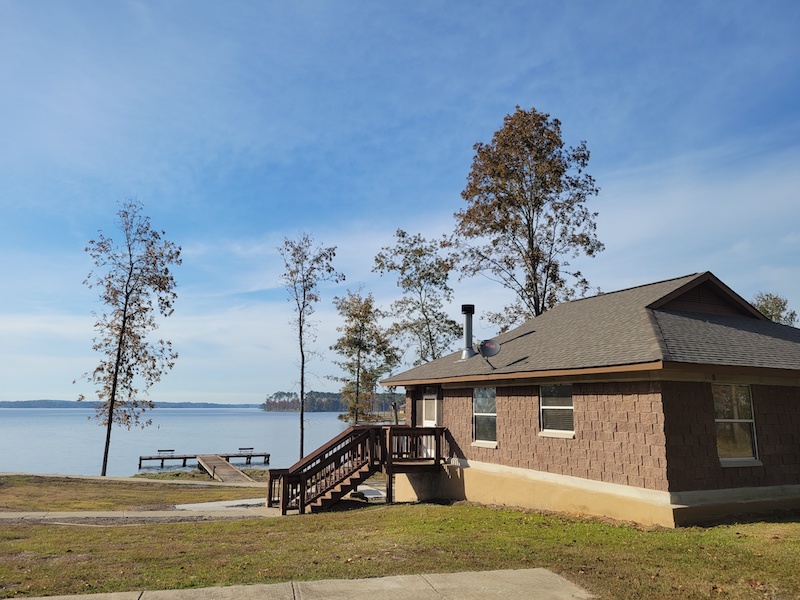 CHATHAM, La. (press release) – Lieutenant Governor Billy Nungesser, Louisiana State Parks, and elected officials today officially re-opened the cabins at Jimmie Davis State Park in Jackson Parish. The cabins closed following a tornado that struck Jimmie Davis State Park in May 2019, causing severe structural damage from falling trees. As Louisiana State Parks see record visitation over the last 18 months, today's reopening is expected to increase visitors to Jackson Parish.
"In what has been a challenging 18 months for other reasons, Jimmie Davis State Park is recovering for an entirely different set of challenges – being hit by three devastating weather events in consecutive years. However, just like the people who live near and work at Jimmie Davis State Park, our resolve to fix and upgrade the park is shining through today with the reopening of these popular cabins," said Lt. Governor Billy Nungesser. "We want everyone in Louisiana to start planning that staycation at Jimmie Davis State Park to check out these new facilities or paddle, boat, and fish in Caney Lake, and just enjoy some rest and relaxation among some of the most beautiful terrain our state has to offer."
The May 2019 tornado is not the only weather-related setback Jimmie Davis State Park has endured over the last three years. In August 2018, a hailstorm impacted every structure in the park. Then, just eight months later on May 9, 2019, Jimmie Davis State Park took the direct hit from the tornado, causing extensive tree damage and major structural damage to buildings from debris and falling trees throughout the park.
By September 2019, crews had removed the downed trees ahead of schedule and the campsites were able to reopen to visitors. Four cabins were repaired and able to open in January 2020 with work still underway on the remaining cabins and lodges. Then Hurricane Laura moved through the park in August 2020, damaging cabins already repaired from the tornado the year earlier and causing more tree damage throughout the grounds.
In total, the tornado and Hurricane Laura damaged 38 of the 48 structures or buildings at Jimmie Davis State Park. Some of the repairs made to the buildings included new roofing, structural repairs to concrete block walls crushed by falling trees, interior and exterior painting, and rebuilding attached porches and steps on the cabins and some boardwalks and piers around Caney Lake. Additionally, the comfort stations, beach restrooms, and picnic pavilions were all rebuilt.
Alliance Design Group, out of Alexandria, designed the new cabins. TDM Construction from West Monroe served as the contractor to carry out the rebuild of structures around Jimmie Davis State Park.