River Retreat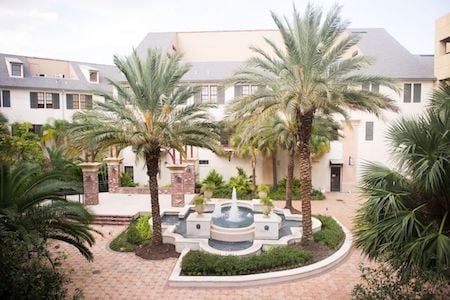 On the banks of the Vermilion River in the heart of Lafayette lies a world-class oasis – River Ranch. This sprawling village drips in a stunning array of Caribbean, European, and Colonial architecture and offers some of the finest shops, restaurants, hotels and spas. Once you are dropped into this quaint village and artistically-designed community – with its pristine bike bath, hiking trails, extra-wide sidewalks and underground walkways – you will feel far from home. (Fun Fact: More than 2,000 people come to work and play every day in River Ranch, which was designed by award-winning architect Steve Oubre.)
Make a beeline to the charming and luxurious Carriage House, Lafayette's only Four-Diamond AAA property. This River Ranch retreat is a great base from which you can walk to most destinations, many of which are only steps away from the Carriage House. These gorgeous accommodations are amid an intimate setting and offer amenities representative of a boutique hotel. Suites, split-level townhouses, and condos are available to overnight guests, and many include full kitchens, dining rooms and balconies. (Accommodation tip: Suite #3204 and #3206 are extra spacious two-bedroom suites with a double doored balcony; even better are townhouses #207 and #204 overlooking the town square; and if you are only looking for a one-bedroom, request #3314.)
Reserve the Romance Package – which includes champagne, chocolate-covered strawberries and rose petals – or the Spa Day package, which includes relaxing spa products to make your stay even more memorable. (Tip: There really are no limits as to what the concierge can place in your suite to make your stay extra- special, so ask away.) A complimentary continental breakfast including fresh fruit, cereals, yogurt, waffles, and more is available to guests.
All your cares of the day will instantly melt away, and you will feel rejuvenated after a visit to the tranquil Riverspa, located just steps from your accommodations. Reserve a couple's massage, or one of a plethora of services including customized facials, body treatments, deluxe pedicures, manicures, and much more. Take a trip to Hawaii only from south Louisiana with the Lomi Lomi; this massage is performed with "Aloha" (meaning love) while Hawaiian music is played in the background, which makes this an ultimate relaxation massage. Lomi Lomi also incorporates a constant fluid wave massage, with motions just like the Pacific Ocean. (Tip: Paige is a fixture here, and Ginger and Kelly are awesome as well.) If you want a new look or just want to treat yourself to a makeover, make an appointment for a makeup application before heading out for dinner!
Your stay at the Carriage House includes access to the pristine, award-winning, full-service City Club at River Ranch Health club, located right across the street. This club boasts a state-of-the-art swimming pool (5,500 sq. ft.) with lazy river and daily fitness classes, and also has a Pilates and yoga studio. Need more offerings? There's also a celebrated day-spa, 13 rubico and hard surface tennis courts, saunas, whirlpool, steam rooms and a City Club Grill and Bar. (Tip: If traveling with kids, be sure to take advantage of City Club's nursery, Kid's Club gym, youth fitness classes, and activities and games for kids. Tara Owens, the Youth Fitness Director, is great with kids and makes sure they are having fun).
You will long for nothing while visiting River Ranch, which is home to several unique retail shops, upscale boutiques, and independently-owned businesses including Michael Company and the Tap Room. (Tip: Arrange your visit around Rhythms on the River, a free concert series held on Thursdays at the River Ranch Town Square in the Spring and Fall. It's a great way to meet the locals and enjoy great food and drinks).
Hungry? Head to POUR Restaurant and Bar, one of the best kept secrets in Lafayette dining. Your dining experience will be memorable, and you will want to come back time and time again for its mouthwatering dishes and appetizers. If you can attend Sunday Brunch, do it; you will thoroughly enjoy it and its Build Your Own Bottomless Bloody Mary's—the plethora of garnishes alone is a meal unto itself. Top off that delicious Blood Mary with an endless supply of mouthwatering house made pickled garlic, beans, stuffed bacon rolls and stuffed olives; they also serve refreshing Bottomless Mimosas and complimentary tasty mini-beignets. (Menu Tip: Start with the breakfast charcuterie and cheese plate, and Toads in the Hole. The Scott Egg (made with boudin balls) and the grits and grillades are great brunch dishes.) (Tip: Reservations are recommended.)
Another great option is Romacelli's, which serves Mediterranean and Cajun-inspired dishes, and is also a stone's throw away from your accommodations in River Ranch. This casual dining experience is a great place to open a bottle of wine and relax, and there's a great outdoor pati, popular with locals, for dining and people watching. (Menu tips: Start with the Mediterranean hummus, atuffed meatballs, atuffed portobello mushrooms and salmon strawberry salad tossed in a mouthwatering strawberry basil vinaigrette. The Mahi-Mahi caponata and Cajun seafood pasta, as well as the Cajun spice pizza are great entrees). Romacelli's also offers Wine Down Wednesdays offering half-off a bottle of wine. Andrew Hayes, the general manager, has a genuine deep passion for taking care of patrons and makes great menu recommendations. (While all the waiters are terrific here, Robyn is second-to-none and so is the manager, Michelle.)
After experiencing River Ranch, you will not only be amazed by its offerings, but you will also get a taste of why Lafayette has been named the Happiest City in America. You will want to return time and time again!
For more information:
cityclubatriverranch.com/carriage-house
cityclubatriverranch.com/riverspa
cityclubatriverranch.com/amenities