Rockin' Ruston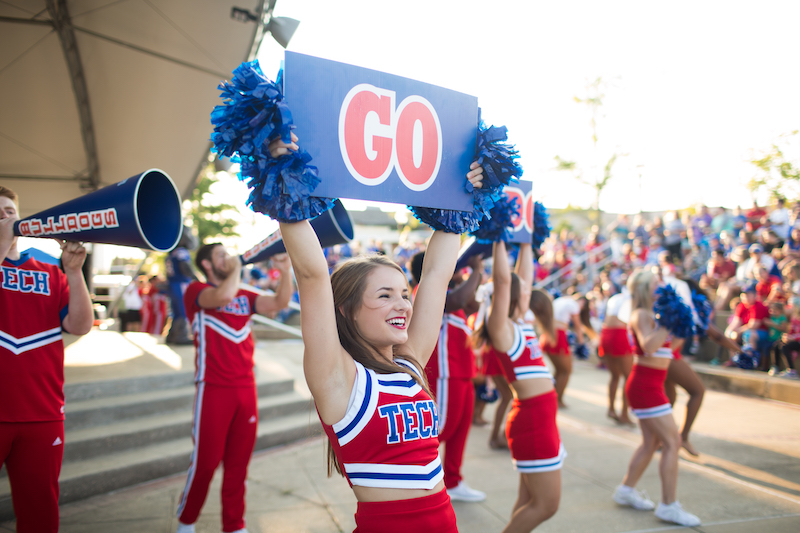 It's "Loyal Blue Weekend" in Ruston, three days of football fun with Louisiana Tech, and this weekend the Bulldogs take on the University of Alabama at Birmingham. There will be a Rock the Railroad rally Friday night with live music, food trucks and cheerleading at Railroad Park, then tailgating with more food and live music on campus Saturday, followed by the 6 p.m. football match in Joe Aillet Stadium.
Unique to Louisiana Tech football is the absence of traffic. Visitors may park downtown and take a free trolley to and from the stadium. And new this year is the Bulldog Project, several painted bulldog statues throughout Ruston that invite social media posts by tagging #TheBulldogProject.
Football is certainly a great reason to visit Ruston in the fall, but there's plenty to see and do in Ruston all year long. The quaint and historic downtown features boutiques, the No. 9 Books and Records, two wonderful coffee shops and plenty of eateries. Restaurants downtown run the gamut as well, from Raw's sushi, Ponchatoulas Louisiana fare and Sundown Tavern with its outdoor patio. Mi Casa Taqueria and its sister restaurant Mi Casa Latin Restaurant are both great choices for South-of-the-Border dining.
One spot not to be missed is the newly opened Utility Brewing, which opened Nov. 9, 2017, the first and only brewery in Ruston. Academics Cassidy Keim and Karl Puljack enlisted food service veteran Dean Norton into the venture that serves up craft beers and exquisite wood-fired pizzas. The night we visited the monthly special was a Space Jam Pizza consisting of shredded Parmesan cheese, bacon jam, arugula, pickled red onions with an oregano cream base and topped with a tossed vinaigrette. Talk about good! We couldn't resist the Nutella pizza for dessert but recommend you split that one.
Beers are produced out back next to the restaurant's homey outdoor patio and seasonal brews include everything from a peach wheat in summer to a blueberry-honey saison.
Because it rained the weekend we visited, we missed trying the Grown and Grazed food truck which rests near the Railroad Park and serves up dishes produced from local products for breakfast and lunch. Chefs occasionally take over the food truck so you'll never know what unique meals will pass through its window.
The Log Cabin Grill & Market, although outside of downtown, remains a local favorite. The vast restaurant specializes in steaks, Tex-Mex cuisine, barbecue and more, plus sells numerous Louisiana products in its market. If you'd rather watch football from a cozy indoor spot, the Log Cabin features several TVs, all broadcasting football on Saturday nights.
On Sunday morning, stop by Beau Vines Steakhouse, which, despite the name, offers delicate brunch items such as crabcake beignets and strawberry-stuffed French toast.
There are several accommodation options in Ruston, but the newly opened Courtyard by Marriott offers spacious rooms, a lobby bar and café and an outdoor patio with pool, fire pits and seating areas that's great for enjoying football victory (we hope) with friends.
For more information on Ruston, visit www.experienceruston.com.