Romancing a Farmer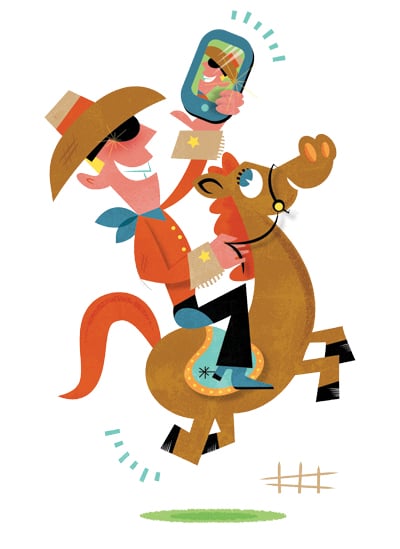 I have a confession to make: I went undercover on FarmersOnly.com.
It all began because I was totally, utterly fascinated by the online dating site for farmers, ranchers and "good old country folks."
You know – the one advertised on TV with talking livestock and lonely-looking women strolling through cornfields? The corny jingle you can't get out of your head:
"You don't have to be lonely at FarmersOnly.com!
(City folks just don't get it!)"
Well, I didn't get it, either.
I suppose a farmer's wife shouldn't be snickering, but I gotta be honest. The very idea of an online singles bar for agricultural types (or eFarmony as I've heard it described) was just bizarre to me on so many levels.
For starters, I was startled to learn that farmers are a hot romantic commodity. Admittedly, it's been a while since I was an expert on the dating world. And when I was – more than 20 years ago in Atlanta – I certainly didn't happen upon many men who worked the soil. Nor was I trying to.
When I did meet the one I eventually married, it was purely by chance on a Florida beach. I did not fall in love with this sincere, funny, caring man because he was a farmer. I fell in love with this sincere, funny, caring man almost in spite of the fact that he was a farmer. In some ways, his farmer-ness was more of a challenge than an advantage. Farmer's employment situations, for instance, aren't the most flexible in the world. Choosing a mate whose livelihood was chained to a specific piece of real estate 450 miles from my job in Atlanta required nothing less than the uprooting of my entire existence.
Don't get me wrong. It all worked out better than I could have ever imagined. But for me, marrying a farmer was more like an accident than a mission. To find out that that there are women trying to hook up with farmers on purpose was beyond my comprehension. (And, yes, women can also be farmers, and I'm sure there are men trying to meet them, too, but for ease of pronoun-matching, I'm sticking with "he.")
There was another thing I didn't understand. Exactly where were all these sexy crop-sowers hiding? If there were plenty of dashing planters out there making the ladies swoon, wouldn't I be the first to know? After all, I live in what used to be the dairy faming mecca of the southeast. When I arrived as a blushing bride in 1992, there were about 200 dairy farms here. But those days are gone. I can now count on my fingers the number of local farmers who are still farming. The rest are mostly retired, dead or married. I sincerely doubt that the selection of eligible farm guys is any better elsewhere. Frankly, I am amazed that there are enough farmers left to feed Americans, much less take them out for dinner and dancing.
And last but not least was the question of why. In the 21st century, when farmers and farming are all but a forgotten way of life, why would there suddenly be a demand for men with manure on their boots? It was all very perplexing to me.
The more I saw these commercials (and, along with our sons, laughed uproariously each and every time), the more my nosiness got the best of me.
So in the most discreet, tasteful and appropriate way (for a happily married woman), I decided to go snooping around on FarmersOnly.com.
But first I had to sign up and complete a member profile. I provided only the bare minimum of information: gender, age, hometown and astrological sign. My sole criteria in a potential boyfriend: he had to between the ages of 18-99. I left my photo blank. My goal was spying on other members – not providing details that might accidentally attract unwanted suitors. Amazingly (or sadly), my profile still managed to get a couple of flirts" – a signal from other members that they were interested. To paraphrase Groucho Marx, I wouldn't have a man who wanted a woman who would settle for any man so long as he was between the ages of 18 and 99.
And who did I see while lurking around a dating website for "farmers, ranchers and good ole' country folks?" Just as I suspected, I found a lot of good ol' folks (although not necessarily country folks) and precious few farmers and ranchers. Or at least not what I consider a farmer, anyway. As the wife of someone who farms for a living – versus farming for a hobby or a tax write-off or a side venture – my standards are higher than most. I'm definitely a snob when it comes to who should and should not call himself or herself a farmer.
I have to admit that a lot of the single men whose profiles I viewed seemed like good guys. There were lots of hunting and fishing pictures, several motorcycles, a recurring motif of ball caps and porch swings and grandchildren in laps. Then there were the ones that you'd have to see to believe – like the man whose profile photo was nothing but the interior of a filthy trailer. Or the barefooted guy in a messy kitchen holding up a dead fish in each hand. Or a truly disturbing shot of a man sprawled out in the grass at night like he had passed out on his way home from the honky-tonk. (No thanks, FarmersOnly. Lonely doesn't sound so bad, after all.)
In the end, however, it wasn't my undercover investigation that illuminated the appeal of FarmersOnly.com. It was an online article by a woman from Brooklyn, New York, entitled, "I'm a City Girl Who Tried An Online Dating Site for Farmers Only."
In the article, Carolyn Castiglia explained that while she isn't necessarily a fan of hunting and fishing and NASCAR, "I am a fan of guys who aren't pretentious and these dudes definitely are not." She uses words like "integrity," "kindness," and "big-hearted family man" to explain the appeal of the bachelors on FarmersOnly.com.
Her words hit a nerve, but what really got my attention was the way she talked about her fantasy farmer: "a nice Southern boy, the kind who looks hot in a plaid shirt, plays guitar and loves his mama more than sweet tea.
"I can see him now," she wrote, "dirty blond hair gleaming in the sunshine, out in a field chewing on a piece of wheat."
Whoa.
The person she described? That is my husband to a T. The only detail she got wrong was the wheat. Harvey grows hay, not wheat.
Suddenly, I found myself feeling a little less snarky about FarmersOnly.com and a little more humble about how lucky I was to have stumbled into the arms of real live, genuine, big-hearted, family-man farmer when I wasn't even looking for one.
I'm pretty sure my sons and I are still going to make fun of those commercials, though. I suspect I'm gonna feel bad for all those other women who dream of landing themselves a farmboy, too.
I hate to break their hearts, but the best one is already taken.