Ron Yule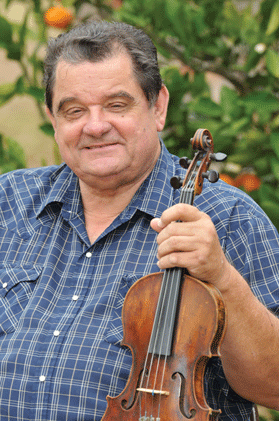 Fiddling has become a cottage industry of sorts for Ron Yule of DeRidder.
Yule, who has been fiddling for more than 40 years, does just about everything to violins: He plays them, builds them, repairs them and even writes about them and those who play them. Over the past few years, he has recorded a rich living history in six published works that focus on fiddling and fiddlers.
In 2009, Yule published two books, Louisiana Bluegrass: The Early Years and Louisiana Fiddlers. His other works are When The Fiddle Was King, My Fiddlin' Grounds, The Cajun French Music Hall Of Fame Book and Iry Lejeune: Wailin' The Blues Cajun Style.
The bluegrass book is a 232-page anthology of the state's deep bluegrass history. It tracks the origins of the state's pioneer bluegrass heritage through the mid-1980s with profiles of fiddlers and more than 300 photographs.
But it is Louisiana Fiddlers that Yule seems to be proudest of.
"It is the research, the getting out and talking to people that I really enjoy," he says. "This book is what I call the cream of the crop of the state's fiddlers."
It is Yule's ability to immerse himself in the subject matter he has selected and his skills of ferreting out facts that make his projects works of art in themselves. They are rich with history and provide readers with a wealth of knowledge.
Louisiana Fiddlers stands as the apex of the retired sanitarian's commitment to detail.
The 368-page book features 62 of the state's best-known fiddlers of the past century. The styles range from Cajun to zydeco, and it's anchored by 150 photographs.
Yule writes about the honky-tonks and dance halls where these musical styles were propagated.
Among the pages are sketches of the musicians that include their travels, recordings and family histories.
Recounted among them are the likes of Dewey Balfa, Michael Doucet and Canray Fontenot. Others are such regional fiddle-masters as Mastern Brack, John W. Daniel and Fred Beavers.
"No matter what style they played, the fiddlers profiled in this book are basically rural country fiddlers," he writes.
Once word spread that Yule was working on a book featuring fiddlers from around the state, it was just a matter of collecting the stories.
"People from everywhere started calling me and sending me information about the fiddler in their family," he says. "Oh, man, the response was great."
Yule's most time-consuming project took nearly 30 years of research and more than four years to write and could easily be considered the most comprehensive work available on the state's early fiddlers and bands.
When The Fiddle Was King is a history of pre-World War II country bands and the music of Louisiana. Yule traveled around a large part of the state interviewing surviving musicians, recording family recollections and researching newspaper articles in libraries throughout the state. The book profiles 44 country and Cajun bands and features accounts of Louisiana fiddling before 1950.
Yule began playing the fiddle in 1968 while he was a student at the University of Texas. In 1973, Yule, who has a history of supporting fiddling, began producing and promoting fiddling contests.
He continues to oversee one of the state's oldest fiddle competitions, the annual Beauregard Parish Fair Fiddle Contest, which is held the first Thursday of October.
"When I retired, I had all this information and recordings that I had collected for years, and I wanted to do something with it," he says. "I have spent the last 10 years researching and writing."
With no writing projects in the near future, Yule says he is now able to spend his time simply playing the fiddle, although he also says that he is organizing the hundreds of recordings of fiddling music he's collected over the years.
"Right now, I am really enjoying playing," says Yule, who has been working with other musicians to organize and play in an upcoming concert in DeRidder. "We also have a pretty good jam group and get together and play. I am also back to repairing violins –– only violins."
One thing is certain, as long as fiddle music is played somewhere in Louisiana, Yule will have an ear tuned to it.