Savoie Faire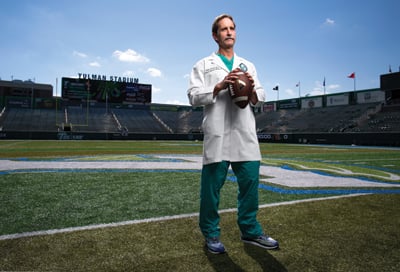 Tucked away on Tulane's campus in the Institute of Sports Medicine building sits one of the world's leading orthopedic surgeons. Dr. Felix H. "Buddy" Savoie III has acquired an impressive list of accomplishments. Not only is he renowned the world over as one of the top surgeons for the overhead athlete, but he has also performed over 40,000 surgeries since he first began practicing in the early 1980s, and he travels around the world to teach and operate. Then, of course, there are the "fun facts," the ones involving Sylvester Stallone, a sore shoulder and a special invitation to the Los Angeles premiere of The Expendables.
But Dr. Savoie doesn't carry himself as a surgeon that has changed the way shoulder and elbow surgeries are performed, as someone who has rubbed elbows – forgive the pun – with big names in sports and entertainment alike, as someone who constantly searches for better methods to improve his patients' lives. Instead, his genial attitude and easy-going demeanor belie his impressive resume, and it quickly becomes clear Dr. Savoie is less interested in resting on his laurels than he is in turning a critical eye upon his work in order to improve it. "I think about it all the time," he explains with a weighted gravity to his tone. "I think about shoulders and sports stuff all the time."
Where his impact truly reveals itself is in the halls of Tulane Institute of Sports Medicine, where he works as Chief of Sports Medicine. His patients excitedly greet him with news of their progress, and he returns their enthusiasm with equal measure. In a given year, he performs about 600 surgeries, with about half of those numbers coming from the New Orleans area. The rest pertain to patients from the other 49 states and beyond. "I think the last time we checked it was about 24 foreign countries where people had flown in," he says.
When medicine first called his name, to put it in prosaic terms, his path seemed set for a different course. Growing up in southwest Louisiana, "on the bayou," as he describes it, Dr. Savoie had other aspirations. His family mostly worked in the sugarcane industry, but one particular uncle, Dr. John Savoie, was a family practitioner in Donaldsonville. It was his influence that led Dr. Savoie to pursue family medicine.
Two chance opportunities altered that course. The first took place when he came upon a presentation Dr. Donald Faust was giving to other "hand guys," as they're called in the field, at Charity Hospital. "They were having the most delightful time" Dr. Savoie recalls, "so I thought, 'Whatever they're doing looks pretty cool." That led to an orthopaedic rotation and from there the rest is history, as they say.
A residency at the University of Mississippi Medical Center led to fellowships in West Virginia, Switzerland and at the Mayo Clinic, which exposed Dr. Savoie to new techniques. Beyond learning from others, there exists in him a drive to go beyond what's known in his field. His former mentor and good friend Dr. Richard Caspari, whom he worked with in West Virginia, told him, "Orthopaedics is traditional and you should always ask, 'Why do you want to do it that way?'" Dr. Savoie often dreams up new ideas, which he then explores at Tulane's cadaver lab. He will practice until he sees true results. "Some of the stuff we've done that hadn't been done before is now commonplace, but it took a lot of practice to make it work," he says.
Hip or knee replacements and other such major surgeries require a major opening, but working on the shoulder or elbow can often be done arthroscopically, which lessens a patient's pain and recovery time.
Dr. Savoie discovered a way to shift the type of surgery performed on multidirectional instability, a rotational instability with dislocations in multiple directions. "The standard operation for that was a big open incision, huge capsular shift," Dr. Savoie explains. "I came up with a way of doing that arthroscopically." In the early 1990s, Dr. Savoie presented his findings to the American Shoulder and Elbow Surgeons. "It's a very small group, but it's the best people in the world. I was only the third or fourth arthroscopy guy in this society," Dr. Savoie says. The presentation allotted five minutes for findings and then 20 minutes for questions. As soon as Dr. Savoie stepped up to speak, he noticed a growing line of doctors waiting to ask questions. "I figure, 'This is great. They're going to tell me this is so nice, it's a milestone,'" he recounts. Not so. "Every comment was about as negative as you could think of for this operation. They looked at the title and said 'This is malpractice to fix shoulders this way.'" Even if his procedure may have seemed heretical at the time, it eventually became routine. "Ten years later, no one was opening multi-directional instability," he says.
Dr. Savoie worked and taught at the University of Mississippi until a call from Tulane's chair at the time, Raoul Rodriguez, invited both him and his wife, Amy, to visit. "We drove down in January 2006, and 90% of the people were still gone, everything is dark," he explains, recalling the scene as if it were yesterday. "It was terrible. One of the worst things I've ever seen in my life. She and I almost at the same time said, 'I think we have to go to New Orleans.'"
His schedule now includes covering Tulane's sports year-round in addition to holding clinics for athletes and local patients, performing surgeries and traveling around the world to teach and operate where invited. "This past year, I went to France, Switzerland, India, Spain, Australia, I'm going to have to look at the calendar," he says, losing track of just how many countries he's visited. Add to those travels, trips to Chile, Argentina and Brazil. "It was a very busy spring," he admits.
And then, of course, he teaches at Tulane. "It's much more fun to watch somebody else get better," he says. "We are really lucky here with our residents and our med students, because they're so fabulous. Inquisitive, they're smart, we've had great surgeons come through."
As he's proven with his forward-thinking research and willingness to explore better methods, Dr. Savoie knows what it takes to be a great surgeon, insight he shares with his students and those he teaches around the world. "I think it takes commitment and focus," he says. "I really, truly do think about it all the time." Dr. Savoie also trains his hands and brain every day for the work he performs. "Arthroscopy is an ambidextrous sport," he explains, "so when I eat, I will change hands in the middle of every bite just to practice. I shave one side of my face right handed, one side left handed one day, and then I switch so the brain gets used to flipping. I try to switch hands all the time. I practice all the time."
Part of being a strong orthopaedic surgeon involves executing movements just so, without any wasted effort or energy. It was a lesson Dr. Caspari drilled into his head, and one that makes for an apt analogy when it comes to sports medicine and particularly the athletes such surgeons help. "A really good tennis player is completely relaxed," Dr. Savoie explains. "Think of Roger Federer. His muscles only tighten a millisecond before impact and they relax as soon as that's done. In his prime, he would play a match and he wouldn't even sweat. He was so relaxed, always in the right spot, always anticipating. It's just amazing. So you watch people who do that and the ones that are very relaxed do better. It's the same thing in surgery. That's what I tell my guys. It's like a sport, and this is what it takes to do well."
Much, if not all, of Dr. Savoie's drive comes from the patients whose surgeries fail for numerous reasons. "Some people love to win, I hate losing," he says frankly. "And if that person – guy, girl, kid – if they can't get back to 100-percent that they want to do then I've failed. Every time somebody doesn't get well, you think, 'Well, there's got to be a better way.'"
Although he will soon be approaching his tenth year at Tulane, Dr. Savoie didn't anticipate staying in New Orleans beyond a few years. "I actually moved down here with the idea of doing it for two years, put everything back together and then move back [to Jackson]. I think I greatly overestimated my ability and underestimated what needed to be done," he says. He has no plans to go anywhere else. He's grown to love New Orleans, never missing a Crescent City Classic race or Mardi Gras. He even keeps a calendar three years in advance, so he can schedule his trips around those high holy days. "I can't imagine living anywhere else," he says.