Seafood Greats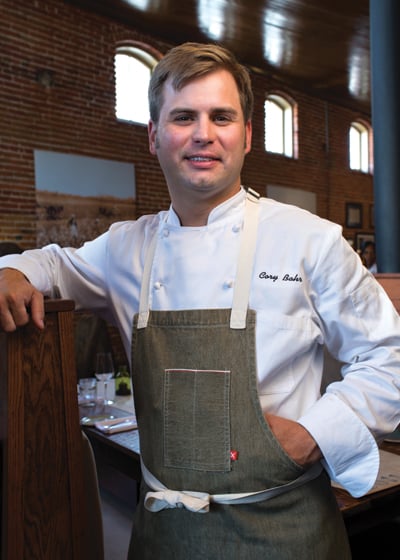 We live in a state where it's possible that anyone standing over a deep fryer in the backyard could be a master at preparing a fishing trip's bounty – even the great chefs here have competition. Nevertheless, the chefs featured are prestigious and award-winning, especially known for what they've done, and continue to do, with our plentiful seafood supply. Here, they share recipes that are tempting and realistic to make at home for your own summer gathering.
NONNA, COTTON (Monroe)
Cory Bahr
Cory Bahr, of the restaurants Nonna and Cotton in Monroe, didn't always know he wanted to be a chef. "It was never a goal in life," he says. "I never knew what I wanted to be, but the hustle and bustle of restaurant industry and the hospitality industry really drew me in and kept me there. I'm not a behind-the-desk sort of guy."
With two popular restaurants to his name, in addition to successes as diverse as being named the 2011 King of Louisiana Seafood by the Louisiana Seafood Board, a win on a 2012 episode of Food Network's Chopped, and being named Food and Wine magazine's 2014 best new chef in the Gulf Coast region, Bahr has clearly found his calling.
Bahr's passion for food entered his life early. "It was in my blood, really," he says. Raised by his grandparents in a "traditional Southern family," the cuisine and way of life in his childhood home became deeply important to him. "Food and hospitality in Louisiana – there's no other state like it," he says. "We're just a big party."
Although he cites chefs like Frank Stitt and Linton Hopkins as major inspirations to him, he is largely self-taught. "It's just something I worked really hard and studied and got good at," he says.
Louisiana seafood is Bahr's major culinary love and a driving factor in what he chooses to use in his kitchens on a day-to-day basis. "The vibrancy of our fishery in Louisiana is unparalleled in the United States," he says. "We have 300 years of fishing heritage backing us up to prove it." Bahr is also an avid fisherman himself.
"That's where I spend most of my time – on the bayou," he says. "Every minute I can steal, that's what I'm doing."
One of his restaurants, Cotton, serves up traditional Southern food using modern techniques. "[Cotton is] my North Delta baby right there," he says. He draws his inspiration from the "hyper-local, hyper-seasonal" ingredients he can get in Monroe. "Our food up here's different from South Louisiana – it's squash and grits and cornbread," he says. "Much more agrarian. More like farm food, if you will."
Nonna, on the other hand, embraces Italian cuisine with Southern influences. Again drawing inspiration from "what [he] can get fresh and what [he] can get locally," Bahr uses some inventive ingredient substitutions, but "old-school simple Italian cooking is all it is," he says.
There are two ingredients that Bahr is especially fond of using in his cuisine. "Oak Grove tomatoes – they're the best in the world," he says. "And Ruston peaches. Elbow-licking peaches is what we call them. You bite into them, and the juice drips down to your elbows." The best part for Monroe residents is that these ingredients are local – "a few miles up the road from us," Bahr says.
Bahr's advice to home cooks is to spend your time "sourcing the best, freshest, most local ingredients you can. And keep it simple. That is my main advice to anybody – keep it simple, not overcomplicated. Use a recipe as a guideline, but it's not the gospel." Furthermore, he says that the most important tools in a kitchen are "sharp knives. Cooking is definitely more enjoyable with good instruments."
In addition to cooking and fishing, Bahr's wife of seven years completes the picture of his personal life. "She's been so supportive of this job," he says. "I couldn't do what I'm doing without her."
Bahr further cites "the support, the friendship, and the camaraderie" of his community in Monroe as a major inspiration. "That's why I'm in a small town," Bahr says. "Monroe is revitalizing, going through a renaissance. When you see what we do with our food and how proud we are to be from Monroe, it's a great experience for us."

Crispy Shrimp with pepper jelly & herbs
Ingredients
12 shrimp, deveined
Aerated Batter
Ingredients
1 ½ cups all-purpose flour
½ rice flour
1/2 teaspoon baking soda
1 cup Coors Light
½ cup vodka
Salt, to taste
Put shrimp to the side. Combine all other ingredients with a whisk until smooth.
Pepper Jelly Vinaigrette
Ingredients
¼ cup rice vinegar
½ cup pepper jelly
1/2 tablespoon Sriracha
1 teaspoon high-quality fish sauce
1 lime, juiced
1 ½ cup grape seed oil
Salt, to taste
Combine all ingredients in a mason jar. Place lid on jar and shake with vigor.
Herb Salad
Ingredients
½ cup cucumber, seedless, small diced
1 bunch mint, picked
1 bunch cilantro, picked
1 bunch chives, snapped
1 red onion, small, julienned
1 cup heirloom cherry tomatoes,
cut in quarters
Combine in a bowl season with salt and zest of juiced lime.
Assembly
Dip each shrimp into batter. In a deep skillet filled with 3 inches of oil, fry shrimp at 375 degrees for 1 ½ to 2 ½ minutes. Remove and drain on a plate lined with a paper towel. Garnish with vinaigrette and herbs, as you like.
6 Servings

---

GW FINS (New Orleans)
Tenney Flynn
Tenney Flynn of GW Fins in New Orleans says he was "born into the restaurant industry." He grew up in Stone Mountain, Georgia, where his father owned a restaurant, and worked for his father from age 8 to 21. "Many of the cooks in the kitchen took great pleasure in teaching me how to cook when I was a young boy," he says. "I learned a lot about the heritage and flavors of great Southern cooking."
This early introduction to the culinary arts has surely contributed to Flynn's success. He has twice been selected as chef of the year by New Orleans Magazine, and the Wall Street Journal once referred to him as "The Fishmonger Czar of the South." In addition, when GW Fin's first opened, Esquire Magazine selected it as one of the Top 10 New Restaurants in the Country.
After spending most of his 20s in the bar and nightclub business, he attended the Culinary Institute of America in Hyde Park, New York, where he apprenticed under chefs such as Bill Jackson, Paul Albrecht, and Gerard Vullien. Afterwards, he spent many years working for Pano Karatasso's Buckheard Life Restaurant Group in Atlanta and then the director of culinary operations for Ruth's Chris Steakhouse.
While working there, he met Gary Wollerman, then the chief operations manager, and the two men came up with the concept for GW Fin's, which they opened ten years ago. Flynn says their vision was "to offer the highest quality of seafood from around the world to augment the fabulous wealth of seafood" that comes from the Gulf of Mexico. "By far, my greatest influences are wonderful ingredients," he says. "The incredible raw product of fresh seafood that we get in our own backyard is a daily inspiration for me. "
This inspiration led to Flynn's earning a diving certificate and several fishing licenses – he even goes deep-sea spear fishing and serves the fish at GW Fin's. "You really can't get product any fresher than that," he says.
One of his favorite cuts of fish is the collar from larger fish. "Even in a lean fish like yellowfin [tuna] there is a huge concentration of flavor between the fat and the bone in the collar," he says. "Bluefin [tuna] or swordfish is just amazing. Snapper collars are also great."
Although Flynn cites New Orleans-influenced Southern cuisine as his hallmark style, he does take some of New Orleans' more international influences into consideration when cooking. "I've been exposed to Asian influences by people in New Orleans and through travelling," he says. "Asian cooking lends itself really beautifully to wonderful seafood." He'll get even further exposure to these influences when he cooks aboard a Holland America Food & Wine Culinary Arts Cruise that will travel around Australia and Indonesia. "I have been researching Indonesian restaurants and where I'm going to eat," he says. "I am really looking forward to diving at The Great Barrier Reef, the premiere diving destination in the world."
Flynn's advice to home cooks is that "timing is everything, especially when you are preparing seafood, so it all comes up perfectly together. Always make your sides before the fish and have everything else on the table before you put your fish in the pan."
The most important tool in any chef's kitchen, he says, is a good knife. "Make sure your knife is made of butcher steel and you use a soft cutting board. Make sure you steel your knife often. I like to use Forschner stamped knives."
In addition to diving and traveling, Flynn loves to read, do yoga, jog in the French Quarter, and cultivate his own herb garden. These herbs help to contribute to Flynn's cooking philosophy that "the hallmark of a good cook is opening a pantry and making something good with the ingredients you have on hand." In addition to fresh cut herbs, he recommends that home cooks "have easy access to intensely flavored stocks as they are cooking," which can be kept in the freezer until they are needed.
Charcoal-Grilled Louisiana Cobia with Vietnamese-style mirliton slaw (goi thap cam) and citrus chili oil
Mirliton Slaw
Ingredients
2 tablespoons raw sugar
Juice of four limes
4 tablespoons fish sauce
2 cloves garlic, finely minced
1 teaspoon diced hot pepper
Do not remove seeds
1 red bell pepper, finely julienned
1 yellow bell pepper, finely julienned
2 medium carrots, julienned
2 mirlitons (or chayotes), julienned on a
mandolin or thinly sliced into matchsticks
2 tablespoons chopped cilantro leaves
2 tablespoons finely diced green onion
In a medium bowl, dissolve the sugar in the lime juice and fish sauce. Add the garlic, hot pepper, bell peppers, cilantro and green onion, to the lime juice mixture, stir thoroughly, cover and refrigerate, until chilled, at least 30 minutes. This sauce can be made up to 3 days in advance.
Citrus Chili Oil
1 cup Canola oil
2 tablespoons whole annatto seeds
Zest of one lemon
Zest of one orange
1 jalapeno pepper quartered and seeded
Place all the ingredients in a sauce pan and bring to a simmer, remove from heat, then allow to sit for two hours. Strain the chili oil into a small container, discard the solids, then set aside and cover until ready to use.
Cilantro Puree
Ingredients
1 bunch cilantro, leaves picked,
stems discarded
4 large outside leaves from romaine or iceberg lettuce
1 jalapeno pepper, split and seeded
½ cup Canola oil
pinch salt
Place all ingredients in blender and puree until smooth. Pour into a squeeze bottle and refrigerate.
Grilled Cobia
Ingredients
4 5-6 ounce skin-on fillets of Cobia (lemon fish), pompano King mackerel, swordfish, amberjack, redfish, whatever firm fleshed fish is freshest
Salt, black pepper, Chef Paul Prudhomme's Shrimp Magic seasoning blend, to taste
Cooking spray
Cilantro sprigs, for garnishing
Thai basis basil sprigs, for garnishing
Prepare grill. Season the fish with salt and pepper and a bit of Shrimp Magic. Spray the fish with nonstick spray. Grill the fish skin side down for 2 minutes. Rotate the fish a quarter turn (to make the crosshatch grill marks). Cook for another 2 minutes. Close the top of the grill and cook for about 3 more minutes. Squeeze most of the liquid out of the slaw and place about half a cup in the center of a warmed plate. Drizzle a tablespoon or so of the cilantro puree around the mirliton slaw and a teaspoon of the chili oil in a circle closer to the rim of the plate. Put the fish filet on top skin up. Garnish with cilantro and Thai basil.
4 Servings

---

PÊCHE (New Orleans)
Ryan Prewitt
Ryan Prewitt, chef and partner at New Orleans' Pêche, has had an eventful year. Since its opening last year, Pêche won the James Beard Award for Best New Restaurant and Prewitt himself won Best Chef in the South, honors he says are "hard to quantify."
Prewitt says the critically acclaimed seafood restaurant is the result of years of traveling, planning and eating with chefs and co-owners Donald Link and Stephen Stryjewski. The final product, however, is quite straightforward.
"We are not trying to do anything revolutionary at Pêche. We want to present the best possible Gulf seafood we can buy," Prewitt says. "We want you to have a quick bite in shorts or a long, leisurely meal in a suit. We want the food to be interesting, delicious and properly prepared. We want you to leave happy and content."
Prewitt was born in Memphis, Tennessee, and, despite the city's status as a major center for Southern food, Prewitt says he "did not grow up in a particularly culinary environment," although his grandfather grew vegetables, and fried catfish was a regular meal in his family. It wasn't until Prewitt moved to San Francisco as an adult that he discovered his passion for cooking.
"I lived a few blocks from a large, twice-weekly farmer's market that was geared toward functional shopping," Prewitt says. "The selection was great, and the prices were even better. I could go down there with $20 and come away with bags of produce to experiment with. I spent most of my free time reading cookbooks and thinking about a career change, until one day I quit my job and started cooking. It was the best decision I ever made."
Although Prewitt is not formally trained, he says he has been "fortunate to work under a short list of talented chefs who spent a lot of time" teaching him. He specifically cites his first boss in San Francisco, Alicia Jenish, and his New Orleans mentor and fellow chef at Pêche, Donald Link, as having had especially profound impacts on his development as a chef.
After seven years in San Francisco, Prewitt moved to New Orleans almost nine years ago. With it, he brought his belief that a chef should use locational influences to inspire their cooking. "I am very fortunate to live in New Orleans, where we have access to an abundance of great products," he says. "I am most certainly a product of my environments. California was a big influence, Donald [Link] was even bigger, and my Southern upbringing always looms in the background."
Prewitt's advice to a home cook is to trust your intuition. "Don't get stressed out in the kitchen," he says. "If you don't have a certain ingredient, it's not going to ruin your dinner. Just buy from your markets and let what's available guide you. Read recipes and try to get the essence of it, then adapt it to what you have available."
The most crucial component of any kitchen, however, is a "proper knife. It must be sharp, and you must care for it," Prewitt says. "You will be rewarded over and over."
There is one ingredient that Prewitt says he's found himself using especially frequently. "I have a deep love of pickled chilies," Prewitt says. "We use gallons of the pepper vinegar every week at Pêche. The pickle we make has a great balance of acidic, sweet and spicy that brightens just about anything. I have jars and jars of them at home, and it's almost always what I reach for when a dish is missing something."
Prewitt says that pickling chilies is a satisfying, easy introduction into the craft of pickling. "You can easily grow your own chilies and make pepper vinegar," Prewitt says. "You can also buy an assortment of chilies to suit your preference at most summer farmer's markets. Take them home, heat up some vinegar and sugar, and pour it over the chilies, and you're all set."
As for his personal life, Prewitt is married with two sons. "It will forever be my goal to spend more time with them," he says. He also stays active by running. "My family, running and work pretty much take up all the hours in the day."
Whole Grilled Redfish with salsa verde
For the Redfish:
Ingredients
2 ¼ – 2 ½ pound redfish (or other delicious fish), gutted, gilled and scaled
2 tablespoons olive oil
2 teaspoons salt
1 teaspoon black pepper
Sea salt
Salsa Verde
Ingredients
2 salt packed anchovy filets, rinsed
2 garlic cloves, peeled
1 shallot, minced
½ cup parsley, chopped
½ cup mint, chopped
½ cup green onions, sliced
1 lemon, zested and juiced
1 tablespoon Dijon mustard
½ cup red wine vinegar
¾ cup extra virgin olive oil
½ teaspoon salt
½ teaspoon black pepper
1 teaspoon mild chile flakes
Prepare a medium hot grill, preferably with wood burned down to coals. Make sure the redfish is scaled and the inner cavity is completely clean. Make three evenly spaced deep cuts into each side of the fish. Dry the fish off thoroughly with a towel and, if you have time, allow to sit in front of a fan for about 15 minutes to finish drying. You can also leave the fish standing upright and uncovered in the refrigerator overnight.
Spread the oil on both sides of the fish and season with salt and pepper. Place the fish on the grill and cook almost completely on one side, about 10-15 minutes. Turn the fish to the other side and cook for another 10-15 minutes, or until the flesh has turned from opaque to white and the meat around the collar is soft.
Meanwhile, make the salsa verde. Mash the anchovy and garlic to a paste in a morter. Add everything except for the oil and combine thoroughly. Slowly pour in the oil while stirring the mixture. Adjust seasoning as needed.
When the fish is cooked, heavily sauce a serving plate, place the fish on top, then pour more salsa verde on top. Finish with a good quality sea salt.
2 Servings