Searching for Southern Mythology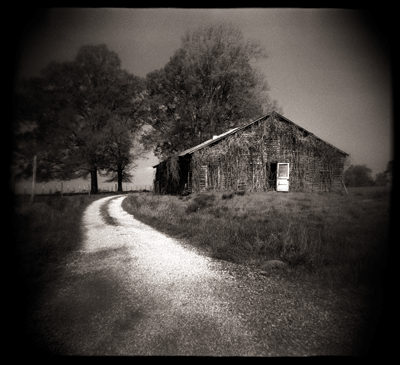 The late Mississippi writer Willie Morris summed it up well in the opening sentence of his book My Mississippi, when he wrote, "Let us begin with the land."
To photographers George Havard Yerger and Leslie Addison, the land is the ever-present narrative that drifts through their dark and gauzy black-and-white images of rural Louisiana and the Mississippi Delta like fading memories. The New Orleans-based husband-and-wife team has spent years traveling the back roads of Louisiana and Mississippi in search of those iconic remnants of a decaying and changing rural South that have inspired generations of writers and visual artists. With their cameras and imaginations open to what they see, they photograph what they feel and sense – and what they remember of their own pasts.
Yerger and Addison have a deep reverence for and connection to the land that lies along both banks of the Mississippi River. Yerger was born in Vicksburg, Miss., and Addison in Baton Rouge. Both grew up in Louisiana, and both have deep family roots in Louisiana and Mississippi. Yerger's ancestors were cotton planters in the northeastern Louisiana delta and across the river in the Mississippi Delta in and around Vicksburg. His great-grandfather was in Gen. Grant's Army that occupied northeastern Louisiana and Vicksburg during the Civil War.
He returned to the area after the war and married a local girl. Addison's family ran an inn on the Old Natchez Trace in the early 19th century and has lived near Port Gibson for almost two centuries.
Over the past decade, the two have completed three remarkable series of photographs of rural Louisiana and Mississippi – Firefly Diaries: Memories and Dreams of a River Country (2001-2002), Phantom Winds: A Mystic Hymn of Louisiana (2004-2005) and Field Notes: Searching for Southern Mythology (2001-2010). Each helps us visualize places where literary spirits lay waiting to inspire all who have the ability to truly see and the talent to tell the stories of our schizophrenic past.
After completing Firefly Diaries in 2002, Addison discovered what Eudora Welty had written in Some Notes on River Country: "I have never seen, in this small section of old Mississippi River country . . . anything so mundane as ghosts, but I have felt many times there a sense of place as powerful as if it were visible and walking and could touch me."
Yerger and Addison sense that same touch. "I can't tell you how much we feel that," Addison says. "I have people [family] buried all over that area in little overgrown, forgotten cemeteries and old homesteads. I look because there are stories there of what happened. That feeling is as strong for George in the Louisiana and Mississippi deltas as for me in the Claiborne County and Port Gibson areas of Mississippi. We both get these feelings when we wander around the whole area between Vicksburg and Natchez on both sides of the river."
Other passages in Welty's stories resonated with Addison, as well. "It's not just her mentions of familiar places," she says. "It's her soulful understanding of the more ethereal qualities of the area." Again, she quotes from Welty's Notes on River Country: "The old deeds are done, old evil and old good have been made into stories, as plows turn up the river bottom. . . ."
Yerger and Addison's only road maps are childhood memories of growing up along the Mississippi River in rural Louisiana and Mississippi and writers who wove gothic tales of these singular landscapes and the real and mythic people who inhabit them. Addison and Yerger describe their images as "offhand moments and everyday iconography that is the essence of our culturally rich and immensely layered Southern existence. The words of William Alexander Percy, Willie Morris and William Faulkner echo in our minds."
"When you're young, you're not really paying attention – you're absorbing it and don't know and don't care," writes Addison in an artists' statement for Field Notes. "Then all those subliminal things come together one day … [and] mean something. A mythology. … But it has added up to making us us in the end. Me and George. It's a core thing, a feeling you get when you're in certain places, when you see certain things. Unremarkable things. … But not so simplistic because there's poverty, pride, stagnation, unrelenting work, dirt, although I love the unsterileness [sic] … there's earthiness, very remembered histories, old stories, bad politics and people who care in spite of their bad politics. And people who have changed but still love the stories. [There is a] sense of shared histories and stories that cross economic, religious and racial boundaries. The land is deep and shadowy, mysterious and slow. With secrets of its own that we let it have and step around. It's contradictory and complicated and maddening – so much to fix, but don't want to change it too much."
Field Notes, says Addison, "is a visual memoir of our family lands and memories of our childhood. We would say, 'I remember sitting around searching for mussels in the creek,' and then a photograph of the creek, a photo that was misty and vague. We did this for our kids. They are in such a different place. We wanted to give them a nonliteral record of where we came from." The two plan to return to the area to interview people who live on the land to capture their thoughts and memories.
In the Phantom Winds series, Addison and Yerger concentrated solely on photographing coastal Louisiana. After residing in Austin, Texas, for a few years in the early 2000s, both wanted to return to Louisiana to do more "cultural work in Louisiana." After reading descriptions of the area written by the fabled 19th-century journalist Lafcadio Hearn, who wrote a good bit about the region in his novels and short stories, Yerger and Addison focused on South Louisiana in and around Cocodrie and Bayou Lafourche. Passages from Hearn's work give a voice to their images. They didn't try to document places mentioned in his writings. They simply wanted "to present a thought and to ask more questions."
Addison and Yerger completed the project in less than a year. "We started this project on Christmas Day 2004," they wrote in a statement accompanying the photographs. "Unbelievably, it snowed. The grayness of the light was the perfect beginning. Our intention for this work was to portray South Louisiana as we felt it, a layered landscape of mystery and shadows. … These photographs have a moody poetic feel that describe the complex beauty and sensuality of these areas and our love for them. The work is not meant to be a literal record but rather a look into a subliminal, internal, living, breathing land." They completed the project two weeks before Hurricane Katrina hit.
"Some of the excerpts we used from Hearn's writings seem almost prophetic now."
At times, their photographs seem like documentary responses to what they saw. Others, like Yard Mary No. 10, South Louisiana, are more complex and intuitive layered images, much like old memories coming together. They often call to mind the work of the late surrealist photographer Clarence John Laughlin, who gained national fame for his 1948 book, Ghosts along the Mississippi.
Yerger creates these manipulated images by photographing scenes with inexpensive plastic cameras. He likes the ethereal effects these cameras produce. In the Phantom Winds series, he used this type exclusively. "The nature of the plastic lens, light leaks and 'vignetting' of the edges lent our pictures a moody lack of clarity that accentuated the mystery of these places," he says. "Sometimes we used multiple exposures to reveal the chaotic and confusing layers of memory and create overlapping time sequences. The camera encouraged us to work intuitively without the normal preoccupation of technical issues."
When not pursuing spectral memories across the Louisiana and Mississippi landscapes, Addison and Yerger travel extensively to document the work of a nonprofit medical organization that provides medicine and care to poor people in remote regions of the world. Over the past decade, they have worked in Africa, Central America, the Caribbean and the Philippines. "Working for the nonprofit crystallizes your thoughts about what's important," Addison says. "We come back here and do our creative artwork and then realize that out in the real world, this doesn't matter.
It teaches you humility."
Whether photographing rural Louisiana and Mississippi or the indigenous people of Central America, Addison's and Yerger's thoughts return to Welty and her reflections upon the Mississippi River: "Perhaps it is the sense of place that gives us the belief that passionate things, in some essence, endure."
Yerger's and Addison's work can be seen at Cole Pratt Gallery in New Orleans and at www.coleprattgallery.com.