Shank Cat's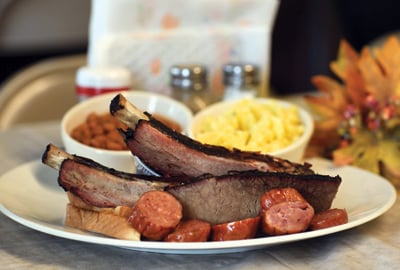 Whether you are zooming north or south on I-49, you should pull off at Exit 186 for Frierson, and stop and smell the barbecue. After exiting, go east on N. La. 175 for about a half-mile. On your right you will easily see an old school building that looks like it hasn't been painted since Reagan was in office. That building with the peeling paint is Shank Cat's Bar-B-Que.
Owner and operator Edwin "Bobo" Scott has had this eatery going about 15 years. The property and building were given to him by his grandmother, whose nickname was Shank Cat. Even Bobo doesn't know how she acquired that nickname, but he nevertheless named the eatery in her honor.
A sign out front says "No Teeth Required" – hinting at how tender this barbecue is.
Often when meat "falls off the bone," it's because it has been boiled. That is certainly not the case at Shank Cat's.
Scott religiously cooks his meats for the proper required time to give them tenderness and also a smoky flavor that true barbecue aficionados love.
The sampler plate gives you ample servings of ribs, brisket and sausage that are a true tasty treat. Hot links and chicken are also available.
The chopped beef sandwiches are bulging and overflowing with finely chopped beef that is tender, flavorful and also covered in a subtly sweet sauce.
The beans, potato salad and slaw all make fantastic sides.
On Thursdays, you can enjoy a cooked to order rib eye with loaded baked potato, green salad and toast.
The dessert selections include banana pudding (made by Scott's sister) and peach cobbler he makes himself. They are every bit as good as you remember your grandma making. On one of my first visits, I joked to Bobo that I wanted to go look in the kitchen to see if my grandmother was back there cooking. It may not be easy, but do your best to save room for dessert. Also reminding you of Grandma's Sunday afternoon dinners are the classic tea cakes made by none other than Bobo's mother. This is truly a family business.
As you would expect from such an eatery, you can also get a glass of the good old Southern staples of sweet tea and lemonade.
The décor is country simple and the service is welcoming. Scott is not only a master griller but a congenial and smiling host, as well.
You will likely find classic television showing on the large TV set. It's nice to relax and enjoy your favorite old shows while chowing down on this classic country cooking.
This is country comfort food and a friendly staff that makes you feel at home. Shank Cat's is open Thursday, Friday and Saturday from 11 a.m. until 3 p.m. Catering is also available.
Shank Cat's Bar-B-Que | 6455 Hwy. 175, Frierson | (318) 780-7150
---
Giles Snack Shop
In the small town downtown of Plain Dealing about 20 miles north of Bossier City, Giles Snack Shop has been a landmark for country cooking since 1957 and in its current location since 1971.
This is one of those small-town diners where the waitresses may call you "hon," and regulars don't even have to order because the wait staff knows what they are going to have when they walk in. Owner Annie Lou Giles is the matriarch of the eatery, assisted by daughter, Charlotte Giles Hamiter.
Each table has incredible made-in-house jars of vinegar infused cucumbers and addictive pepper relish. Regulars come in for the classic hamburgers. You can also find great daily special plates if you get there in time. Finish off the meal with Giles' famous fried peach or apple pies. Indeed, take a bunch home. The café is decorated with an eclectic array of antiques and vintage M&M memorabilia.
Giles Snack Shop | 210 W. Palmetto Ave., Plain Dealings | (318) 326-4088
---
Sherry's Diner
South of downtown Shreveport is Sherry's Diner, a true soul food emporium. Owner/chef Sherry Jefferson opened the diner five years ago after years of working in some of the best of the casino restaurants in Shreveport; some gambling winnings gave her the capital to open her own place. Sherry's offers daily specials with a choice of two fresh vegetables. House specialties include meatloaf, catfish, smothered and fried pork chops, neck bones, chitlins and fried chicken. Do not leave without trying the banana pudding and peach cobbler.
Sherry's Diner | 2135 Freewater St., Shreveport | (318)-754-3071
---