Shelf life
GoodWood Nola builds sustainable furniture and fabrication countrywide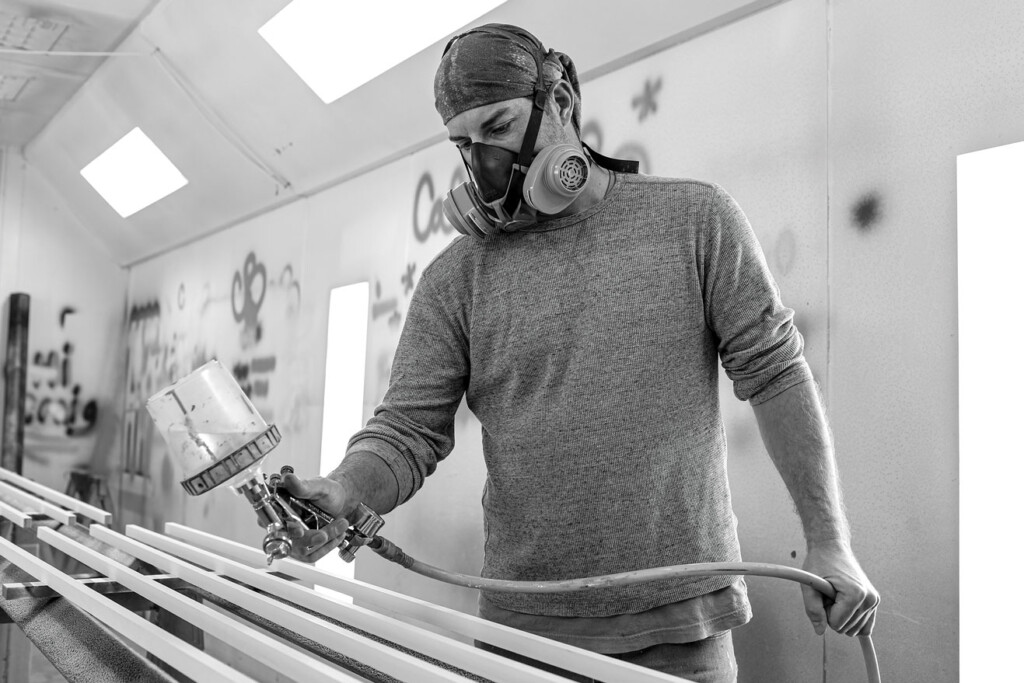 Select Photos by Randy Krause Schmidt
At A Glance
Age
32
Location
New Orleans, LA
Occupation
Co-owner/Co-founder, GoodWood Nola
Web
goodwoodnola.com
Fast currents, rocky obstacles and significant drops are likely. Sudden maneuvers required. Such hazards of entrepreneurship have their equals in Class 4 rapids, and whitewater fitting this description was all too common while a 19-year-old Jordan Rose navigated the Tuckasegee River. For a couple summers in college things got intense on the water while he led wilderness therapy classes for children with autism outside of Hendersonville, North Carolina.
The resourceful Arkansas native logged about 300 miles by canoe with the children, but the real arrival was finding himself.
"I think I learned how to communicate, how to really connect," says Rose, now the co-founder and CEO of GoodWood Nola, a custom furniture and architectural fabrication firm in New Orleans. "Those parents trusted me with their kids to navigate down the river, and I carry that confidence even now into everything we make."
Before even glimpsing the door of the shop, a small structure springs out from the gray gravel crunch of the parking lot surrounding an otherwise nondescript red brick warehouse in a central part of the city. It's a Krewe tiny house, one of a dozen trailer-sized mobile shops GoodWood Nola has custom built for the New Orleans-based eyewear brand and delivered across the country — including to Austin, Dallas and Nashville.
Meticulously crafted tables, bar tops, shelving systems and complete commercial build-outs for the hospitality industry are their specialties, but it is flexibility and innovation on projects like these creative retail outlets for Krewe and pivoting to fabricating 100,000 medical face shields during COVID-19 that define the strength of Rose and his team as specialty contractors.
Launched by Rose and a couple of friends in 2014 after successful shelving projects for New Orleans-based businesses District Donuts, Sliders & Brew and Dirty Coast, GoodWood Nola is now a family affair with Rose as the lone remaining founder operating the shop, his wife Maggie managing the books and staffing, and a small team of woodworkers, welders and painters on the production line.
"I wanted a space that's efficient," Rose says walking the floor and overseeing operations that once took place in a garage. "I love having architects and interior designers here so they can see our capabilities, that we are legit."
Today the team is working on pieces for an ambitious front-of-house renovation at Emeril's in New Orleans aimed at boosting a vibrant and casual happy hour for the venerable eatery, as well as a range of unique furniture — including a massive dish storage unit — for the home of Melissa Martin, the founder and celebrated chef behind Mosquito Supper Club in New Orleans.
Deliberately abstaining from the automotive finishes — and some 150,000-plus colors — he can use, GoodWood Nola's pieces for Martin are being built and hand-painted with earth tones, leaving the visceral streaks of brushstrokes for a rustic feel like Paw-Paw might have done on the back porch.
"Some subcontractors have bad reputations of ghosting people, so we reply to every email and really focus on being responsive and intentional every step of the process," Rose says.
As they grow with projects across the country, GoodWood Nola remains focused in heart on its home. Rose contributes to urban reforesting programs like SOUL (Sustaining Our Urban Landscape), and in 2019, the company was recognized as "Best In Show" at the Love Your City awards for prioritizing sustainable development.
Rose sources as much wood as possible from sustainable sources in Louisiana and along the Gulf Coast. All his sawdust is sent to a farm on the North Shore, mostly for bedding their chicken coops.
As energy for restaurant growth and nightlife in New Orleans ramps up on the back side of the pandemic, Rose is content with the size of his team and volume of GoodWood Nola's work. But he's always excited about the next bid, the next challenge, particularly with the larger commercial jobs now coming his way like work with L'Auberge Casino Hotel.
"Our jobs are so varied and so custom," Rose says. "It's often a balance of what the client dreams up versus what is actually possible physically, and meeting in the middle with a build that is beautiful."
After stints making props for feature films in Shreveport and designing displays at the World War II Museum in New Orleans, Rose has found a groove, navigating the obstacles of a unique career as a creative entrepreneur. Though he's firmly set on leading GoodWood Nola into its second decade of building furniture and strong relationships with contractors, his distant plan could include something humble but mountainous — perhaps relocating his family to North Carolina, where he once canoed all summer long.
"My retirement plan is running a hardware store, the kind with free popcorn and coffee," Rose says with all sincerity. "Just helping people and answering questions up in the mountains."
Q&A
What are some of your favorite places to hang out in Nola when y'all have free time?
Maggie and I like to take our daughter to the zoo or walk around Audubon Park. If it's just the two us we will enjoy a night out at Jack Rose and catch some live music on Frenchmen Street.
What's the most unique thing GoodWood Nola has made lately?
The most unique thing we have made would be the donor wall for Second Harvest Food Bank. This project was a sculptural art piece we built to honor those who have contributed to the food bank.
You mentioned the name GoodWood Nola might not be the name you would choose if you were starting the company today. What would you call it if you started in 2023?
Great question! I would likely just go with my last name and call it Rose Design and Build.
If you could work with any brand, celebrity or client globally, who would it be, and what specifically would you love to make for them?
I'd love to work with SpaceX to make space furniture! They are going to need tables on Mars.