Shop the Sale on the Trail May 7-8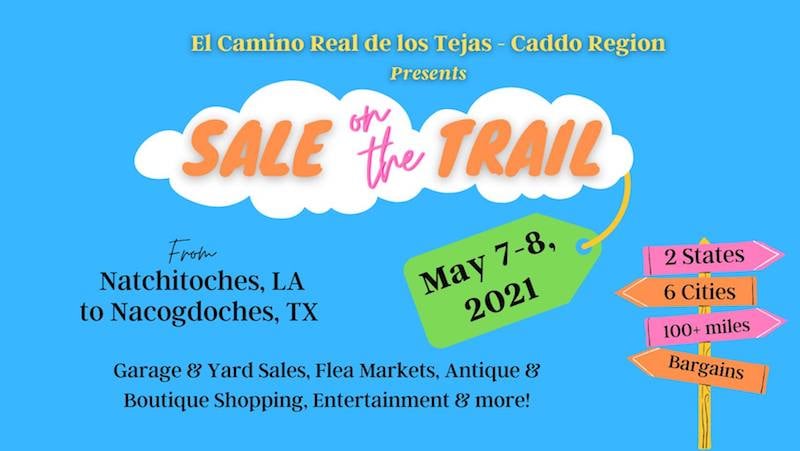 NATCHITOCHES, La (press release) – Ready to "shop til you drop"? The 13th annual El Camino Real Sale on the Trail takes place May 7-8 along 111 miles of the historic El Camino Real de los Tejas. Follow the trail through the Caddo region which stretches from LA Hwy 6 in Natchitoches to TX Hwy 21 into Nacogdoches, Texas.
Along the trail, shoppers will find new and used items sold by local businesses and private individuals. If you are a shopping warrior, collector or just looking for fun, a weekend shopping the trail is a wonderful way to take advantage of the beautiful spring scenery and historical markers along the El Camino Real.
In Natchitoches, shoppers will find vendors in the following locations:
Natchitoches Historic District Shops: Tres Bien, Cane River Kitchenware, Pied a Terre, Southern Necessities and others
Vendors at Dark Woods Adventure Park in Natchitoches
Vendors at Manning Mini Storage in Natchitoches
Vendors at Little Red Barn Boutique in Robeline
Hillside Antiques in Robeline
Downtown at Natchitoches Farmers Market (Saturday only)
And more!
A complete list of vendor locations plotted in a Google map is available online at VisitElCaminoReal.com.
"This is such a fun and exciting event for Natchitoches" said Arlene Gould, Executive Director of the Natchitoches Convention & Visitors Bureau. "Shoppers have 111 miles of great finds to explore and so many historic attractions along the way. It is always a busy day for Natchitoches and the El Camino Real Caddo Region partners in Sabine Parish and in Texas, Sabine County, San Augustine County and Nacogdoches County who participate in Sale on the Trail."
Designated as a National Historic Trail in 2004, El Camino Real de los Tejas has existed for more than 300 years. The Spaniards and the French who marked the trail were followed by such men as Stephen F. Austin, Jim Bowie, Davy Crockett, Sam Houston and early missionaries of multiple faiths.
For more information, contact the Natchitoches Convention & Visitors Bureau at 318-352-8072 or 800-259-1714. To learn more about the Caddo Region of the El Camino Real National Trail, visit online at VisitElCaminoReal.com or "like" the El Camino Real Caddo Region or Sale on the Trail Facebook pages.