Simply Fresh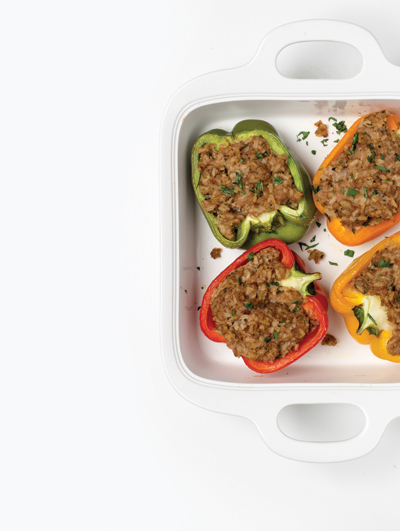 Good food doesn't have to be complicated or difficult to make. On the contrary, simple dishes prepared without artifice or pretension, are often the most memorable. This is particularly so in the spring and summer, when we have such an abundance of vegetables and seafood at our fingertips.
Quality ingredients, simplicity and ease of preparation are the keys to eating well on a daily basis. It's not necessary to be a trained chef in order to produce good meals. With a little thought and some attention to detail, anyone who loves to eat can prepare nutritious and delicious food day in and day out.
I respect and appreciate the intricate and sublime dishes that great chefs produce in their restaurants, but I have no desire to attempt to make them at home. Whether or not I could successfully reproduce them is beside the point. My goal is to eat well and reasonably healthfully without spending all day in the kitchen. Taste is what matters, and it's possible to satisfy a desire for delicious food without becoming chained to the kitchen.
All of the recipes this month require a minimum of preparation. Bell peppers and other vegetables are delicious when stuffed with meat, rice or seafood, and baked. For a change, instead of preparing your own stuffing, use boudin and different colored bell peppers.
A dish of shrimp and asparagus is enlivened with a mustard vinaigrette, resulting in a dish that can be served as a salad or as the centerpiece of a light luncheon. I prefer it served at room temperature, but it may also be chilled.
This is the time of year when we have an abundance of tomatoes. Cherry tomatoes of various colors make an appealing salad with the addition of olive oil and fresh basil. I like to serve it over toasted country bread. The toast soaks up the oil and tomato juices and becomes indescribably delicious.
Thinly sliced cucumbers and radishes anointed with olive oil and lemon juice and sharpened with Pecorino Romano cheese make an appealing salad incorporating two seasonal vegetables.
A frittata is simply an Italian-style omelette. This one, filled with sugar snap peas and asparagus, can be cut into wedges and served hot or room temperature.

---
Multi-Colored Bell Peppers Stuffed With Boudin

Preheat oven to 350F and oil a shallow baking dish.
Cut off tops of each 4 large bell peppers, each a different color and reserve.
Remove seeds and ribs from peppers.
Using a sharp knife, slit casings of 1-1½ pounds boudin. Remove boudin and fill each pepper, without packing.
Place filled peppers in baking dish and replace their tops. Add ½ cup water to dish and bake for 90 minutes.
Makes 4 servings.

---
Tip
Taste is primary, but color and composition are also worthy of consideration. How a dish looks affects our enjoyment of the food, which has given rise to the saying that "we eat with our eyes"—obviously an exaggeration, but not by much.
---
Mixed Cherry Tomato Salad With Toast, Olive Oil and Basil
This is one of my favorite treats when I have ripe tomatoes from the garden. It is simplicity itself and all the more appealing for that fact. In a dish like this, quality ingredients are even more essential than usual. Use the best tomatoes and bread you can find and your finest olive oil.
4 thick slices French or Italian country bread
1 pound cherry tomatoes, mixed colors
extra-virgin olive oil
coarse salt & freshly ground
black pepper
fresh basil leaves

1. Toast bread and divide among 4 plates. Using a fourth of the tomatoes, cut them in half over one of the toasts so the juices aren't lost. Repeat with remaining tomatoes and toasts.
2. Drizzle the tomatoes and toasts with extra-virgin olive oil. Be generous with the oil.
3. Season to taste with coarse salt and freshly ground black pepper. Tear basil leaves and strew over the tomatoes.
Makes 4 servings.

---
Cucumber And Radish Salad
Here we have two cool and refreshing ingredients joined together in a simple salad that can be served alongside grilled food. It is also good on a light luncheon menu as one of several dishes, perhaps including the shrimp and asparagus with mustard vinaigrette or the asparagus and pea frittata, along with cold roast beef, pork or chicken.
2 medium cucumbers
8 radishes
3 tablespoons extra-virgin olive oil
4 teaspoons freshly squeezed lemon juice
coarse salt & freshly ground
black pepper
¼ cup freshly grated Pecorino Romano cheese
2 tablespoons minced chives

1. Slice cucumbers and radishes as thin as possible and add to salad bowl.
2. Whisk olive oil and lemon juice until emulsified. Add to salad bowl and toss to combine. Season to taste with coarse salt and freshly ground black pepper.
3. Sprinkle grated Pecorino Romano over salad, then garnish with minced chives.
Makes 4 servings.

---
Asparagus And Pea Frittata
Put a medium-sized sauce pan of salted water on to boil and preheat oven to 350 F. Remove strings from 1 cup sugar snap peas and break or cut off the woody ends of 8 spears thin asparagus. Blanch the sugar snaps in boiling water for one minute, then remove from pot, place in strainer or colander and run under cold water to stop the cooking. Blanch the asparagus spears for one minute also, then remove from pot, place in strainer or colander and run under cold water to stop the cooking. Cut peas and asparagus into ½-inch pieces.
Break 6 large eggs into mixing bowl and whisk. Season with ¼ teaspoon coarse salt, freshly ground black pepper and ¼ cup freshly grated Italian Parmesan cheese. Add peas and asparagus to eggs.
Melt 1 tablespoon butter in a 10-inch oven-proof skillet over medium heat. When butter foams, add egg mixture, transfer to preheated oven and bake until puffy and set around the edge of the skillet, about 8-10 minutes. Place skillet under broiler for a minute to brown the top.
Makes 4 servings.

---
Shrimp And Asparagus With Mustard Vinaigrette
Combine ¼ cup extra-virgin olive oil, 2 tablespoons freshly-squeezed lemon juice and 2 tablespoons Dijon mustard in a bowl and whisk until emulsified. Season to taste with coarse salt and freshly ground black pepper and cayenne.
Put 1 pound small shrimp, peeled and deveined in a medium pot, add 2 tablespoons Cajun/Creole seasoning and cover with water. Place pot on high heat. When water comes to a rolling boil, turn off heat and let shrimp soak for a few minutes. Drain shrimp in a colander, then transfer to a shallow container, such as a bowl or baking dish. Whisk the vinaigrette, pour half of it over the shrimp and toss. Adjust seasonings.
While shrimp are cooking, trim ends from 1 pound thin asparagus, place in a large skillet, add 1 tablespoon coarse salt and cover with water. When water comes to a boil, remove asparagus with tongs and drain in a colander. Transfer asparagus to a shallow container, pour over the remaining vinaigrette and toss to coat asparagus. Adjust seasonings.
Divide asparagus among 4 serving plates and top with shrimp. Serve at room temperature or chilled.
Makes 4 servings.

---