Six degrees of Franklinton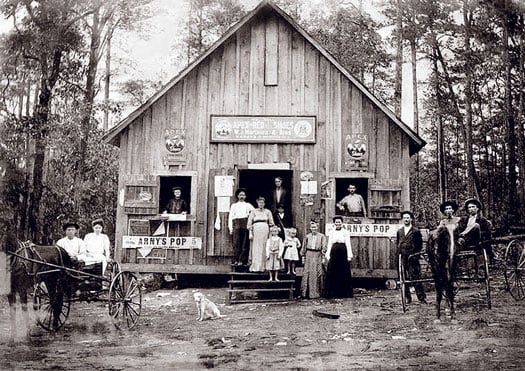 For my husband's birthday last October, I ordered the memoir by former LSU football player John Ed Bradley, It Never Rains in Tiger Stadium. For purposes of secrecy, I had the gift shipped to me at my neighbors' address. I asked them to notify me when the book arrived so that I could run over and pick it up. They never got the chance. The mail lady, as we call our postal carrier, delivered the package straight to our house. It took me about 5 seconds to figure out why: The mail lady knew good and well I didn't live at the address on that mailing label.
The whole thing reminded me of an old joke about the farmer who gets pulled over by a cop for failing to signal. "Why didn't you use your blinker when you turned into the driveway?" asks the officer. The farmer replies indignantly, "Everybody knows I live here!"
These stories, real and otherwise, reveal several truths about small-town life.
Truth No. 1: When it comes to shopping in a small town, thank God for the Internet.
Truth No. 2: Neighbors in small towns still call on each other for help.
And most of all, Truth No. 3: You can run. You can even use somebody else's address. But when you live in a small town, you cannot hide.
Technically, we don't live in the small town of Franklinton (population 3,708 according to 2005 estimates). Our hay farm is outside the city limits in rural Washington Parish. But for convenience' sake, we routinely say we live "in Franklinton."
I have now lived in Franklinton for 17 years –– more than a third of my life. I spent most of the previous two-thirds in Birmingham and Atlanta before moving here to marry a farmer in 1992.
Before that, "move to a small town" did not appear anywhere on my bucket list. I remember traveling through quaint little burgs like Franklinton during my single years. I wondered about the lives of the people there, but mainly I shuddered at the thought of getting stuck in some hick town that rolled up the sidewalks at 5 p.m. You'd never catch me in the kind of backwater that once prompted George Burns to quip, "I spent a year in that town one Sunday."
I have now spent many Sundays, of course, in a place that might have bored George Burns silly. I wouldn't necessarily recommend it to young women eager for bright lights or career advancement, either. But for a middle-aged couple raising a family, I am pleasantly surprised to report that small-town life is far from dull and depressing.
I don't want to over-idealize it; there are downsides of small-town living I never get used to. You don't want to hear me gripe, for example, about the hassle of trying to buy stuff when you live at least 30 minutes away from any major retailers. So I won't.
Living far away from cultural attractions is another bummer. Oh, how I miss the simplicity of slipping into a Sunday movie matinee without having to concern myself with the little matter of a 50-mile round trip. And though I'd like to expose our sons to live theater, museums and symphonies, the logistics of hauling two little kids 65 miles to New Orleans or Baton Rouge explain why our children still think Beethoven was a sheep dog.
I must confess the antiquated telecommunications here make me crazy, too. Where we live, a few miles beyond the city limits, high-speed Internet is essentially nonexistent. That means I pay $65 a month for something that calls itself high-speed Internet but could realistically be described –– on a really good day if you hold your mouth just right –– as not-quite-medium-speed Internet.
But no place is perfect, and the few beefs I have with small-town living are far outweighed by the advantages. It's taken me years to appreciate it, but there's a satisfying richness to life in a place where people put down deep roots.
First of all, I love the fact that everywhere I go in Franklinton, I run into somebody I know. Nearly everyone in our life –– including people who stack hay in our barn or sell us tractor parts as well as bank tellers, doctors, UPS guys, checkout girls and insurance agents –– are people we know personally as well as professionally. In many cases, we are also acquainted with their children, their grandparents, their bad habits, their incarcerated relatives or their family scandals.
As you can imagine, life in a fishbowl is not for everyone. There are plenty of times when I wish I could breeze through my errands incognito –– like bad hair days or when I'm not in the mood for chitchat. Then there are the unavoidable close encounters with people I'd like to avoid. Still, having such a large network of acquaintances makes even the most mundane chores of daily life more interesting.
I always say the biggest mixers in town are the funeral home and the grocery store. Some of the most engrossing conversations I can ever remember have occurred right next to the canned garbanzo beans.
Gossiping, I've also learned, is a little risky in a place where you can never be quite sure who you're dealing with. More than once, I have expressed comments and opinions I certainly would have kept to myself had I realized I was talking to, say, the gossipee's third cousin or best friend's daughter. Franklinton is like a small-town version of that game, Six Degrees of Kevin Bacon. The game operates on the premise that the actor Kevin Bacon has appeared in so many movies he can be linked to anyone in Hollywood in six steps or fewer. In Six Degrees of Franklinton, however, it rarely takes that long to figure out how any two people are connected.
One example that springs to mind is my son's teacher. She is also my husband's close friend's brother's wife's sister. That's five degrees. Another five-degree friend is Lance, whom I like to describe as my husband's brother's wife's sister's fiancé.
Lance is also a cross-country driver whose truck is outfitted with one of those phony train whistles. Every time Lance passes our house, he blows that whistle. We could be frying bacon or flossing our teeth when, all of a sudden, we're knocked off our feet by the roar of an oncoming locomotive.
Not long ago, I was reading an e-mail from my sons' school announcing that a school function was being rescheduled due to the timing of a NASCAR race in Talladega, Ala. While I was still trying to absorb that information, Lance went blasting past on the highway.
It occurred to me that you know you live in a small town when you find out that your child's school is scheduling events around a stock car race at the exact same instant your husband's brother's wife's sister's fiancé is blowing a fake train horn in front of your house.
What can I say? It doesn't matter if it's the mail lady or a very, very friendly trucker. Everybody knows we live here.