Soldiering On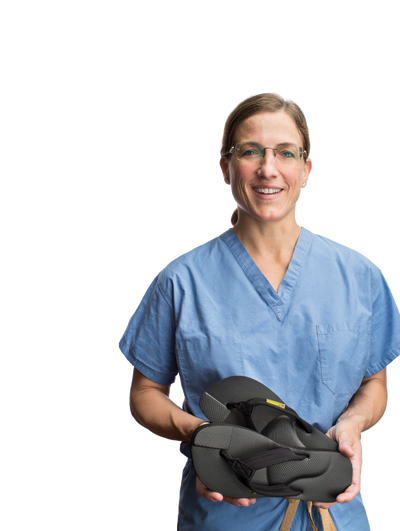 Dr. Meredith Warner of Baton Rouge has made a name for herself from a flip-flop.
Warner, an orthopedic surgeon, invented a therapeutic shoe called The Healing Sole, a flip-flop that treats foot pain for people with plantar fasciitis, inflammation of the ligament that connects the heel bone to the toes, a condition affecting millions of people.
"You could either do nothing and people would just put up with it," says Warner. "Or you could inject steroids, which is terrible for the foot, or you can do surgery, which often doesn't make sense."
A few products on the market treated foot pain in limited ways, so Warner developed The Healing Sole to combat the problem with six pain-relieving components.
"I made it a flip-flop because everybody wants flip-flops, and every doctor tells patients they can't wear them with heel pain," she says.
Warner, who completed her orthopedic surgery residency at Tulane University and earned an MBA from LSU, combined her medical and business background to develop the shoe. The business degree has also served her well in her private practice, which she opened in 2013 in Baton Rouge.
Warner is originally from Delaware. Hailing from a military family, Warner joined the Air Force, where she served as a combat physician in Iraq and Afghanistan.
"I saw a gap in treatment and I wanted a product for it," Warner says. "As a doctor, I want to have broader impact on this world than the 30 patients I see each day. It's letting me scale my clinical impact. I can help people in their journey to foot health and wellness at a far greater scale than I ever could, even if I saw twice as many patients a day."

---
What's your favorite thing about living in Louisiana?
The culture is so unique. The festivals and Mardi Gras are definitely part of what kept me here.

What's your favorite Baton Rouge restaurant?
This one is tough because the city has an amazing culinary scene, but I'd say Ruffino's is my favorite.

What's your top day-off activity?
I don't have much of that these days, but I enjoy running and spending time improving The Healing Sole business.