Soups for the Soul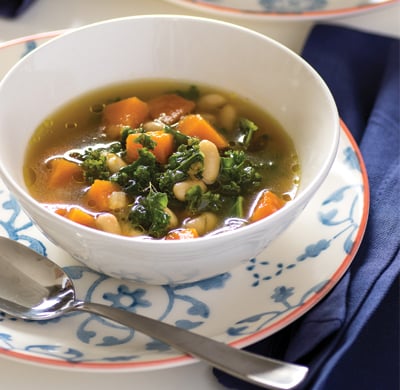 I can't think of much more I'd rather eat this time of year than a bowl of soup. Not an elegant, light consommé accompanied by a glass of sherry – that's the stuff of tuxedos and formal dinners. I want something I can enjoy at the kitchen table after working or playing outside. It should be a soup that is thick and hearty and full of winter vegetables – one that will take off the season's damp chill. Country bread, sweet butter and a glass of a full-bodied red wine would complete the picture.
As a cook, there is not much that I find more satisfying than making a soup. Usually I cringe when I hear the word "synergy," which has become a cliché favored by business executives to justify some acquisition or grand plan that often turns out to be a disaster. But for the humble cook, synergy is a legitimate term when applied to soup-making. Various ingredients, each of them with its own integrity and possibility, combine and produce a result that is far more delicious than the sum of each of them prepared on its own ever could be.
The kind of soups I am thinking about don't require precise measurements or strict adherence to a list of ingredients. They are free-form and adaptable, amenable to substitutions, tolerant of personal whims. For anyone who likes to experiment in the kitchen, soups are the perfect choice. It's fair to say that I never make a soup exactly the same way each time I make it. I may be trying to improve the result, I may not have all the ingredients, something may be out of season, another ingredient may have caught my fancy, or I may just feel like doing something different.
Many soups are improved by the use of a stock, such as chicken, vegetable, beef or seafood, but very few people take the time to make one. As a substitute, cartons of chicken broth are a godsend. Packaged chicken broth can be used as is or its flavor can be enhanced by simmering it for 30 minutes with some dry white wine and seasonings such as bay leaves, thyme and parsley, as well as carrot, onion and celery. Once you've done that, you not only have a good base for a soup, you also have a very flavorful broth you can sip on its own.
The following recipes are for the kind of winter soups I love to eat. All of them are easy to make and none are very tim- consuming. As an added bonus, they freeze well. I like to keep small containers of them in the freezer. They are a welcome treat when the weather is wet and cold and there's no time to cook.
---
White Bean, Kale And Butternut Squash Soup
1 pound Great Northern beans
10 cups water
¼ teaspoon baking soda
1 large onion, chopped
4 cups chopped kale, packed
2 cups cubed butternut squash
Coarse salt and freshly ground
black pepper
Extra virgin olive oil
Sort and rinse beans. Combine beans, water and baking soda in large pot, bring to a boil, reduce heat, cover and simmer until beans soften, about 60 minutes.
Meanwhile, strip kale from stems, wash and chop. Peel butternut squash and cut into small cubes. Add kale and squash to pot and cook, uncovered, until squash is softened, about 15-20 minutes. If soup is too thick, add additional water. Season to taste with salt and pepper. Serve with extra virgin olive oil for each diner to add as desired.
Makes 6-8 servings.
---
Leek and Potato Soup
2 leeks, white and light green
parts only, chopped
1 medium onion, chopped
4 tablespoons butter
6 cups chicken broth
2 medium potatoes,
peeled and sliced
Coarse salt and freshly ground
black pepper
1⁄8 teaspoon freshly grated nutmeg
Croutons (optional)
In a heavy pot, simmer leeks and onion in butter, covered, until softened, but not browned. Add chicken broth and potatoes and simmer until potatoes are softened. Season to taste with salt and black pepper and add nutmeg. Serve with optional croutons, if desired.
Makes 4 servings.
---
Roasted Cauliflower Soup
1 medium head cauliflower
2 tablespoons olive oil
10 cloves garlic
5 cups chicken broth
Coarse salt and freshly ground
black pepper
1 teaspoon butter
4 teaspoons Panko bread crumbs
4 teaspoons freshly grated
Parmesan
1½ teaspoons grated lemon zest
2 teaspoons snipped chives
Preheat oven to 350 degrees. Separate cauliflower florets and cut large ones in half. Place in a baking dish and drizzle with olive oil. Toss to coat. Roast in preheated oven for 20 minutes, then turn florets and roast until lightly browned, about an additional 20 minutes.
Meanwhile, crush garlic cloves with the side of a large knife and slip them out of their skins. Combine garlic and chicken broth in a large pot. Cover, bring to a boil, reduce heat and simmer for 30 minutes.
Transfer cauliflower to pot with garlic and broth. Bring to a boil, reduce heat and simmer for 10 minutes. Puree contents of pot in blender, in batches, adding additional broth or water, if needed. Transfer contents of blender to another pot. Season to taste with salt and pepper and heat.
Melt butter in a small skillet, add bread crumbs and toast, while stirring, until golden brown. Transfer bread crumbs to a small bowl and cool. Stir in Parmesan, lemon zest and chives. Serve hot soup garnished with this mixture.
Makes 4 servings.
---
Cabbage Soup
2 smoked ham hocks
4 slices bacon, cut into
bite-size pieces
1 large onion, chopped
4 carrots, peeled and sliced
1 small head cabbage,
quartered and sliced
3 medium potatoes,
halved and sliced
Cajun/Creole seasoning
Cover smoked ham hocks and bacon with water and boil for 30 minutes. Add onion, carrots and cabbage. Add enough water to cover and bring to a boil. Add potatoes to pot, bring back to a boil, reduce heat and simmer until potatoes are tender.
Remove ham hocks, cut into small pieces and return to pot. Season to taste with Cajun/Creole seasoning.
Makes 6-8 servings.
---
Lentil Soup
½ pound smoked sausage, sliced
1 large onion, chopped
4 cloves garlic, minced
2 tablespoons olive oil
1 pound lentils, picked over
and washed
8 cups water
1 (5-ounce) package baby
spinach
coarse salt
freshly ground black pepper
Red wine vinegar
Combine smoked sausage, onion, garlic and olive oil in large pot and simmer until onions are softened, about 10 minutes. Add lentils and water, bring to a boil, reduce heat and simmer until lentils are tender, about 25-30 minutes. Stir in spinach and season to taste with salt and pepper. Serve with vinegar for each diner to add as desired.
Makes about 6 servings.
---