Spencer Gray Jr.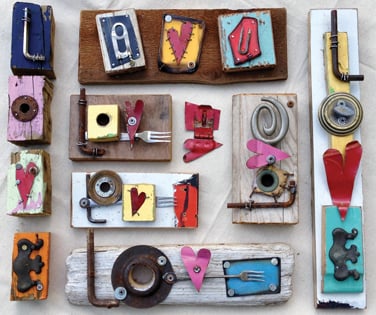 If Fortuna smiles upon Spencer Gray Jr., the city of Ferriday in northeastern Louisiana may have to revise its hall of fame one day.
Gray is a remarkable artist whose skills and imagination give new life to dented old pots and pans, discarded rusty tools, bent forks and spoons and anything else he and his wife, Sharon, glean from garage sales, junk shops, hardware stores and antique malls. But most important, his work delights all who let their eyes wander through his playful constructions. His whimsical imagery has an uncommon way of evoking memories of a time when a child's boundless imagination was open to a world where simple household objects became ray guns, spaceships or an old steam-driven train.
Though Gray's work could be called sculpture or assemblages, he describes them as cartoons – and for good reason. After high school, he had dreamed of being a syndicated cartoonist, but a rejection letter killed that hope. "I was young and cocky," he recalls with a smile. "College was not for me. I wanted to go into the art world and conquer it. I drew a pilot for a comic strip and mailed it off to a syndicate. I got a rejection letter, and it crushed me. One rejection letter was too much. I gave up on that idea, but I didn't lose my love for art." With that behind him, Gray pursued a career in jewelry design. "It was a good career choice," he says, "but maybe not as much fun as a world-famous cartoonist."
Born in 1963 in New Mexico, where his father was stationed in the Air Force, Gray's life in art began as a child, growing up with his five sisters in his mother's hometown of Ferriday. His father's family lived just down Highway 84 in Vidalia. "Ferriday," he says, "has always been our home." Shortly after Spencer Gray Jr.'s birth, the family moved back to Ferriday while his Spencer Sr. went on to finish his career in the Air Force. He retired in 1972 and went to work for the post office in Ferriday.
"I have fond memories of growing up in Ferriday," Gray recalls. "I liked to go to the hardware store and to Percy's barbershop to listen to the old men sitting around telling stories – mostly lies, of course. It was like Mayberry. I also loved to draw and do self-portraits and sketches of my sisters and friends. I was known as the class artist. My sisters and I played in our backyard. I thought I was a junior scientist, so I would catch birds and paint a dot on their legs, thinking I could track them that way." Then a friend gave him a BB gun. "I shot a bird, and it broke my heart," he says, reflecting upon that moment. "It was the last time I hunted."
In 1976, the postal service transferred his father to Gulfport, Miss., where Gray would spend his teenage years. "I didn't know how famous Ferriday was until I grew up," he says, ticking off the names of cousins Jerry Lee Lewis, Jimmy Swaggart and Mickey Gilley. He also could have added famed news broadcaster Howard K. Smith and, more recently, television journalist Campbell Brown. Gray's memories are in good company. Actually, city boosters claim Ferriday has more famous people per square mile than any other American city of comparable size.
Though he still has strong family ties to Ferriday and Vidalia, Gray resides with his wife, Sharon, in Pass Christian, Miss., in a wooded area surrounded by his "little people" in various stages of completion. His journey into this delightful world of three-dimensional cartoons began shortly after Hurricane Katrina devastated southeastern Louisiana and the Mississippi Gulf Coast in late August 2005.
With the loss of his work place, Gray began building birdhouses and bird feeders from wine bottles, wood, copper and other found objects.
He kept making them until his son Nicholaus asked him what he was going to do with all those bird feeders. At his son's suggestion, Gray took a few of them to the farmers' market in nearby Bay St. Louis and sold them right away. A new career was born. From wine bottles, he began to add other found objects until the assemblages began to take on human features with bent spoons for legs and feet and forks for arms and hands.
Eventually, an artist friend advised Gray to refer to his creations as "art pieces" rather than bird feeders. "They were so much more than feeders," Gray explains. "Friends began buying them and putting them inside their homes." His first effort to create a full-bodied person with his pots and pans was a piece he titled Ima T. Pott with its face fashioned from an old teapot. "From that," he says, "thus came to life all these little characters. I realized then that this art thing had come full circle. I am again a cartoonist, using forks and spoons rather than pen and ink. I've really touched a lot of hearts. People love to see the eclectic pieces I use to bring these things to life. Whoever thought you could bend a spoon to make a little girl's leg and foot?"
Gray says his little creations are reminiscent of a time before computer games and 24-hour cable television. "I try to [depict] children playing but never with modern toys or present day technologies," he explains. "They are about the purity and innocence of children at play. I like to draw from my childhood experiences when we used our imaginations to make toys from a stick or a broomstick for a horse or a kitchen colander for a helmet. It was a time for playing make-believe and letting the magic happen. So many people tell me my work reminds them of their own childhood. Maybe I've found the fountain of youth." He recalls the time when, as a small child, he wanted a soldier to guard his bedroom door. So he made one by stuffing a pair of his father's pants and a shirt. It looked real and scared him so much that he didn't want to leave his room.
Sharon and Spencer Gray Jr. search for these little pieces of magic as they drive about the countryside. "We call it going on safari," he laughs. "It's kind of a history journey for us that brings back memories. If I'm working on a project, I look for a specific thing. And then there are times I shop to get things for inspiration. It's like magic. I spot a piece that tells me immediately what it wants to be. I still go into hardware stores to look at objects. I ask what can I get out of that pan or nut or bolt that no one has ever seen before. Sometimes it's hard to sleep at night. I can't wait to get in my studio to finish a piece or start a new one. Once I get in the zone, I can work until one in the morning. I've only scratched the surface of what's coming."
Reflecting upon the growing popularity of his work, Gray rattles off ideas and images that are only beginning to take form in his imagination. "My pay off," he says, "is to see a smile on a person's face."
For more information about Spencer Gray, visit www.spencergrayjr.com