Spice of Life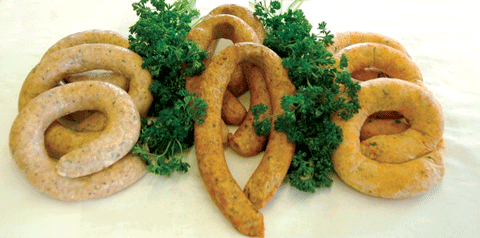 Calcasieu Parish isn't necessarily an out-of-the-way place, considering that the much-traveled Interstate 10 runs through Lake Charles, its parish seat. Still, some local residents and others from around Louisiana haven't taken the opportunity to travel all of the quirky stops located in the southwestern section of the state, an area rich in a culture that could be described as Cajun with a dash of Texan.
Here, beef, cowboy boots, pickup trucks and horses are about as plentiful as pirogues, Cajun and zydeco dances, hunting lodges and étouffée. Toss in a strong sense of black, Creole, Lebanese, Syrian, German, Italian and Jewish pride, and all of a sudden a Calcasieu Parish smorgasbord of food, music and social life emerges.
Among all these aforementioned cultures, there is a single tasty creation that ties it all together with a perfect balance of rice, meat and zesty seasonings. This staple cuisine can be found from the westernmost parts of Vinton to the eastern hamlet of Iowa.
The common denominator? Boudin.
The Southwest Louisiana Boudin Trail was unveiled in Lake Charles last fall; the tour features specialty meat shops, grocery stores, delis and convenience stores in DeQuincy, Sulphur, Vinton, Westlake, Moss Bluff, Iowa, Lake Charles and even the small Cameron Parish hamlets of Grand Lake and Hackberry.
Modern-day boudin could be considered the jazzed-up end result of a culinary collaboration among Cajuns, Germans, Creoles and African Americans. Made of varying amounts of pork, liver, rice, onions, parsley, salt, red and black pepper and garlic powder, some of the best boudin can be sampled from indistinct stops off the beaten path –– places such as the Bar-B-Que Pit Stop in Westlake, The Sausage Link in Sulphur, Rabideaux's Sausage Kitchen in Iowa and Brown's Grocery in Hackberry.
If you want spice, stop at Peto's in Moss Bluff. If you want crawfish and shrimp instead of the usual meats, stop at Hackett's Cajun Kitchen in Lake Charles.
Stop where you will, but only one thing is certain: If you buy a pound of boudin from all the haunts on the trail, you'll find lots of flavors that will please the palate.
There are 17 total stops on the official boudin map. Some places –– such as Rabideaux's, for instance –– you won't find unless you're looking for them. Others, such as the Market Basket on Nelson Road in Lake Charles, are in more trafficked places –– not quite as quirky but still just as worthy.
Each city and area represented on the trail has its own unique story, so while eating, ask locals about the places they live.
Traveling the Boudin Trail isn't just a food-finding exercise, though that by itself is good incentive. It's also an exercise in Calcasieu Parish exploration –– an opportunity to visit every corner of Southwest Louisiana, with all its culture and character.