Splashing into Shreveport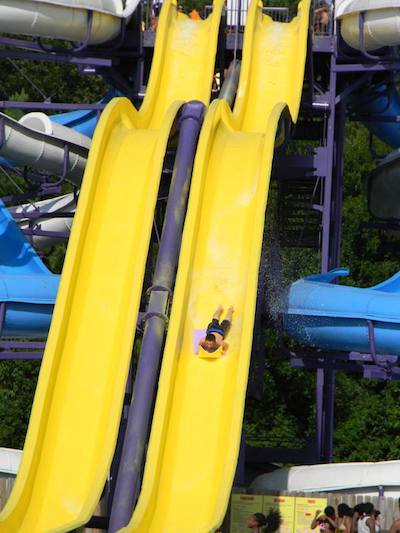 The scorching temperatures of Louisiana's late summer heat leaves one yearning to cool off, and one of the best places to do just that is in Shreveport, Louisiana. Shreveport, you see, is home to Splash Kingdom Water Park, which has one-trillion gallons of 'aqua fun.' This family-friendly 20-acre water park has a wave pool, activity pool, kiddie pool, lazy river and nearly a dozen water slides.
There are several rides to try out in this water park, and there's something fun for every level. Thrill-seekers will get an adrenaline rush on the Bonzai, which has two open slides with steep drops, or The Plunge, which has a sharp, rapid open chute that shoots riders out several feet above the water's surface. There's also Brett's Blaster, which is a fast, enclosed body-slide with sheer drops. For those looking for moderate thrill rides, there are a handful of fun options, including the single-rider airstream slide, and kids of all ages won't want to leave the creative and imaginative water features of Kingdom Falls and the Kids Castle. (Big Tip: Rent a shaded cabana for the day which includes a cooler with six waters and six patio seats for your party.)
(Fact: Johnny and Marci Blevins opened their first Splash Kingdom Waterpark in Canton, Texas in 2005 with the mission of creating a place "where families could spend time together in a family friendly and fun environment." Today, Splash Kingdom, Inc. operates five parks – four in Texas and one in Shreveport. The hours include Sunday through Saturday, 11 a.m. to 6 p.m., and open on Wednesdays until 9 p.m. for family night.)
Hungry? Splash Kingdom's Courtyard Grill serves over three dozen menu options including sandwiches, pizza, burgers, fresh wraps, kids meals and an assortment of snack foods; there are also lighter menu options including grilled chicken sandwich, wraps, turkey legs, and a variety of salads. (Tip: One of the most popular items – and a favorite of employees – is their juicy hamburgers with all the fixings.) To satisfy the sweet tooth, there are endless choices including ice cream, smoothies, cookies, and mouthwatering funnel cakes. (Tip: The funnel cake, by far, is the most popular desserts at Splash Kingdom.)
(Savings Tip: If you plan on staying overnight, you can save money with Splash Kingdom's Splash and Stay Packages, which offer an overnight stay and park tickets at a half dozen Shreveport hotels, some of which are located very near the park.)
After having a splashing good time in a trillion gallons of water, cool off in downtown Shreveport where you will find a 200-foot long interactive water plaza at Riverview Park. The park has a great splash pad water playground and stunning garden, all with a scenic view of the beautiful Red River. Be sure to take a look at the 36-foot-tall steel sculptured roses erected high above the river, which light up along the boardwalk at night.
Want one of the country's rare 'landmark' water experiences? Courtesy of the city's historic water system, you can travel back in time to witness a highly regarded water marvel of the Victorian Era at the Shreveport Water Works Museum. This engineering wonder supplied millions of gallons of water to Shreveport residents in the late 1800s and beyond; it's also one of the last intact operating steam-powered water treatment plants in America. It's all located at the McNeill Street Water Treatment Plant facility. (Fascinating Fact: Smithsonian experts consider segments of the plant, which is still in its original locations and operable, among the last remaining historic examples of a steam powered water works in existence.) The McNeil Plant was named a National Historical Landmark (by the U.S. National Park Service), an American Water Landmark, and it earned the prestigious National Historic Civil Engineering Landmark distinction as well. (Historical Fact: McNeil was the second water works plant built in Louisiana and is among the first constructed post-Civil War era.)
For more information go to:
splashkingdomwaterpark.com/shreveport
shreveportwaterworks.org/waterworks-museum
shreveportwaterworks.org/water-works-history
shreveportla.gov/Facilities/Facility/Details/Riverview-Park-93