Spring Forth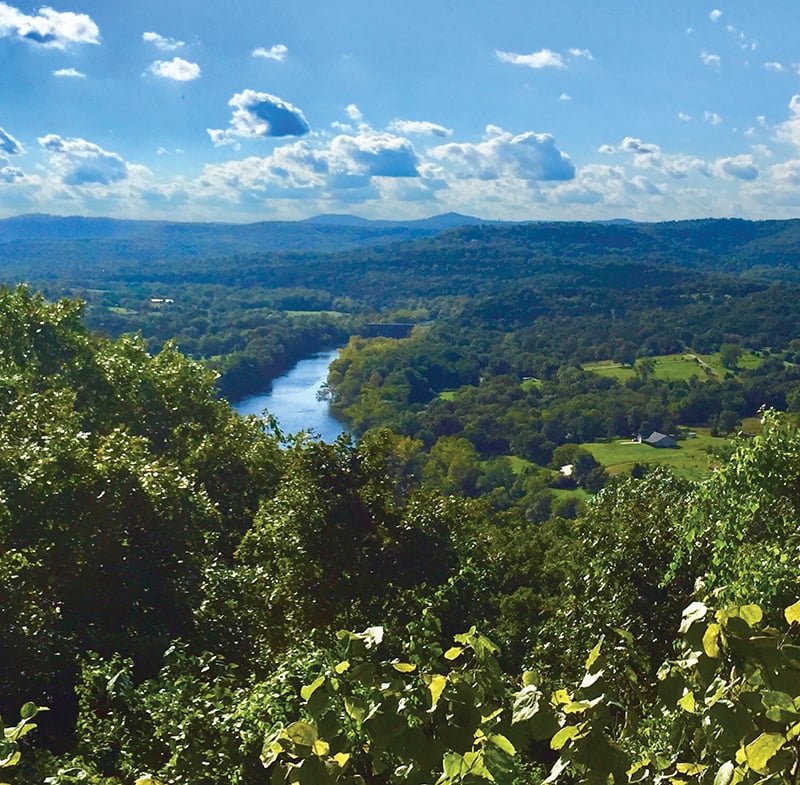 In the 19th century Dr. Alvah Jackson stumbled upon a series of springs in the Ozark Mountains, and the water pouring forth from the earth healed him of an eye ailment. He began promoting the miraculous waters to others and soon a town emerged. He named it Eureka Springs from the Greek expression used to describe an amazing discovery.
The springs still bubble forth, but today visitors come for the eclectic atmosphere of Eureka Springs, its many festivals, restaurants and shops and the Victorian village surrounded by nature. There's hidden fun around every turn, from the dinosaur and Humpty Dumpty statues in people's lawns to cottages built inside the mountainside.
The eureka moment may have ceased in this small Ozark town, but the amazement continues.
---
Good Bets
An Arkansas teacher purchased Ozark property for his retirement but people were always stopping to admire the natural beauty of his purchase. He decided to build a chapel on the site and enlisted renowned architect E. Fay Jones, then at the University of Arkansas, to build his Thorncrown Chapel, emphasizing glass and natural elements to pay homage to the surrounding nature. The chapel has since won numerous architectural awards and the American Institute of Architects named Thorncrown Chapel number four on its list of the top buildings of the 20th century.
Stay
Crescent Hotel: There's more to the 1886 Crescent Hotel than ghosts, although that's certainly part of its lure. Many visitors use the old Victorian hotel's elegance and history as backdrops for weddings and special events, plus there's a day spa offering massages, treatments and salon services. The hotel is located on top of a mountain so dinner and drinks in the SkyBar Gourmet Pizzeria on the hotel's top floor provides a great view of sunsets. If you still want to see a specter, take the nightly ghost tour.
Basin Park Hotel: In the heart of Eureka Springs, next to the Basin Spring Park where Jackson first discovered the healing aspects of the town's waters, lies the Basin Park Hotel, dating back to 1905. Visitors may enjoy the Balcony Restaurant & Bar, take the ghost tour (yes, it's haunted too) or enjoy the Spa 1905 on the second floor.
Cabins and Cottages: There are numerous cottages, bed and breakfasts and Airbnbs to choose from in Eureka Springs, plus more in the surrounding countryside. Visitors may rent entire homes in town or cabins overlooking Beaver Lake. There's even treehouses from which to choose.. For more information on the many accommodations available, visit eurekasprings.org/accommodations.
Back to Nature
Closest to town is Lake Leatherwood City Park, which offers 25 miles of nature trails, a spring-fed lake for swimming, boating and fishing and the 1940s dam built by the Works Progress Administration (WPA). The park is listed on the National Register of Historic Places.
Further out of town is Pivot Rock Park, another great place to hike through miles of woods. This attraction features unusual geological formations, such as the natural bridge, small caves, ravines and a rock formation that resembles an upside-down triangle, hence the park's name.
Native Americans both utilized and honored Blue Spring, a natural spring that feeds a lagoon, then pours into neighboring White River. Visitors may enjoy the azure beauty of the springs, as well as gardens and hiking trails, at Blue Spring Heritage Center, just outside the city limits.
---
Walking Tours
The town emerged because of the abundant springs flowing from the mountainside and these springs exist today, many accented by grottos, pocket parks and historical markers.
For an overview and map of the town's springs, plus other unique and interesting attractions, pick up "Six Scenic Walking Tours in Historic Eureka Springs," published by the city's preservation society or the walking downtown map by the Eureka Springs Downtown Network.
---
Eat
Keel Creek Winery
This small winery produces big flavors and serves up wine tastings in its Spanish-style building that doubles as an art gallery for local artists. Be sure and sample the Cynthiana, a wine developed from the Norton grape, America's oldest native grape.
Oscar's Café
You know it's a special place when a blackboard on the porch is covered with diners' glowing remarks and everyone seems to know each other. Inside Oscar's Café, located in an old house, the walls are covered in old periodicals and other Americana items. The food arrives fresh and matches the décor; homemade lemon ice cream arrives in a mason jar.
Eureka Market
Visitors come to Eureka Market to stock up on essentials, but the local grocer specializes in natural products so it's a health food store as well. They sell organic produce, Ozark baked breads, local dairy products and brand names utilizing quality ingredients.
---
Do
Big Scares
Eureka Springs is home to the 1886 Crescent Hotel, one of America's most haunted, and ghost tours tell the tales of those refusing to check out. Crescent Hotel Ghost Tours happen nightly and those brave enough to sign up will visit the rooms and hallways where things go bump in the night, culminating at the hotel's basement "Morgue," where bodies were disposed of when the hotel was used as a so-called hospital for a man selling quack cancer treatments.
Big Cats
There are more than 100 big cats at Turpentine Creek Wildlife Refuge — and we're not talking lap cats. Turpentine is the largest big cat refuge in the world, saving lions, tigers and other wild cats from illegal ownership. Visitors may enjoy tours, educational talks and even stay on site.
Big shopping
Quaint shops, boutiques, art galleries, antiques and more dot the streets of Eureka Springs, so it's easy to find something for everyone. Hats, Hides & Heirlooms haberdashery is a must, as is New Age store Crystal Waters and Iris at the Basin Park featuring numerous local crafts and artwork.