Springtime Fun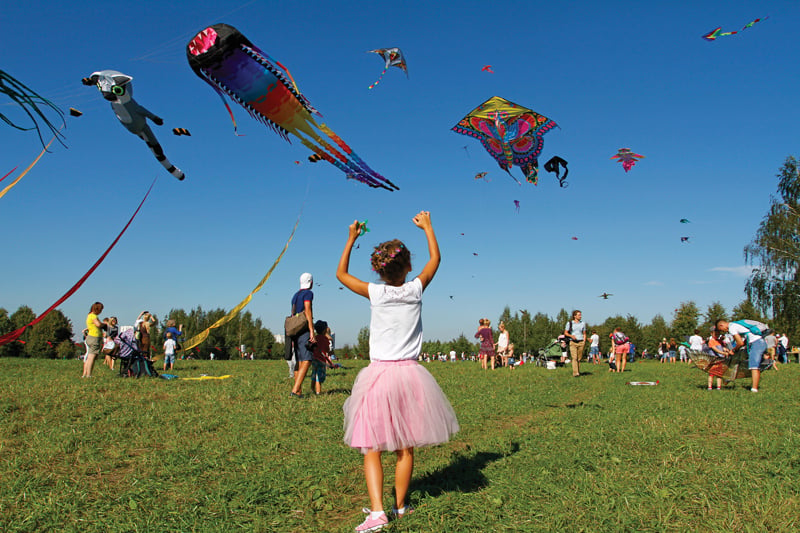 Louisiana never waits for Punxsutawney Phil to announce the arrival of spring. Rather, the state's many communities get in on the action as soon as the first leaves sprout from the trees and the temperature rises anywhere above freezing. One of the busiest times of year, spring brings an abundance of festivals and events to the area while the gorgeous weather makes outdoor adventures as desirable as ever. Whether you explore your local offerings or take a day-trip to a nearby parish, enjoy all the state and season have to offer during this lively time of year. From shopping and dining to dancing and fishing, a wealth of activities offer opportunities for family-friendly fun as well as outings with friends.
Louisiana Parishes & Cities
Visit West Baton Rouge Parish on April 6 and 7, and enjoy the award-winning Kite Fest Louisiane! See kites of all sizes and shapes dance across the skyline, and marvel as professional kite teams fly two- and four-line kites choreographed to music. Festival attendees will be immersed in all kinds of kite fun, from kite design and creation to BOL races, candy drops, indoor kite flying, inflatables, and that irresistible Louisiana food we all know and love.
On Saturday, April 6, the festival will feature fireworks at dusk. Conclude your fun day of kite festival action with a relaxing stay at one of West Baton Rouge Parish's many convenient and economical hotels before returning to the festival for more kite action on Sunday, April 7. Kite Fest Louisiane is free and open to the public.
Find more information, destinations, day-trip itineraries, and a short video on Kite Fest Louisiane at WestBatonRouge.net.
Lafayette is at the heart of Louisiana's Cajun Country, an area known for letting the good times roll—or as they say it, laissez les bons temps rouler—, and people are starting to notice. The Wall Street Journal's MarketWatch.com recently named Lafayette as the "Happiest City in America" and it's no mystery why. With their distinctive blend of food, music and culture, it's no wonder people from all over are heading down south with a smile on their face.
One annual event bringing together all the elements that make Lafayette so unique is Festival International de Louisiane. The largest free outdoor Francophone event in the U.S., Festival International highlights the connections between Acadiana and the Francophone world. Held each year in April throughout Lafayette's downtown, Festival International hosts 500 performing and visual artists from 15 countries including Europe, Africa, Canada, the Caribbean and the Americas to share their talents across six stages with Lafayette's artists, residents and visitors.
Visit LafayetteTravel.com/FestivalInternational for performance schedule, lodging and travel information.
There's lots to do this spring in Sabine Parish, Toledo Bend Lake Country. Celebrate Toledo Bend's 50th anniversary by boating and fishing to your heart's content. This 186,000-acre lake is a world-class bass fishery in addition to hosting an abundance of other freshwater fish. Fishing Toledo Bend is easy with public fishing piers, boat launches, and boat rentals. Maximize your fishing trip and choose a professional guide service at ToledoBendLakeCountry.com. The area is also a destination for outdoor adventures such as hiking, golfing, ATV riding, camping, birding, and more.
Experience the area's frontier history with a drive along the 300-year-old El Camino Real del los Tejas National Historic Trail, where Davy Crockett and Stephen F. Austin once traveled. The area was once part of a lawless region known as "No Man's Land." Visit NoMansLand.com for exciting "Becoming Louisiana" bicentennial celebration events.
Save the date now for the Battle of Pleasant Hill Re-enactment (April 12-14), the Choctaw-Apache Powwow (April 26-27), El Camino Real Sale on the Trail (May 3-4), and Zwolle Loggers and Forestry Festival (May 10-11).
For more info, events, and destinations, visit ToledoBendLakeCountry.com.
Plan a weekend trip this spring to Ruston & Lincoln Parish and experience all the bustling college town has to offer. Ruston's music scene and arts community are showcased all season long with events like Railroad Fest, Ruston Makers Fair, and live music in Railroad Park. These cultural events highlight local artists, renowned bands, Louisiana cuisine, and more. Spring also brings Ruston Fashion Week, a week-long celebration of fashion creativity and the diverse selection of products and brands available in Ruston's thriving retail community.
Hungry for something a little different? Check out Ruston's new food truck park, Heard Freighthouse, located in the historic downtown district. Food trucks are set up with gourmet burgers made from locally sourced products, craft BBQ, and creative liquid nitrogen ice cream treats!
For more information on the area and upcoming events in Lincoln Parish, visit experienceruston.com or call 800-392-9032 for a free visitors guide.
Louisiana truly has the best of all worlds. Captivating outdoor environments are accompanied by the unbeatable sounds you'll hear inside its music venues. The arts scene is rivaled by historic architecture. When visiting and exploring what Louisiana has to offer, you enjoy soul-satisfying experiences that you just can't find anywhere else.
Where else can you paddle through cypress forests, camp by a bayou, or bike through groves of ancient live oaks, all in the same day? And when enjoying the spring in Louisiana, you're never far from delicious food, live music and the captivating locals welcoming you with open arms. Experience it all at more than 400 festivals around the state. From frogs to strawberries to Zydeco, let those good times roll in Louisiana this spring.
There's more to see, do and explore in Louisiana than you can imagine. Visit LouisianaTravel.com and let Louisiana feed your soul.
Trek into the gorgeous Louisiana spring season with a visit to Natchitoches, the little city with a big history. Immerse yourself in 300+ years of history in Louisiana's oldest city! It's a year-long adventure.
Explore the historic district and uncover French Creole architecture, a French Marines' life at Fort St. Jean Baptiste, modern architecture, sports legends and history at the Louisiana State Museum, and eclectic shopping featuring nostalgic, collectable, and gourmet treasures. Discover centuries-old cultural legacies and traditions through National Historic Landmarks, Cane River Creole National Historical Park, and Melrose Plantation as you journey through the Cane River Heritage Trail, a Louisiana Scenic Byway.
Experience culinary delights with authentic Creole, Cajun, and Southern dishes. Whether it's meat pies and Cajun potatoes, seafood and steaks, or burgers and po-boys you crave, Natchitoches is full of satisfying flavors! Visit the iconic Lasyone's Meat Pie Restaurant, which celebrated its 50th anniversary in 2017. Finally, relax from your adventures at a national chain hotel, a boutique hotel, or a quaint bed and breakfast. Plan your trip at Natchitoches.com.
Regional Travel
Springtime's big event arrives in Ridgeland, Mississippi, with the annual Art, Wine & Wheels Weekend, April 6-7. This exciting weekend has grown into Mississippi's premier art and wine festival at Renaissance at Colony Park.
April 6-7, the Ridgeland Fine Art Festival features 78 of American's most talented artists in eleven mediums. Live music takes over two stages, and arts and crafts demonstrations are given by the Craftsmen Guild of Mississippi. The fest also features a Children's Craft Corner, student art gallery, food trucks, and wine and craft beer sampling (ridgelandartsfest.com).
The Sante South Wine Festival, the largest wine festival in Mississippi, takes place April 6 and showcases over 120 international boutique vintners with food samplings from more than 20 of Mississippi's top restaurants. The event is preceded on April 5 by the Run Now Wine Later 5K, which concludes with a wine and cheese social (santesouth.org).
Finally, April 5-7, Cheers and Gears Bike Rally brings a weekend of cycling events to the area and its nationally recognized cycling routes: the Natchez Trace Parkway, Barnett Reservoir, and the Petrified Forest (cheersandgearsride.com).
For more info, go to VisitRidgeland.com.
Special Events & Unique Destinations
River Oaks Square Arts Center is located in the heart of Alexandria's historic downtown and is one of the South's most unique arts centers. River Oaks hosts over 20 exhibitions annually, featuring over 200 contemporary visual artists. The center offers premier education components with featured presenters and houses studio space for 35+ working artists.
River Oaks will host its 5th Annual Dirty South Cup Call & Competition from April 5 through May 25, featuring over 100 unique beverage vessels from over 50 master ceramicists—an exceptional show for collectors! Mugs, cups, yunomis, and whiskey bowls created by regionally and nationally renowned potters will be on display during the event. New York-based master potter, Doug Peltzman (Guest Juror 2019) will conduct a two-day workshop on April 10 and 11th entitled Inviting Form & Dynamic Surface. An opening reception will be held April 12, 5 – 8 p.m. The event is sponsored by Greater Alexandria Economic Development Authority, LA Division of the Arts and the National Endowment for the Arts.
For more information, visit riveroaksartscenter.com and find the center on Facebook, Twitter, and Instagram. For class enrollment, call 318-473-2670.
The LSU Museum of Art holds one of the most comprehensive permanent collections of Louisiana art, making it a central hub for experiencing insightful and inspiring local works. In addition to its permanent display, the LSU Museum of Art is proud to host a variety of exhibitions throughout the year. In March and April, the Museum is proud to open two notable exhibitions: Across the Atlantic: American Impressionism through the French Lens and Matt Wedel: On the Verge.
Across the Atlantic: American Impressionism through the French Lens explores the path to Impressionism through the nineteenth century, the complex relationship between French Impressionism of the 1870s and 80s, and the American interpretation of the style in the decades that followed. A few of the artists featured in the exhibition include Edgar Degas, Mary Cassatt, John Singer Sargent, and Daniel Garber.
Matt Wedel: On the Verge is an exhibition of ceramic sculpture by LSU School of Art Reilly visiting artist Matt Wedel, whose often remarkably large-scale ceramic works explore culture and nature and push materials and forms to the verge of collapse.
For more details, visit lsumoa.org.
---